Green industries are all in vogue now and a green sector that is sometimes overlooked is waste. Our industries, homes and medical facilities create all kinds of waste and it all must be disposed of properly. A company that does this and is on a growth and acquisition streak is Waste Connections (NYSE:WCN) and its price is on the move. If you had owned the stock over the last five years you would have seen its price jump by 96.54% and as this Barchart provided graph shows you would have watched it increase by 28.46% over the last year:
Click to enlarge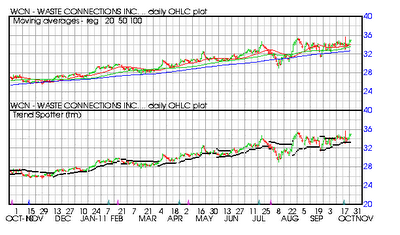 Waste Connections, an integrated solid waste services company, provides solid waste collection, transfer, disposal and recycling services. Its solid waste services include residential, commercial and industrial collection services; landfill disposal services; recycling services for various recyclable materials, including cardboard, office paper, plastic containers, glass bottles, and ferrous and aluminum metals of residential, commercial, industrial, and municipal customers. The company also owns and operates transfer stations that receive, compact and load solid waste to be transported to landfills via truck, rail, or barge.
In addition, it treats and disposes non-hazardous waste generated in the exploration and production of oil and natural gas. Further, the company offers intermodal services, including repositioning, storage, maintenance and repair of cargo containers for international shipping companies for the rail haul movement of cargo and solid waste containers in the Pacific Northwest through a network of intermodal facilities. Additionally, it provides container and chassis sales and leasing services to its customers. As of December 31, 2010, the company owned or operated a network of 135 solid waste collection operations, 54 transfer stations, 39 recycling operations, 44 active landfills, 7 intermodal facilities and 1 exploration and production waste treatment and disposal facility. It also served approximately two million residential, commercial and industrial customers from a network of operations in 27 states in the United States. The company was founded in 1997 and is based in Folsom, California.
Factors To Consider
96% Barchart technical buy signal based on price momentum indicators from 7 days to 6 months
Trend Spotter buy signal
Above its 20, 50 and 100 day moving averages
Up 6.37% and hit 6 new highs in the last month, up 28.46% in the last year and up 96.54% in the last 5 years
Relative Strength Index is 59.25% and rising
Barchart computes a technical support level at 34.33
Recently traded at 34.88 with a 50 day moving average of 33.61
Fundamental Factors
I look for companies growing sales and earnings at double digit rates and so does Wall Street.
Wall Street brokerage analysts project sales to increase by 14.10% this year and 8.40% next year.
Earnings are estimated to grow by 19.40% this year, an additional 13.50% next year and continue for 5 years at an annual rate of 16.00%.
These consensus estimates resulted in 3 strong buy, 3 buy, 1 hold and only 1 under perform recommendation.
I always like to research how good projections are and in the past this company has enjoyed a 100 price growth persistence score and a 95 earnings predictability rating. The numbers look solid to me.
The company is expanding through the acquisition of not only other smaller refuse collection companies but also by purchasing additional landfill facilities.
Medical waste disposal is a growing product sector.
If the federal infrastructure construction projects gain traction the company should get its share of construction debris removal and recycling.
The P/E ratio of 23 is not out of line for a company with double digit forecasts for increases of sales and earnings.
General Investor Interest
Although only 155 readers on Motley Fool have this company on their watch lists they seem to have positive opinions on the issue
The general readership voting had a 95% vote the stock would beat the market
The more experienced and savvy All Stars were much more optimistic with a 100% vote of confidence for the sale result
Fool notes that all 6 of the recent articles by Wall Street columnists were all positive about the stock
For those of you who need names Chris Davis has made about 80% on this stock since he put it on his pick list
Competitors: You should always compare your stock's price performance to its competitors and WCN has been up over 28% in the last year while Casella Waste Systems (CSWT) was up 29% and Republic Services (NYSE:
RSG
) was down 4%:
Click to enlarge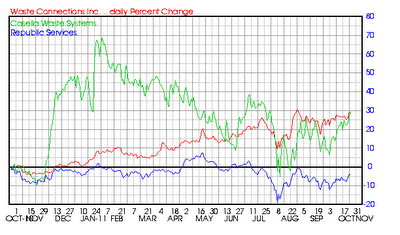 Summary: Your watch lists should contain companies that have double digit growth projections for sales and earnings. Buy these when they show positive price momentum. Right now Waste Connections has all three plus a growing and positive following by both the professional and individual investor. If the growth projections are met and the P/E ration can be maintained investors at this level could see a annual total return in the 11% - 13% range for the next five years.
Disclosure: I have no positions in any stocks mentioned, and no plans to initiate any positions within the next 72 hours.