Under Armour (NYSE:UA) posted terrific third-quarter results Wednesday. Sales were up nearly 42%, with net income up 32%. As a result, we are raising our optimistic case fair value to $53 per share, implying a 24x 2012 earnings multiple, and another year of 30%+ revenue growth. In the spirit of transparency, we make available our DCF valuation model template here.
Higher price mixes, higher costs
One of the most positive takeaways from the quarter was Under Armour's ability to sell higher price-point apparel. CEO Kevin Plank mentioned the success in the hooded sweatshirt market, which consumers generally purchase in the $20-25 range, selling for upwards of $70. Additionally, Plank cited continued success with the charged cotton t-shirts and storm fleece hoodies.
See the Full UA Earnings Call Transcript
However, these higher price-points were tempered by the large rollout of footwear and higher commodity costs. Gross margins fell nearly 260 basis points year over year, and, due to hedging activities, they will likely not recover until late second quarter or third quarter of 2012. SG&A fell on a relative basis, but still ballooned by over $40 million year over year.
Footwear a strong point?
If you only skimmed through the press release, it certainly looks like footwear is on fire.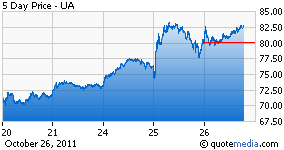 Under Armour sold over $50 million in footwear, a 97% year over year increase in sales. Plank was excited about the possibilities of telling a compelling footwear story and capitalizing on the tailwinds in the running segment.
Yet, the sales in the third quarter don't indicate much, other than the retailer's willingness to accept the product. With the unequivocal success of Under Armour's core product lines, we think the big retailers like Dick's (NYSE:DKS) and Footlocker (NYSE:FL) have no choice but to take on the product, especially with the expansion of Under Armour's direct to consumer business. We look back to the third quarter of 2009, when sales of footwear grew by 153%, only to fall sequentially for the next 4 quarters when retailers where sick of the shoes collecting dust on the shelves.
Though it has yet to be seen, we still do not like Under Armour's footwear strategy and we predict a similar fate for this year's running offerings. We think a sea of mark-downs may hit Under Armour footwear yet again, sending the company back to square one.
Huge Inventory build a cause for concern
Last quarter, management told us that they were "working through" inventory issues and that inventory would come down to be more in-line with sales. We were disappointed yet again, with inventories up 63%.
Some of this can be attributed to great expectations for the holiday season, and also the in-sourcing of their accessories business. However, we think, in combination with outlet growth, that Under Armour might be saddled with unpopular products that it has yet to mark down. Before we speculate any further, we will investigate the issue and update investors on our findings.
Nevertheless, the quarter was very good
Though this quarter raised a lot of red flags that have been consistent with our general thesis on the company, it's important to remember that we are raising our fair value and think Under Armour reported a lot of good news.
As we mentioned earlier, charged cotton appears to be resonating with consumers and continues to become a more significant part of the apparel mix. Plank also mentioned increased efforts to improve the style and fit of the charged cotton, as well as product line extensions.
Additionally, we like Under Armour's effort to grow in women's apparel and compete against Nike (NYSE:NKE) and Lululemon (NASDAQ:LULU) by increasing distribution through Nordstrom (NYSE:JWN). Nordstrom has consistently performed will throughout the past 2 years, and it has a higher-end customer that is less price-sensitive than the average Dick's or The Sports Authority customer.
International sales were up 54% in the quarter. We've been critical of the company's foray into Europe, and we are anxious to see what sort of plan will be executed in the 2012 Olympics and beyond. Though now is a difficult time to enter Europe, it still represents a very small part of the company's revenue, so a recessionary European environment won't hurt as much as it will hurt Nike or Adidas (ADDY). We are considering Under Armour as a put-option candidate in our Best Ideas Newsletter (click here).
Disclosure: I have no positions in any stocks mentioned, and no plans to initiate any positions within the next 72 hours.