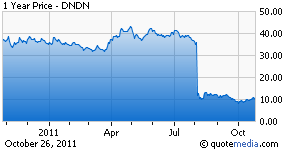 Dendreon (DNDN) is pushing against the 50-day moving average, which currently stands at $10.64. The stock was turned back from this area this morning, as you might expect, in the absence of news.
Clearly, the Street is waiting for the 3Q11 results to be announced on November 2, after the close (see below). With the current count of Provenge providers now at 722 (up 20% from early August), Medicare reimbursement issues behind us (the Q-code was published in early August), the ease with which Provenge providers can qualify patients (using simple bone scans), and a new marketing team at the helm, I am sanguine that the company will exceed the Street's conservative expectations, which currently posit sales in the low-to-mid $60-million-range for the third quarter. I would expect (but of course do not know) that the company also will provide some indication of the sales achieved for October, 2011. Remember, once the company achieves $500 million in sales, it is cash flow-positive, something that should happen 1H12, and possibly as early as 1Q12.
If the company surprises the Street on November 2, I would expect the stock to move smartly through the 50-day moving average and begin a new uptrend. Next stop: the low $20s, as seen in the weekly chart, where the 200-week moving average is just over $22. Note that on the weekly chart, the stock still is oversold. Importantly, however, the weekly MACD line is just about to turn positive (black line to thrust up through the red line), suggesting that the smart money will begin buying again, once it sees signs that the company has "righted the ship."
Stay tuned, especially on November 2.
Charts courtesy of Stockcharts.com: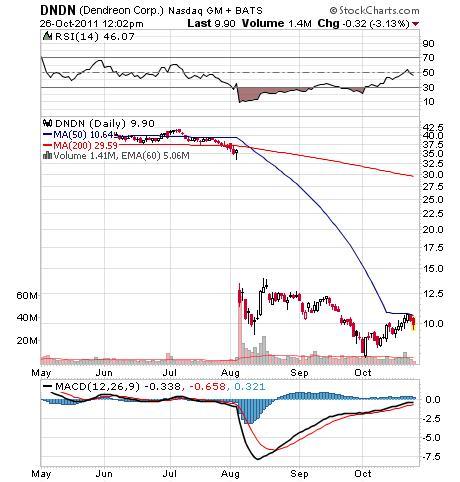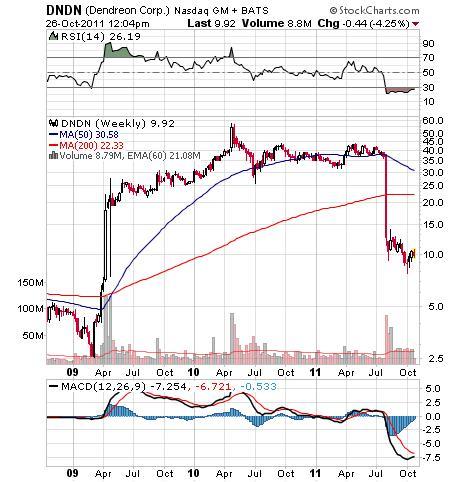 The information below, from the Dendreon Web site, will be useful in finding presentations of interest. Click here for more.

Webcasts and Presentations
Nov. 2, 2011 at 4:30 p.m. ET
Q3 2011 Dendreon Earnings Conference Call
Nov 15, 2011 at 9:00 AM ET
Nov 9, 2011 at 8:30 AM MT
Credit Suisse Healthcare Conference
Additional disclosure: I am long DNDN and will not alter my position within 72 hours of the time of publication of this article.