While some industry experts and analysts were advocating a breakup in Abbott Laboratories (NYSE:ABT) the timing and decision seems interesting. What really is to gain by the breakup?
Many analysts and industry experts believe the market was undervaluing the company based on the different investment profiles and failure to capture synergies across very different divisions. But why now and why choose to keep the diversified healthcare company, which has lower earnings and is valued significantly lower by most analyst using sum-of-the-parts valuations?
While I was not one for advocating the split between divisions at Abbott Laboratories, looking backwards, it does seem to make sense. Looking forward I don't believe the market has fully appreciated the gains on the separation of the entities and the real reason for the breakup. I believe we will see a 8-15 percent stock appreciation in the year until the split and still receive the nice 3.5 percent dividend in the meantime.
Looking at the parts
Pharma
The overall pharma industry from a macro standpoint has a lot of headwinds. Particularly we see a lot of uncertainty in the regulation of the industry, uncertainty in FDA approvals, and pressures on reimbursements. The well-known patent cliff may be over blown, however we still lack the vision to accurately forecast the future of the blockbuster. The brute force method of creating compounds is still widely used by the pharmaceutical with little adaptation.
Here's a look at its proprietary drugs on the market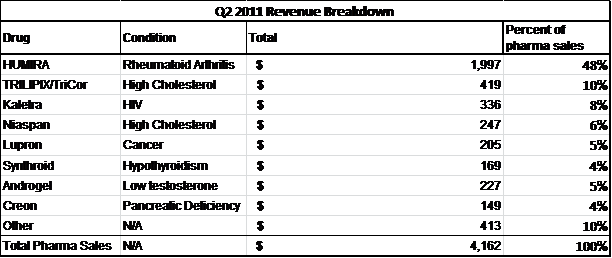 Humira by all accounts is a Blockbuster but it may face competition in the next few years and it comes off patent in 2016/2017. Humira IS the pharmaceutical portfolio. Its sales may hit 8 billion this year and 9 billion next year.
The pipeline is not terrible but nothing gets the street too excited right now. There are 20 compounds in Phase 2 or higher. My belief is that the company trades at a multiple consistent with the market expecting almost nothing in the pipeline. Bardoxolone, for chronic kidney disease (CKD), has blockbuster potential because of the huge growing market and the recurring sales but it lacks the rights in the US market where CKD growth and market size is the highest. There are a few compounds with promise that can be multibillion dollar drugs, but still lots of uncertainty.
Though this company has some promise in its pipeline, underlining risk and uncertainty prevent me from believing in the value proposition promised by most of big pharma and in the overall promise of the business model. Using a risk adjusted DCF with a discount rate of 14 percent and terminal growth rate of 4 percent I value the company at about $28.50 dollars a share.
Diverse healthcare
(Click charts to enlarge)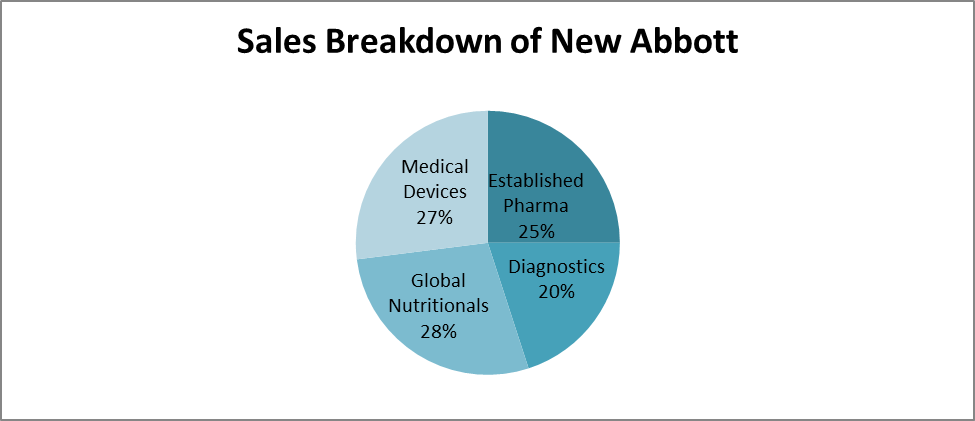 The diverse healthcare consists of 4 segments growing with high single to double digit growth. Growth is extremely consistent and global. US markets and EU markets are penetrated and growing at a slow but stable rate in most industries. Emerging markets are underpenetrated and growing rapidly. This company has many different growing segments, huge geographic sales dispersions, and diversity of payers.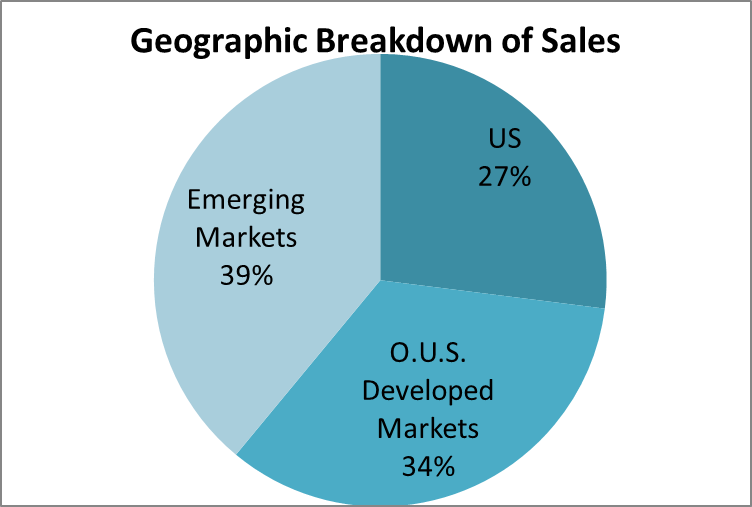 Nutritionals
This segment has the brands we all know a little about: Ensure, Pedisure, Pedialyte. They also have sports nutrient products such as EAS and In Zone Percent. Abbott is uniquely positioned in these areas because of its great reputation with healthcare professionals. Therefore its products have a consumer psychological advance over other nutritionals.
These products contribute 25 to 30 percent of company total revenue. Given their low risk, I don't see any catalyst in this particular area; it is looking at medium and consistent growth. The growth will touch all markets with most in the emerging markets, making it a safe product line in almost all market conditions. This market is expected to grow to 40 billion dollars by 2015. Abbott should be positioned well with demographic trends, serving both aging populations in the developed world and high birthrates in the developing world. Expect low double digit growth going forward and for it to be Abbott's number one source of revenue.
Diagnostics
This consists of core diagnostics, molecular diagnostics, and point of care.
Core: Comprising the largest amount of Abbott's diagnostic revenue. Consistent revenue and low risk business.
Molecular: It is experiencing double digit growth and will continue to see double digit growth in the long run. We expect this to be a very large and very profitable area in 10 years. Abbott dominates areas such as PCR and FISH.
Point of Care: Includes products such as the i-STAT. Nothing interesting and lacks any downside or upside catalyst, just high single digit year-on-year consistent growth. Expect a continued push oversea with the bedside testing.
Molecular diagnostics will have huge double digit growth and point of care and core will see single digit growth.
Abbott Medical Devices
Vascular Devices: Includes Absorb Drug eluting stents and core coronary. It has huge product portfolio and dominates the market in many areas. Sales growth overseas is playing the largest role in its growth and we can expect that going forward. Looking forward MitraClip is under FDA review and could be a nice contributor.
Vision: Eye care solution, LASIK, and cataracts. All growing product lines in multiple areas of the world.
Diabetes: Monitoring systems and Insulin pumps. These play to demographic trends since diabetes affects 220 million people worldwide in 2010 and is growing.
Generic Pharma
Represented by more than 500 generic drugs, this business is truly global. Its characteristics are similar across the globe with out-of-pocket payers. Recent acquisitions make the company now the number one drug company in India. Making drugs has been a part of Abbott's strengths for years, don't expect that to change. Look for continued growth globally especially in emerging markets.
Value of diversified health company
Although the Diversified healthcare company represents over 50 percent of sales, it only contributes 35-40 percent of earnings. Revenue will increase in the high single digits for the next few years. I suspect margin expansion will continue and we should see double digit bottom line growth. I believe Abbott will surprise to the upside with earnings for ABT diversified healthcare at around $2 per share. This estimate excludes restructuring costs. This estimate may change very quickly as more information about the new company split continues. Using a combination of multiple comps and adjustments I believe ABT should be valued between 14-15X 2012 earnings. This brings the company to a value of $28 to $30 dollars per share.
What's to Gain in the break-up?
Complete change in investment profile
The pharma business and health/Device business have completely different risk profiles and completely different drivers for investors. Its previous model made it unattractive for investors looking for a pharmaceutical company (40 percent of the revenue in other products) and unattractive for companies that wanted diversified medical products with exposure to international markets. Overall most experts would agree with this view, but how much stock appreciation does this bring and is it worth the additional cost of the break-up?
Costs of the breakup
The highest cost comes in the form of restructuring debt. The new proprietary pharmaceutical company will need to build new teams in various other areas of the business. In all I believe the company's leaders when they say the additional cost and additional expenses of the split should even out. Operations and acquisitions may also be affected; now extra cash from highly performing units can no longer be used to invest in pipelines.
Divisional Cross Divisional partnerships
As the paradigm for personalized medicine continues on its path, we are likely to see partnerships between pharma and diagnostics firms. Though Abbott was unsuccessful in using the two businesses synergistically in order to build the pharmacogenomics relationship, it seems strange to close that door before any real efforts were under way.
Investors finally having a solid choice. But what is that choice?
Before the split the main problems of the company were overreliance on Humira and lack of major opportunity in the pipeline. After the split one company will have even more overreliance on Humira and a lack of proven or solid prospects in the pipeline. Before about 20 percent of the company's revenue came from Humira, now the pharmaceutical company will have almost 50 percent of sales coming from one drug that's facing competition in the next few years. Not to mention close to 80 percent of the earnings by the time it is a separate entity. All the problems were just shifted to one company.
While I believe the pharma business has assets in the pipeline, including a few multibillion dollar prospects, the headwinds in the pharmaceutical industry just do not give the risk reward proposition most analyst have modeled for the proprietary pharma business. While I believe the market exaggerates the patent cliff, it is present. Future success of pharma will be contingent on personalized medicine and pharmacogenomics. Increasingly we will be seeing a reimbursement money shifting from therapy to diagnostics. But only one of these two companies will benefit.
Chance of buyout
I believe the proprietary pharmaceutical company may be unofficially now up for sale. I give the deal a 40 percent chance. I believe the sale could happen before the spin-off actually happens or in about 2 years when pharmaceutical companies are more likely to consolidate. If the business is sold, we will most likely see only a slight premium given to its valuation. There are a few factors that play a role in this estimation: Abbott lacks leverage since its threat to run independently is somewhat shaky. Large pharma knows about the complications and possible diseconomies of scale in trying to combined two large pharmaceutical companies. There is however value in the pipeline for companies willing to bare the risk and Humira will offer some very nice cash flows over the next 4 to 5 years. This will be quiet tempting for a buyer. Some possible bidders might be Bayer AG (OTCPK:BAYZF) or AstraZeneca (NYSE:AZN). I wouldn't count out Roche (OTC:RCHBF) or Merck & Co (NYSE:MRK) even though they both have RA therapies. Eli Lilly (NYSE:LLY) has already said it is not interested, and Johnson and Johnson (NYSE:JNJ) will mostly likely be a seller on the M&A front.
Why buy the stock now?
I don't believe the market fully understands the angle and appreciates the promise of the split. From Wednesday's stock price to today's market open we have only seen a change from $52.44 to $52.99. While I believe the market overvalues the proprietary pharma division, I believe this increases the likelihood that it gets bought at a premium to its real value.
The total value of the company is as follows: With a valuation of pharma at ~$28.50 based on a DCF analysis and a ~40 percent chance of getting bought out at $35 per share we get a total of ~$31 per share. The diversified healthcare company is worth ~$28-$30, bringing the total value of the company to ~$59-$61 dollars or 10-14 percent undervalued.
I believe the real reasoning for this split is that Abbott and Miles White believe the strength of Abbott is the nutritionals, generics, diagnostics, and stents, and the proprietary pharmaceutical division has a risk profile that drags the entire company down. Miles White had a choice of which company to run and he chose the part of the company with a lower valuation according to most of the street. Some analysts even mentioned only 25 percent of the presplit equity value. I believe internally they believe the street overvalues the proprietary pharmaceutical business and are looking to sell. This new company does not have a name and I believe Mr. White would like to sell it before it gets one.
So how do you play this:
Most of the street/analysts value the pharmaceutical division too high. This will probably work in ABT's favor as it may be looking for buyers over the next year and a half. Most analysts undervalue the diversified medical company. Although I'm not totally sold on the long-term prospects of the pharma company, I think you can hold this company through the split, since most of the upside/downside catalysts are a couple years away. Then you wait, see a little bit of appreciation as the value of the split is realized, get a nice dividend, and sell the shares of the proprietary pharmaceutical company if it is not sold off by Abbott.
Disclosure: I am long ABT.