Nevada Gold (NYSEMKT:UWN) recently announced that it had come to an agreement to buy all of the outstanding shares of AG Trucano. Trucano is, by far, the largest operator of slot machines in Deadwood, SD. While most of the specifics of the deal have yet to be disclosed, I am presently optimistic.
I believe that the company has made an acquisition that is going to immediately generate a tremendous amount of revenue. When looking at the stats in this presentation that the company gave, the operator makes up approximately 24% of the slot machines in Deadwood.
Looking at the most recent annual report for gaming operation in South Dakota, we see that there was approximately $95.5 million in revenue generated by slot machines. If 24% of this went to AG Trucano (which, may not hold true due to revenue distribution) and there are no major changes in the South Dakota Gaming market, we can expect Nevada Gold's revenues to go up by just a hair under $23 million. This is pretty significant for a company that has generated around $55 million dollars in revenue in the trailing 12 months.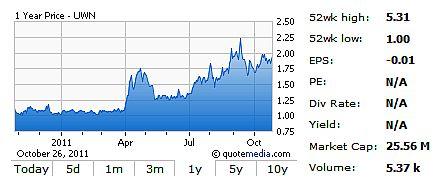 Considering that the company paid ~4x trailing EBITDA, or $5.2 million (per this presentation that I saw at the annual meeting), that implies additional EBITDA of $1.05 million. If the company gets up to just 15% EBIDTA margins on, say, ~$25 million in revenue, that would imply additional EBIDTA of just under $4 million at some point in the future. Even if revenues for Trucano fall to $20 million, Nevada Gold will still be flying.
Another thing that I like about the acquisition is that the previous CEO remains with the company. I would imagine that to keep the purchase price down, that is part of why the company issued $100K in restricted stock. This may have some juicy conversion rights, and will not only incentivize the CEO to stay with the company, but also make it run well. The CEO now effectively gets some of the upside of operations, plus whatever multiple the market assigns to it, This is something he didn't have nearly as much of as when AG Trucano was a private company! The debt structuring is also something that I really like. Nevada Gold used of a fair amount of cash in the purchase price, which indicates (to me) that management is sure of its present operations and of Nevada Gold's ability to grow using debt via Wells Fargo, seller's paper, stock, and debt instruments via the recently filed S-3.
Look at some of the legislation in effect in South Dakota for gaming. It seems that there are protections in place to shelter present operators from competitors coming in. Furthermore, if you look at the demographics of the area, there are a lot of older people there who are typically the type of people playing slot machines. It is nice to know that generally they have pretty steady incomes (pensions, Social Security checks, and the like) and are living longer lives.
I am hoping that this will keep revenues in the area relatively steady. Additionally, when looking at the demographics, while the population of Deadwood has been declining, the population of the county is more than making up for the decline. Furthermore, the populations of South Dakota and Wyoming (which is really close to Deadwood) have been growing. Again, not bad trends to see.
With all of this, is there any bad? While a smoking ban seemed to hurt revenues, it will ultimately keep the populace alive for a longer period of time. That's never a bad thing, especially when the company owns one of the few places this group can go to gamble. If we have learned anything from the company's filings, it's that smoking bans don't kill operations in the long run. Take a look at EBIDTA margins at the property in Cripple Creek.
As we have seen in the past, Nevada Gold generally does a great job of improving operations. Just look at what the company has managed to do with everything it has bought. I have no reason to believe that this acquisition will be any different. When a place is presently generating EBITDA margins of <5%, on a product offering that is generally pretty high margin, I am hopeful for there to be significant upside in operations.
All this said, the devil could lie in the details, which the company says it will disclose with its next 10Q. I anxiously await the filing; it will be the first one where we see operations for a full quarter of the Red Dragon.
Disclosure: I am long UWN.
Disclaimer: This is not advice of any kind. Always do a ton of your own research in regard to anything that I say, do, write, or so much as even think about.