Since the third quarter earnings season started on October 11th, 193 S&P 500 stocks have reported earnings. The average S&P 500 stock has averaged a decline of 0.21% on its earnings report day this season (for companies that report after the close, we use the next day's change). This is surprising since the S&P 500 itself is up 4.15% over this time period, and it shows that earnings haven't been driving the gains that we've seen.
Thirty-four S&P 500 stocks have gained more than 5% on their report days this season. Below is a table showing these 34 stocks. Harman (NYSE:HAR) has been the best S&P 500 stock in response to its earnings with a one-day gain of 20.55% on its report day. F5 Networks (NASDAQ:FFIV) ranks second with a gain of 14.73%, followed by Express Scripts (NASDAQ:ESRX), Altera (NASDAQ:ALTR), Quest Diagnostics (NYSE:DGX), and State Street (NYSE:STT). Other notables on the list of earnings season winners include Bank of America (NYSE:BAC), Intuitive Surgical (NASDAQ:ISRG), Chipotle Mexican Grill (NYSE:CMG), Google (NASDAQ:GOOG), Goldman Sachs (NYSE:GS), and Caterpillar (NYSE:CAT).
click to enlarge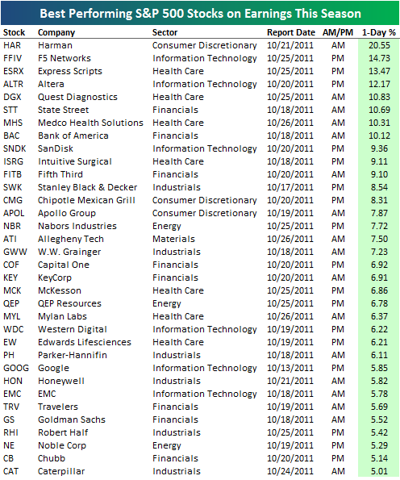 While 34 S&P 500 stocks have gained more than 5% on their report days, 31 stocks have declined more than 5%. Netflix (NASDAQ:NFLX) leads the list of losers with a one-day decline of 34.90%, followed by DeVry (NYSE:DV), Newfield Exploration (NYSE:NFX), AK Steel (NYSE:AKS), and Amazon.com (NASDAQ:AMZN).