Since the third quarter earnings season started on October 11th, 193 S&P 500 stocks have reported earnings. The average S&P 500 stock has averaged a decline of 0.21% on its earnings report day this season (for companies that report after the close, we use the next day's change). This is surprising since the S&P 500 itself is up 4.15% over this time period, and it shows that earnings haven't been driving the gains that we've seen.
Thirty-four S&P 500 stocks have gained more than 5% on their report days this season. Below is a table showing these 34 stocks. Harman (HAR) has been the best S&P 500 stock in response to its earnings with a one-day gain of 20.55% on its report day. F5 Networks (FFIV) ranks second with a gain of 14.73%, followed by Express Scripts (ESRX), Altera (ALTR), Quest Diagnostics (DGX), and State Street (STT). Other notables on the list of earnings season winners include Bank of America (BAC), Intuitive Surgical (ISRG), Chipotle Mexican Grill (CMG), Google (GOOG), Goldman Sachs (GS), and Caterpillar (CAT).
click to enlarge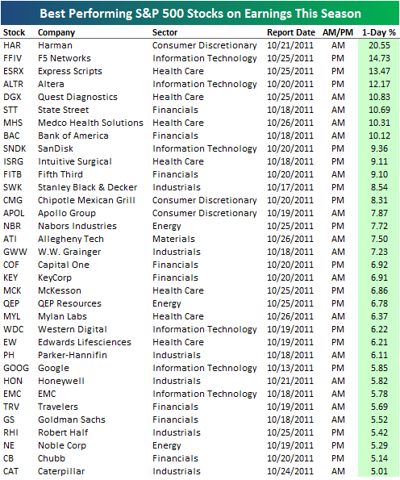 While 34 S&P 500 stocks have gained more than 5% on their report days, 31 stocks have declined more than 5%. Netflix (NFLX) leads the list of losers with a one-day decline of 34.90%, followed by DeVry (DV), Newfield Exploration (NFX), AK Steel (AKS), and Amazon.com (AMZN).