Here in my home city of Oklahoma City, Oklahoma, people might be forgiven for wondering just what all the fuss is about "another" recession.
Unemployment here is just 5%, construction work continues on projects on the expanding north and west sides of the city. The nearly-completed headquarters for Devon Energy (NYSE:DVN), a 50-story skyscraper in the middle of downtown, is the anchor for Project 180, the third phase in the city's ambitious - and so far successful - revitalization of the city center. The city's median household income has grown by 20% over the past decade, while the population grew nearly 15% over the same period. (In fact, more people moved from California to Oklahoma than vice versa in 2010, according to USA Today, a figure that would surely shock John Steinbeck, who wrote about the Depression-era "Okies" in The Grapes of Wrath.) The real estate market has climbed slowly but steadily, missing out on the boom of the mid-2000s but also the bust of the last few years. Yet the median price for a home in the OKC metropolitan area remains in the range of $120-$130,000, depending on the source. Despite a relatively low wage scale statewide, the cost of living and the stability in the employment and real estate markets has buffeted the city - and state - from many of the economic problems roiling the stock market and the country at large.
I bring this up not to recommend OKC as a wonderful place to live (though it is), or to brag> I mention the Oklahoma experience to point out that the current iteration of the 2008-11 economic crisis/recession/depression is not nearly as widespread as many in the media make it out to be. Given the effect that economic fears have had on the broad market and individual stocks over the last four years, investors must be aware of the specific impacts of the economy, and perhaps look for stocks less exposed to economic turbulence. This recession has not hit the country evenly, in a variety of ways:
Geographic
Oklahoma isn't the only state defying the broader national economic trend. Seventeen states have unemployment rates of 8.0% or lower, with only 10 states (and the District of Columbia) in the double-digit rates. The map below from the Bureau of Labor Statistics shows unemployment's disparate impact.
Click to enlarge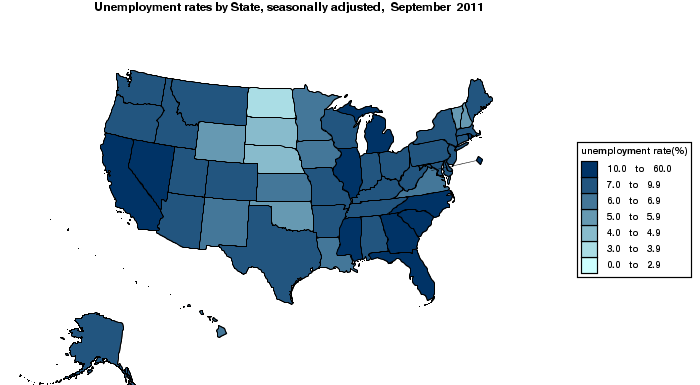 Click to enlarge
Chart courtesy Bureau of Labor Statistics
Note the strength in the Upper Midwest, as Farm Belt states such as Iowa, Nebraska and the Dakotas all see unemployment rates of 6% or lower. The pain is most felt in California, Nevada, parts of the Rust Belt, and the Southeast.
In this map, we see lower rates of unemployment largely concentrated in rural states which, for the most part, avoided the housing bubble. Might this resilience translate into improved earnings for companies such as agricultural manufacturer John Deere (NYSE:DE) or processor Archer Daniels Midland (NYSE:ADM)? Deere is off 25% from its highs earlier in the year, and now trades at just 12 times earnings, with a dividend yield of 2.2%. ADM trades at just 9 times earnings, a slight premium to competitor Bunge (NYSE:BG), despite the company's history of success during previous periods of agricultural inflation. Both ADM and BG report earnings in the next week (Bunge on Thursday, ADM next Tuesday), and unexpected success here in the U.S. could boost both stocks.
Fertilizer providers such as Mosaic (NYSE:MOS) and Potash (NYSE:POT) could benefit as well. Over 40% of Mosaic's sales in the first quarter (on a tonnage basis) were to North American customers, and their continued strength would leave the company undervalued at its current P/E around 10. Indeed, agricultural stocks across the board, given the economic strength in their key U.S. markets, should be on any investor's watchlist.
Regional retailers may also be interesting plays. At Tuesday's close of $8.66, electronics retailer Conn's (NASDAQ:CONN) trades at 12.5 times the midpoint of its fiscal year 2012 guidance of 65 to 75 cents per share in adjusted earnings, and has shown significant strength since beating analyst expectations with that forecast in early September. The company operates 71 locations, predominantly in Texas (6 are in Louisiana, and 3 here in the Oklahoma City area, with the balance in the Lone Star State). Conn's keeps much of its financing in-house, increasing default risk. But the stronger economies within its retail range have kept charge-off and delinquency rates low. The stock's book value of $11.30 seems to imply a substantial discount for many of its receivables, a discount that may be overdone considering the strength of its customer base and credit portfolio. Restaurant chain Luby's (NYSE:LUB), like Conn's based almost solely in Texas, also trades below tangible book value and might be of interest to value investors.
On the flip side, investors in Dillard's (NYSE:DDS) should wonder how much longer the struggling consumers in the Southeast will support the company's admittedly impressive recent earnings growth. The company trades at a slight premium to competitor Macy's (NYSE:M) despite Dillard's increased exposure to struggling local economies in key states such as Florida, Georgia and North Carolina, which combined host nearly one-quarter of the company's stores. Macy's has its own exposure to weak local economies, of course. But its more balanced portfolio nationally should offer more protection than the regional bias of Dillard's stores, which tilts strongly toward perhaps the nation's most depressed states.
A third way to play the disparity in regional economies is through regional banking stocks, which are doing well as of late. The KBE ETF, some 70% of which is comprised by regional banks, is up nearly 20% since hitting long-term lows on October 3. Two small-cap plays on economic strength are German American Bancorp (NASDAQ:GABC) and HF Financial Corporation (NASDAQ:HFFC). German American has 33 locations in southwestern Indiana, where the economy is doing far better than that of the state - or country - at large. Here are the unemployment rates as of August for the counties served by the bank.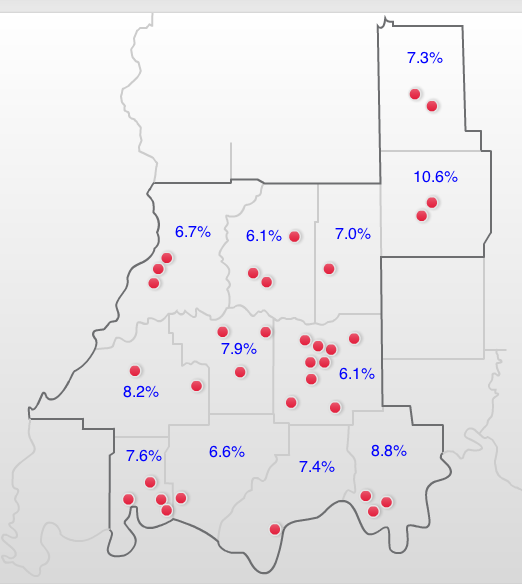 Click to enlarge
GABC locations (in red); map from germanamerican.com website. August 2011 unemployment data from Bureau of Labor Statistics website added by author.
Note, in particular, the strength in Dubois County, the bank's home, where the unemployment rate is just 6.1%. In the meantime, German American offers a clean balance sheet, a P/E of 12.4, trailing twelve-month cash flow of 11% of market capitalization, and a solid dividend yield at 3.32% as of Tuesday's close of $16.87. The company is coming off record 3- and 6-month earnings, as the recent acquisition of American Community Bancorp has boosted profits.
HF Financial, meanwhile, is an interesting micro-cap play on the sector. The bank has 33 locations in economically stable South Dakota, with one location in western Minnesota, and a recent expansion into Minneapolis. The stock is thinly traded (average volume is 4,500), but the company has been profitable every year since going public in 1992. Fiscal year earnings (ending in June) were just 10 cents, but included a 57 cent charge for the sale of pooled trust preferred securities at a loss. Without that loss, earnings would have been 67 cents per share, following a $1/share profit in fiscal 2010. At Tuesday's close of $9/share, earnings power looks stable. The company has paid dividends every year since going public, and while growth has been lackluster (nearly non-existent, to be honest), the current 5% yield does look enticing. The balance sheet is firmly positioned well past regulatory requirements, and was strengthened by the sale of the risky preferred trust assets last quarter.
As volatile as the financial sector has been, investors need to be aware of regional economics, particularly for smaller consumer banks. Companies such as Bank of America (NYSE:BAC) and Citigroup (NYSE:C) have truly nationwide operations, but many banks are regional or even single-state operations. Investors should be aware of the variance in economies across the country should they dip their toe in the murky financial waters.
Educational
Despite the recent furor over the fact that student loan debt will hit $1 trillion this year, and comparisons of that debt overhang to the mortgage bubble of a few years back, a college degree still makes a major difference in the job market. Here is the most recent data from the BLS on unemployment by level of education:
| | |
| --- | --- |
| Education | Unemployment Rate* |
| No HS Diploma | 13.0% |
| HS Diploma | 9.1% |
| Some College | 8.3% |
| College Degree | 4.2% |
* -- not seasonally adjusted
Source: Bureau of Labor Statistics
The difference is pronounced - notably, only the completion of a degree makes the college experience worthwhile, as a few credit hours here and there make little difference in employment prospects. Despite the potential debt load, the near-guarantee of employment should continue to make a college degree an investment not just for recent high school graduates but for working adults looking to create job security.
The obvious beneficiary of this trend would be the for-profit education industry. And, while I warned earlier this month about the dangers of government-reliant industries in this political climate, there may some decent values in the bargain bin. Bridgepoint Education (NYSE:BPI) has struggled after an early-summer bull run, and closed Tuesday at $21.41, nearly 30% off a 52-week high set in July. Also, 99% of Bridgepoint's students take classes online, allowing the company to be more flexible than brick-and-mortar competitors should federal regulations, cuts in Pell Grants and guaranteed loans, or economic headwinds hurt enrollment. The company trades at less than six times earnings on an enterprise basis, and free cash flow was over 20% of market capitalization in the last 12 months.
BPI's largest competitor, Apollo Group (NASDAQ:APOL), might also be of interest. The operator of the University of Phoenix jumped 8% last week on strong fiscal fourth-quarter earnings of $4.02 per share, and guidance for FY2012 that beat estimates (although revenue is forecast to fall around 10% year-over-year). As the market leader, with the most well-known name and a worldwide operation, Apollo may also be able to weather regulatory scrutiny and lower enrollment. The company trades at just around ten times earnings on an enterprise basis at Tuesday's close of $47.46. Neither stock is for the faint of heart, and many observers - myself included - have been critical of the nation's higher education system, in terms of its value not just to students but to the U.S. economy at large. The question for for-profit education stocks is what system will replace them - and when. Right now, it appears likely that higher education as we will know it will remain in place for some time. If so, these two stocks - and perhaps the sector as a whole-- should continue to profit.
Class
This is perhaps the most important lesson of the current economy for individual investors: Rich people are doing great. They are planning to spend more for the holidays, after a booming Christmas for luxury stocks a year ago. They have survived the 2008-09 crisis relatively intact, as high-end real estate in major cities such as New York, Chicago and San Francisco has held up despite the mortgage bubble implosion elsewhere, and a rebounding stock market has repaired much of the damage done during the bear market.
As such, luxury stocks such as Tiffany (NYSE:TIF) and Coach (NYSE:COH) boomed in 2010, and both stocks are up again by double-digits year-to-date in 2011. Coach, in fact, reported earnings this morning, with sales up 15%, including a positive 9.2% comp in North America. Deckers Outdoor (NASDAQ:DECK) may seem like an easy short, with the stock near a 52-week high at $105. After all, in an economic downturn, who's going to pay $200 for a pair of Ugg boots? The answer is: thousands, and thousands of people. That's why the stock is up over five times since the depth of the crisis, and why they may be a good bet to beat earnings estimates yet again on Thursday morning.
Last month, the Wall Street Journal published a fascinating article on Procter & Gamble's (NYSE:PG) sales strategy. The quintessential middle-class consumer products company is abandoning its traditional role as supplier of staples to middle-income Americans, and instead aiming toward the high - and low - end of its markets. Citigroup named the principle the "Consumer Hourglass Theory," arguing that investors should focus on up- and down-market retailers. Its index based on the theory returned over 56% from December 2009 through September 2011, versus an 11% gain for the broad market, according to the WSJ article. P&G has adjusted its strategies accordingly - and so should investors.
After all, there's a reason for the valuations placed on companies such as Lululemon (NASDAQ:LULU) and Whole Foods (NASDAQ:WFM), with P/E ratios of 49 and 38, respectively. Their affluent consumer bases will continue to spend. On the low end, the $1.6 billion buyout of 99 Cents Only (NYSE:NDN), and the continuing rumors surrounding Family Dollar (NYSE:FDO) and Big Lots (NYSE:BIG), show Wall Street's understanding of the current economy. The middle class is getting squeezed, with many of its members trading down, while the upper class sails along, seemingly unaffected.
An interesting play on the continued success of the upper class is Life Time Fitness (NYSE:LTM), a gym that caters to upper-class customers, with services such as nutrition advice, rock climbing, child care and extensive fitness programs, at elevated membership rates. The company trades at just around 19 times 2011 earnings guidance of $2.29-$2.32 per share, despite strong potential for growth in sales and earnings. The stock may be a bit pricey at current levels, as it seems to be hitting a multiple level of resistance above $40, but should be of interest to long-term investors, particularly should the stock pull back toward recent lows around $35 per share.
The stocks listed above are just a few potential plays on the irregular, unprecedented, potentially long-lasting economic downturn in which we find ourselves. But the duration and occasionally narrow breadth of the recession and/or recovery will affect all U.S. consumer stocks. Investors should understand where economic troubles reach - and where they don't.
Disclosure: I have no positions in any stocks mentioned, and no plans to initiate any positions within the next 72 hours.