An exchange traded fund that invests in the global agribusiness sector has rallied about 25% from its low earlier this month on improved sentiment on the global economy.
Market Vectors Agribusiness (NYSEARCA:MOO) has recovered to about $50 a share after falling to just below $40 in early October.
However, Bloomberg reported Wednesday that options traders are scooping up insurance against a pullback in the ETF.
Puts to sell the Market Vectors Agribusiness outnumber calls 2.1-to-1, the widest spread in nearly a year, according to the report. The ratio has climbed from 0.74 on Oct. 14 for the biggest increase since January 2008, Bloomberg noted.
"If you remain pessimistic on a European solution, this is a good way to play it," said Andrew Wilkinson, chief economic strategist at Miller Tabak, in the report. "They're growth- sensitive stocks so if we're going to have a rerun to the downside then they would underperform."
The ETF's top three holdings are Monsanto (NYSE:MON), Deere (NYSE:DE) and Potash (NYSE:POT).
"The fund owns the world's largest agribusiness firms, which have had robust growth amid strong demand for grain and other agricultural products from developing nations like China," Morningstar writes in an analyst report on the ETF. "This fund's returns can be choppy, as its holdings are greatly affected by volatile agricultural commodity prices."
Other agribusiness sector ETFs here include IndexIQ Global Agribusiness Small Cap (NYSEARCA:CROP) and PowerShares Global Agriculture (NASDAQ:PAGG), Jefferies CRB Global Agriculture Equity (NASDAQ:CRBA), Global X Farming (BARN) and Global X Fertilizers/Potash (NYSEARCA:SOIL).
Market Vectors Agribusiness ETF

click to enlarge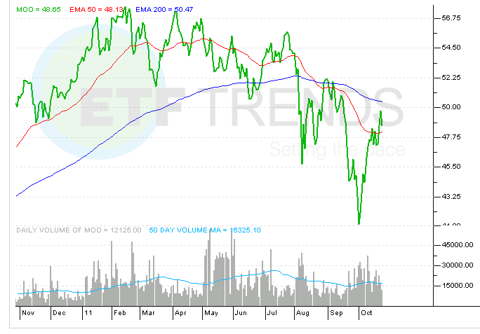 Click to enlarge
Disclosure: None