For all intents and purposes, Ampio Pharmaceuticals was founded by Dr. David Bar-Or. A respected scientist with countless published medical papers and holder of over 52 issued US and international patents, Bar-Or still serves as the company's director and chief scientific officer.
Bar-Or is credited with discovering over 300 new therapeutic candidates, including Optina™ and Ampion™, with estimated markets of over $20 billion.
In March of this year, Ampio acquired all of the outstanding stock of BioSciences for 8,667,905 shares of Ampio common stock, the "merger stock." As disclosed later, the target of the acquisition was a drug that presented an important global market opportunity for a common male sexual problem.
Ampio moved to acquire BioSciences in order to obtain all rights to Zertane™, BioSciences' drug for premature ejaculation, a male sexual dysfunction more common than erectile dysfunction.
Ampio's business plan calls for it to focus on developing drugs through existing approved drugs and biologics for new indications addressing large unmet clinical needs.
The active ingredient in Zertane has multiple mechanisms of action that can treat PE. This drug also has an excellent safety record established during 30 years of human use, and management believes Zertane represents a substantial global market opportunity. This is the first example of several that show Ampio's apetite for big bets based in small risk.
This intriguing biotech play has set forth a business model that uses a sophisticated clinical review and IP filtering process that selects clinically and commercially valuable products rapidly. That has led to an unusual, non-FDA-centric biotech model with a licensing-focused strategy based mainly on conducting safety and efficacy trials addressing multiple clinical indications. The long, tedious FDA approval process is shortened, and many of the associated risks are cut considerably.
Perhaps this is one of the reasons smart money is starting to accumulate shares of this stock. Month over month during the past three months, shares owned by institutions have continued to grow; the company now counts at least 44 institutional holders.
The number of smart money buyers far outpaces the number of sellers, and there is likely a reason for it. A majority of these institutional buyers operate within very conservative "buy" standards. On the other hand, most retail investors jump in and out of stocks very often without doing much research or due diligence.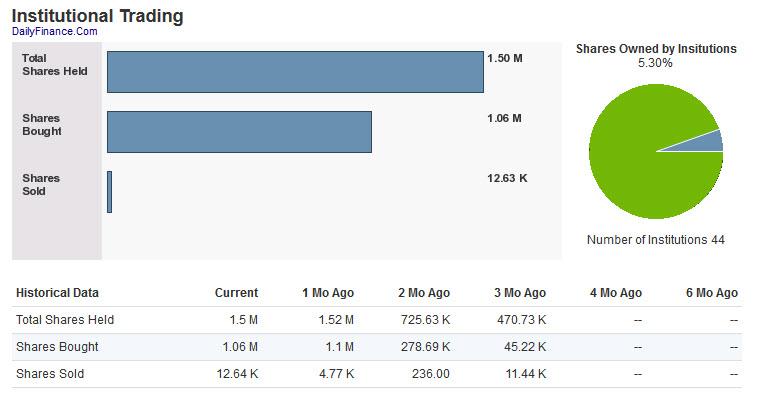 There is little doubt that Ampio's expected multibillion-dollar markets and shorter regulatory pathways have appealed to the conservative funds and institutions as a safe bet, but that hasn't stopped the non-believers and bashers from taking a growing number of short positions in the stock. Unfortunately, just as the institutional holdings have grown over the past few months, the short interest in the stock has also increased from 1.41M to 1.74M.
With a number of previously discussed catalysts pending, I'd be more likely to head to the safety of the sidelines than risk getting caught on the wrong side of this trade as a short. At any moment, the company could announce another licensing deal similar to the one it signed in September, which pushed shares higher on the good news.
In fact, SEC filings tell us Ampio contracted with a Canadian hospital to conduct Phase II clinical trials of another drug: Optina™, an existing oral drug being developed as a new treatment for diabetic retinopathy and diabetic macular edema. Patient enrollment commenced in January 2011, with the first dose administered a month later. In those filings, company management disclosed that the Phase II study would be completed in the fourth quarter of 2011.
Ampio also disclosed that it intends to partner or entertain licensing opportunities once it has realized significant value for Optina's application, based on reported human safety.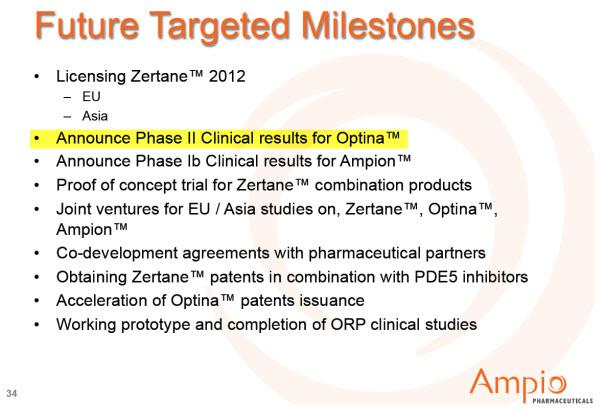 Optina is an orally administered repositioned compound based on a low-dose formulation of approved drug danazol. Developed initially to treat endometriosis, danazol was first approved by the FDA in the early 1970s, and is a derivative of the synthetic steroid ethisterone.
Bar-Or determined that danazol, in low doses, has the capability to control the permeability of tissues, thus reducing vascular leakage. During the disease state, there is an increase in vascular permeability factors leading to vasodilation, edema formation, and disruption of intercellular membrane structure.
Optina has been designed to treat diabetic macular edema, or DME, and neovascular age-related macular degeneration, or wet AMD. If untreated, diabetic macular edema leads to moderate vision loss for one out of four diabetics over a period of three years, and can lead to blindness over a period of seven years.
Smart money knows that Optina addresses the two most significant indications within the ophthalmologic pharmaceutical market, which is expected to reach $14 billion by 2012.
Positive Optina Phase II trial results would propel AMPE shares to a much higher valuation, and the built-in short squeeze set up by under-educated gamblers will force shares even higher as they cover.
I may not be as bright as Dr. Bar-Or, but I'm betting the smart money has this one figured out.
Disclosure: I have no positions in any stocks mentioned, and no plans to initiate any positions within the next 72 hours.