Excitement comes at a price. And coming in at under $2.00 per share, Sirius XM (NASDAQ:SIRI) seems like it would be the equivalent of the dollar movies. Don't be fooled though, this stock is not cheap. Earnings have been negative until the most recent year, and there was lots of talk in 2008 and 2009 of Sirius going bankrupt shortly after the purchase of XM radio.
This week, Sirius XM announced the release of Sirius 2.0 expanded services, which also corresponds with the release of the Sirius XM Edge radio. The new 2.0 network will be able to have up to 25% more bandwidth capacity, which means more channels. And the new radio will have rewind and playback features similar to a DVR. This increases the value of Sirius' product and should translate into increased sales revenues.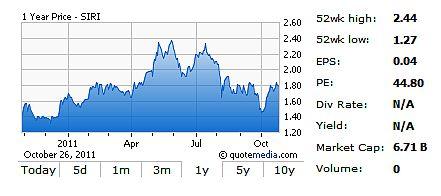 Top line revenue has averaged over 50% in 2008 and 2009. The only problem is that expenses were higher. The cost side of the equation starts to really break down with the 2008 merger with XM radio. You can't eat sales revenue, and although bankruptcy concerns are way overblown, current net income of $43 million dollars still translates to about one cent per share, making the P/E ratio still over 60. The current price to sales ratios are reasonable at 2.28 with profit margins of 8.1%. That would tend to support Sirius' valuation of $1.78 per share. These numbers are within the industry norm.
The next question that needs to be asked at this level is whether costs are contained for Sirius? If they are, then bankruptcy fears are still concerning, but not overwhelming. The current ratio of 0.44 is troubling. Digging further into the current liabilities, we see that about half of the liabilities come from deferred income. This income comes from the prepayment of the service, which must be reimbursed if the service is not accepted. Consequently, the low current ratio is not incredibly concerning.
Nevertheless, the only real thing that will make the stock attractive is sales growth. Most people who currently subscribe to Sirius XM radio were exposed to the product after receiving the product on a trial basis after a new car sale. Many new cars come with the Sirius radio pre-installed. There is a trial period where the new car owner can listen to the XM radio for free. When the trial period is over, a certain percentage will begin with a paid subscription. The conversion rate of those who have the trial to those who subscribe have hovered between 45% and 48%.
There are two main ways for Sirius to continue or increase its subscriber growth:
First, increasing new car sales will naturally increase its subscriber base as more and more new car buyers are exposed. On this account there is room for optimism. New car sales are increasing around the country. New vehicle sales are up for ninth straight quarter in California. More new cars means more exposure to the product and more opportunity for sales.
Secondly, Sirius can improve its conversion rate, which is hovering between 45% and 48%. The new Sirius 2.0 network and the new XM Edge radio should help in this. Most importantly is the content. If consumers exposed to the product find a channel that they really like, they will more likely become a subscriber. More channels means more subscribers through increased conversion rates.
The combination of increased car sales with an improved product offering, sales should increase growth from its already lofty heights. Even more important, there is no real competition for this high end product. Sirius XM's strategy of targeting auto manufacturers rather than sell to the end user, means any competitor will face real barriers to entry to buildup the relationship with the car producers.
Earnings Growth
The real quest of Sirius is growth. Its Earnings growth has been forecasted at 30% for the next five years. If that happens, the current price will still be about 16 times future earnings per share. That would indicate to me that much of this growth is already priced in.
The opportunity exists though, for earnings growth to be much greater than that because as a technology, it can still be improved upon. Using internet and web based radio, XM radio could still have a much higher growth path and subscriber base. Part of the appeal of Sirius is the opportunity for much higher future growth. If that materializes, the growth rate of earnings could be much greater.
With the costs contained, and the upside muted, I see this stock as already priced to high earnings growth. There is an opportunity to beat the earnings growth target of 30% per year over the next five years, but earnings would have to increase more than fourfold over 5 years. That is a real possibility, but I would worry more if the growth rates are 20% instead of 30%. In that case, the stock is still rather dear for the five year time frame. But, this stock is still a reasonable bet based upon the lack of competition and continued improvement in Sirius' product offering.
I would hold on to this stock if I had it, but wouldn't try to buy it if I didn't. Its current valuation makes it priced to high growth. Actual growth could come in at greater or less than forecast. That could make this stock highly volatile. Recommendation: Hold.
Disclosure: I have no positions in any stocks mentioned, and no plans to initiate any positions within the next 72 hours.