Norfolk Southern (NYSE:NSC) has had a strong move off the $57 lows hit in October. I'm bullish on Norfolk Southern after having such a strong third quarter. Norfolk Southern is in an industry that is doing well during a very difficult time in the economy. I like to invest in businesses that have pricing power and limited competition. The United States rail systems are pretty much run by three main railroad operators. The cost of building a new rail system is now uneconomical and now serves as a barrier to entry.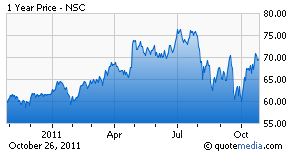 Here are some additional points I like about the Norfolk Southern story:
- Norfolk Southern had an all-time record breaking quarter. The company broke records in income from operations and earnings per share.
- The trends of the first 2 quarters extended into the third as we continued to see highway conversions lead intermodal unit growth of 8% for the quarter and 9% year-to-date.
- Export coal volume has sustained its strong pace, up 23% for the quarter and 24% for the year-to-date. I foresee solid strength in these markets continuing into the fourth quarter and on into 2012. The recent Caterpillar (NYSE:CAT) earnings report further confirms the strength of the mining industry. Caterpillar also expects this growth to continue into 2012.
- The company has paid $432 million so far this year in dividends, an 18% per share increase versus 2010. Norfolk Southern also repurchased over $1.6 billion in shares during the first 9 months of the year.
- Revenue for the quarter reached $2.89 billion, up $433 million or 18% over the third quarter of last year, with yield improvement across all business groups and volume growth in Intermodal, Metals & Construction, Automotive and Coal.
- The pricing environment for the company continues to be favorable as truck capacity tightens and driver turnover continues to be an issue. Driver turnover at large carriers has reached its highest level since the second quarter of 2008, now standing at 79%. Barge capacity also continues to remain tight for coal, grains and other bulk commodities.
I'm bullish on Norfolk Southern and view pullbacks as an opportunity to build a position in the company. The $65 area is a good spot to start accumulating if we get it. I expect to see the strong growth to continue into 2012 with the possibility of accelerating further if the economy were to recover.
Disclosure: I have no positions in any stocks mentioned, but may initiate a long position in NSC over the next 72 hours.