How can you limit your risk of a steep portfolio loss due to corrections or bear markets?
Some use sector rotation to get positioned in defensive stocks as markets are dropping. In a highly correlated market drop, however, the good and the bad still fall together. It is a small consolation to know your portfolio only dropped 40% while others dropped 50%.
Others try their hand at market timing techniques. I am a strong advocate of using these techniques with my Aggressive Dividend portfolio strategy. But some feel uncomfortable selling all their stocks as they may not want to miss out on the V-shaped bottom that often delivers the strongest capital gains. Others may have difficulty finding a market timing strategy that works for them personally.
So if you like the idea of market timing, but you also want to stay well-positioned for the big gains, AND you want to minimize the downside risk, here is one technique you can use.
Market Timing Portfolio Re-balancing
The market timing techniques that I favor the most involve tracking the S&P 500 (NYSEARCA:SPY) current year earnings estimates and looking for upward or downward trends. When estimates are rapidly slashed, a downturn is often right around the corner (or it recently began). The same is true when earnings are sharply revised upwards.
Instead of going to cash when the market timing signal turns down, we will use the market timing signals as an opportunity to re-balance our portfolios. With our strict stock picking criteria, we will hopefully include only the strongest stocks that are best suited for weathering the storm. When the market signals turn upwards, we will re-balance once again. Our goal is to find 6 or 7 suitable picks, and we will never put more than 15-20% of our capital in any one stock (or 20% of the capital allocated for this entire strategy. (e.g. you have 200K invested but only 100K set aside for this particular strategy).
Value Stock Picking Criteria
The criteria we use will attempt to isolate unloved dividend-paying value stocks with good financial liquidity and high than average insider ownership.
First we look at the earnings. The quarterly earnings growth compared to the same quarter last year must be above 0. There must be reported positive earnings over the last fiscal year and trailing 12 months. As you can see, our earnings requirements are loose.
Second we look for low value ratios. The P/E ratio will need to be in the bottom 50% of its industry group. The P/E will need to be at least 10% below its 5 year mean.
Third, we want the Current Ratio to be in the top 50% of its industry group, and insider ownership in the top 80% of its industry group.
The remaining filters require a yield of at least 3%, minimum 10,000 shares traded daily, and no closed-end funds.
Remember that when the market timing signals turn from bear to bull, or vice versa, we re-balance our portfolio according to these rules. Recall our trading rule: do not put any more than 15-20% of your capital in any one stock. Thus, when markets are turning there will typically be few stocks meeting your stringent criteria which means you will have a higher cash position. This helps limit your risk while keeping you invested and on the prowl for more stocks the minute they hit your buying criteria. What would your portfolio look like over the past 5 years using this strategy?
Portfolio Simulation Test
The following results are compliments of Portfolio123. Click to enlarge: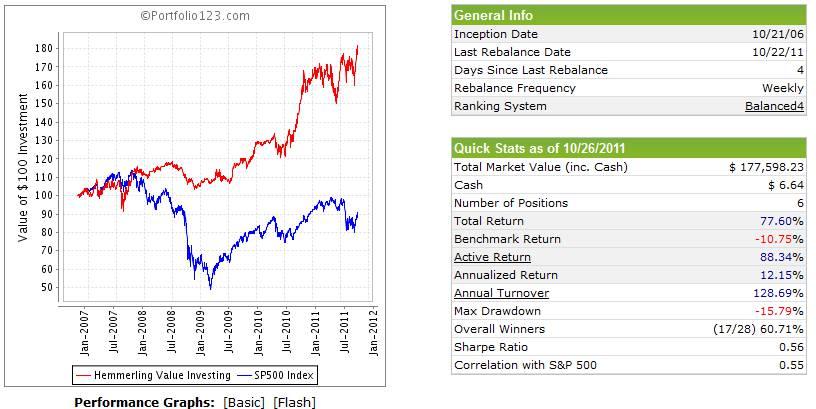 On top of the 12% annualized return, you can add an average annual 4% dividend yield for a 16% total average growth return rate. Because there are few acceptable stocks in a down market (and we rebalance according to our market timing rules allocating no more than 1/5th of our strategy capital to an individual stock), our maximum drawdown, or peak to trough portfolio loss, is less than 16%. This is capital losses only and does not factor in our dividend gains.
But what are two stocks that have historically made the list? Which stocks currently meet the buying criteria?
Historical Stock Selections
The best performing pick over the last 5 years using this strategy is Southern Copper (NYSE:SCCO). Below is the chart (compliments of Portfolio123, click to enlarge) of the trade. It was sold when the market timing signals turned down as it no longer met the buying criteria. The portfolio re-balance saved us from some steep losses.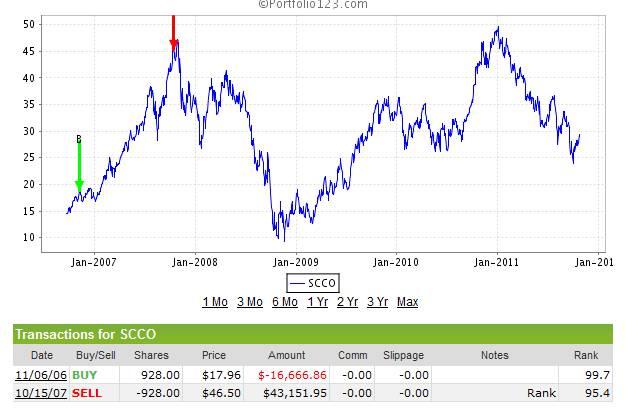 In less than 1 year the capital gains were 159% and the dividend gain was $6.175/share (or more than 34% gain based on the entry price). This makes a cumulative gain of 193%.
What was our worst pick? As you know, the mortgage crisis pummeled REITs into the ground during 2007 – 2009. Our biggest loser fits in that category. The BRT Realty Trust (NYSE:BRT) transaction is shown below. Click to enlarge: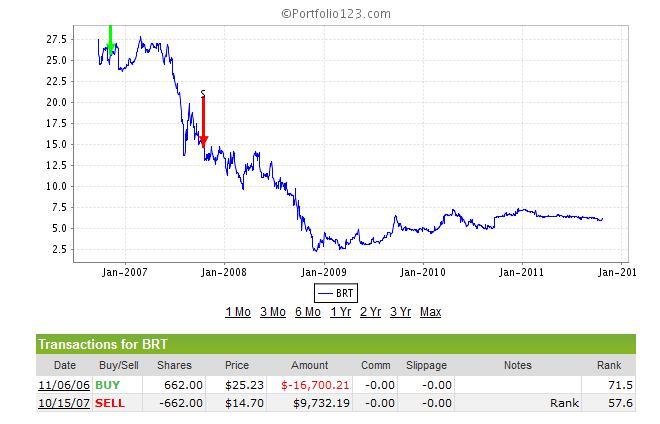 While we did suffer a capital loss of $10.53, this is partially offset by dividend income of $2.44 for a total loss of $8.09. Our downside was 32%. This was our worst selection.
Current Stock Selections
| | | | | | |
| --- | --- | --- | --- | --- | --- |
| Ticker | Name | Last | MktCap | Industry | Yield |
| (NYSEMKT:FRD) | Friedman Industries | 9.37 | 63.71 | Iron & Steel | 5.55 |
| (NASDAQ:NICK) | Nicholas Financial, Inc. | 10.01 | 119.68 | Consumer Financial Services | 4 |
| (NASDAQ:ARLP) | Alliance Resource Partners, L.P. | 70.13 | 2579.08 | Coal | 5.26 |
| (NASDAQ:SBSI) | Southside Bancshares, Inc. | 19.96 | 328.35 | Regional Banks | 3.61 |
| (NYSE:CNL) | Cleco Corporation | 36.14 | 2203.79 | Electric Utilities | 3.1 |
| (NYSE:CNK) | Cinemark Holdings, Inc. | 19.49 | 2225.81 | Motion Pictures | 4.31 |
One item to keep a watch for is when these companies report earnings. All of them have either reported earnings a couple days ago or are about to do so over the next two weeks.
So again, who is this system for? If you want to adopt market timing principles while staying invested in the market, take the opportunity to re-balance instead of going to 100% cash. You will need to allocate a certain percentage of your capital towards each pick – which means there are times that you will be holding higher amounts of cash due to a lack of stocks meeting your criteria (alternatively you could put your cash in T-bills for some gain). This is a strategy for dividend value investors that are willing to buy unloved stocks and hold them until the market cycle changes direction.
Disclosure: I have no positions in any stocks mentioned, and no plans to initiate any positions within the next 72 hours.