On October 26, 2011, Titan Pharmaceuticals (NASDAQ:TTNP) announced that it met with the U.S. Food and Drug Administration (FDA) for a Pre-New Drug Application (Pre-NDA) meeting regarding Probuphine, a subcutaneous implant formulation of the marketed drug buprenorphine. Based upon this meeting, Titan believes that its phase 3 clinical program completed to date is acceptable to the FDA to support submission of an NDA via the 505(b)(2) pathway and that no additional clinical efficacy or safety studies are required to support the submission. This was in-line with our thinking.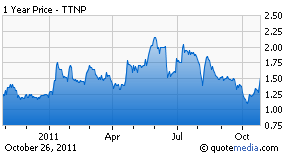 However, to our surprise, the company also received clear guidance from the FDA on the requirements for submitting an NDA for consideration to be designated as a Priority Review. The FDA grants a Priority Review for products believed to address unmet medical needs. The designation shortens the average amount of time from completed application until approval decision from 10 months to 6 months as defined under the Prescription Drug User Fee Act (PDUFA).
Titan has also received initial comments from the FDA regarding manufacturing and non-clinical information and is in ongoing discussions with the agency to confirm these requirements. The company will confirm the overall regulatory path forward upon receipt of formal meeting minutes from the FDA in the coming weeks and will provide a further update at that time. We expect this update to coincide with the release of the third quarter financials, in mid-November 2011. Our best guess is that management will be in position to file the NDA by the end of the first quarter 2012.
Time To Partner…
Now that Titan has a clear path toward the NDA filing, and potentially an application that the U.S. FDA could consider a Priority Review, we believe management will begin actively pursuing a commercialization partnership. Approval is the ultimate value driver, but we believe that two positive phase 3 trials and a NDA potentially under Priority Review by the second quarter 2012 should provide enough of a road-map with a potential partner to sign a deal in 2012. We think Probuphine, with potential peak sales between $250 and $300 million, could fetch as much as $25 million upfront, with another $20 to $25 million for approval, along with a tiered royalty that pays Titan roughly 20% on U.S. sales.
Titan exited the second quarter with $6.1 million in cash. We project this is enough cash to fund operations into the first quarter 2012. This should be right around the time of the NDA filing on Probuphine. The goal is to find a commercialization partner on Probuphine to generate non-dilutive cash. However, if management cannot get a deal done before the end of the year, we would expect a dilutive offering enough to bridge fund operations to the PDUFA data. One potential for raising cash outside of a deal is the 6 million warrants outstanding at Deerfield.
We remind investors that during the second quarter, Titan entered into an agreement with Deerfield Management that provides Titan with $20 million in financing through a five year senior secured credit facility. In conjunction with the financing, Titan has agreed to issue six year warrants to purchase 6 million shares of common stock at an exercise price of $1.57 per share. If Deerfield were to exercise all 6 million warrants, it would provide $9.4 million (gross) to Titan.
Stock Undervalued
We beleive at the current price, Titan Pharmaceuticals is vastly under-valued. We see $3 as fair-value based on our discounted cash flow (DCF) model. Our current rating is 'Outperform'.
Disclosure: I have no positions in any stocks mentioned, and no plans to initiate any positions within the next 72 hours.