Xerox Corporation (NYSE:XRX) is known internationally as the company that provides printers and printing resources. Its products range from printers to copiers to scanners. It also offers the software and follow up services that businesses need to run their administrative processes. In a world where offices and processes are considered to be paperless, its amazing how much paper is used and stored. Xerox supplies paper, too.
Xerox shares are currently trading around $7.50, and the mean 12 month price target from analysts researching the stock is $11.44 (52% upside potential). This stock is trading around its 50 day exponential moving average of $7.81 and lower than its 200 day exponential moving average of $10.52. The stock has weakened since the market turned south in July and August, creating a series of lower lows and lower highs (see chart). This seems to have recently broken, and I expect the shares to move upward and through the 50 day and 200 day EMA. The 52 week price range is $6.55 to $12.08. Earnings per share for the last 12 months are $0.70, and these are expected to increase to $1.22 in its next fiscal year (ending December 2012). These numbers place the shares on a trailing price to earnings ratio of 10.95, and a forward multiple of 6.24.
For investors looking at dividend paying stocks, Xerox's payment of a dividend of $0.17 last year gives the stock a yield of 2.20%, and is covered more than four times by its earnings.
In an industry sector considered to be unexciting, competitors like Canon Inc (NYSE:CAJ) pays a higher dividend yield (3.20%). Hewlett Packard (NYSE:HPQ) pays a dividend which equates to a yield of 1.90%. Ricoh Co Ltd. (OTCPK:RICOY) paid a far higher dividend yield of 4.10% last year, though this is not covered by its earnings and unlikely to be so in the future.
Current operating margin at Xerox is 8.26%, with a return on assets of 3.80% and a return on equity of 8.35%. The current revenue from its income statement is $2.48 billion, and last quarter's revenue showed year on year growth of 1.90%. Xerox has cash of $1.10 billion, and a total of $9.31 billion in debt. The company's debt/equity ratio is 69.01. In comparison, Canon has almost no debt, and a debt/equity ratio of just 0.64, while Hewlett Packard's debt/equity ratio position is similar to Xerox's, at 65.69.
Click to enlarge: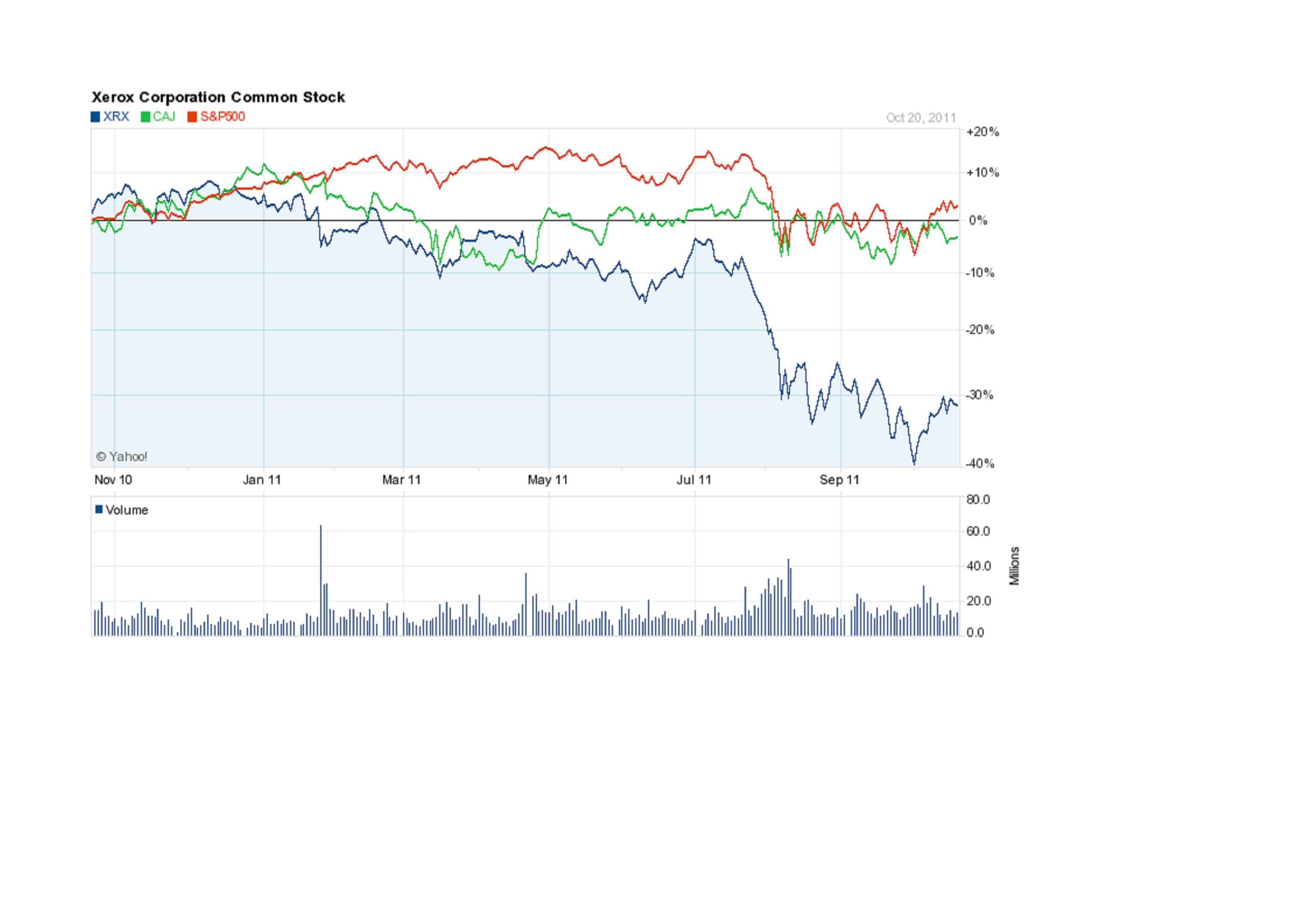 Click to enlarge
Returning to the chart, Xerox shares have performed very poorly in the second half of this year to date. Canon shares did not take the massive hit that Xerox shares did through July/ August, as Xerox second quarter results came in 10% weaker than expected: $0.22 per share versus market expectations of $0.24 per share. Since then, the shares have been unloved and underperforming. However, with the shares having bounced from their 12–month low, a more positive chart pattern forming, and with a yield now over 2%, I expect the shares to rise further.
A look at recent news cements this view:
On October 18, the company announced that signings for its Midas+ software suite tripled in the first half of 2011. This is an offering that is being used progressively extensively in the healthcare industry, not only proving its worth, but also belying the cutbacks in healthcare spending. View the article here.

The winning of a U.S. defense contract worth $103 million over 5 years.

Xerox is taking advantage of the current business climate to expand its worldwide businesses. It recently announced that it is to buy XL World, boosting its outsourcing capacity across Europe Europe.
Overall, given the share price history, fundamentals, and news from Xerox, I consider the shares to be extremely good value at the current level. Buy.
Disclosure: I have no positions in any stocks mentioned, and no plans to initiate any positions within the next 72 hours.