Pacific Ethanol Inc. (NASDAQ:PEIX), one of the largest producers of ethanol in the U.S., just reported that in its just-completed September quarter revenues rose 490% year-over-year to $272 million from $46 million last September quarter, and earnings came in at 12c versus 3c in the prior June quarter, and a 6c loss in the prior year September quarter. The current quarter includes an aggregate non-cash gain of $4.1 million for quarterly fair value adjustments of its convertible notes and warrants, and after taking that and other unusual items out, the company would still be reporting positive earnings of just below 1c. While this is not as good as the headline of 12c, sequentially it is a big improvement over the 13c loss in the prior June quarter after taking out unusual items, and the 4c loss in the March quarter.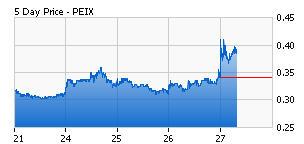 PEIX also reported operating income of $4.7 million in the September quarter, which again is a big improvement over the $2.8 million and $1.6 million operating losses that it reported in the sequentially prior June 2011 and March 2011 quarters, as well as the $1.2 million it reported in the prior year September quarter. Adjusted EBITDA for the September quarter improved to $2.9 million, a big improvement over the $1.2 million and $1.5 million in the June and March 2011 quarters, as well as the $0.9 million in the prior year September quarter. Furthermore, as a historical comparison, PEIX traded in the $250 million market-cap range in 2008 prior to the recent bankruptcy and re-organization, when revenues were in the $150-$200 million range, and they had negative operating income. Their current market-cap in the $10-$20 million range seems much cheap by comparison given the improving fundamentals quarter-over-quarter, sales at $272 million in the latest quarter, and positive operating income and earnings.
There has been no Wall Street analyst coverage on the stock since the company went through bankruptcy and emerged under a plan of reorganization in June last year. However, Zacks Investment Research does have a proprietary research report that was recently updated on October 4 prior to the current quarter report. While the full report can be accessed only by subscription at Zacks.com, the firm did put out an analyst blog last month that summarized their Outperform rating and $3 price target based on fundamentals prior to the reporting of their September quarter yesterday.
Furthermore, insiders have been heavy buyers, with President and CEO Neil Koehler buying 150,000 shares, CFO Bryon McGregor buying 15,000 shares, and Director Michael Kandris buying 10,000 shares, all in the open market since June; no insiders have sold PEIX stock this year.
Since ethanol stocks often move as a group as the underlying economics are similar, the following are some other North American publicly traded ethanol companies that may also be of interest:
Please note that some risks to this position include that the ethanol subsidy is currently under review; and that the price of corn and natural gas, both of which are critical inputs to the manufacturing of ethanol, could go up. However, on the subsidy issue, we believe that it is unlikely that the subsidy will be eliminated in the current political climate, as doing so would encourage imports and kill the domestic ethanol industry, a news headline that would be suicidal to candidates from either political party amid the current theatrics in Washington.
Disclosure: I am long PEIX.