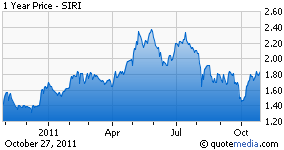 Wednesday after the bell, credit rating agency Standard & Poor's announced that it was raising Sirius XM's (SIRI) credit rating from BB- to BB and said that "'Sirius' progress in credit quality should be sustainable." What I also found interesting was that S&P said the following:
"A continued recovery in auto sales will support revenue growth and maintain credit measures" in line with the rating."
Any time a company gets an improved credit rating, I tend to pay attention, particularly if that company is Sirius XM. The reason is simple; Sirius has proven in the past to respond to such favorable news as it did earlier this year in May when the stock shot up to $2.44 after Moody's issued its rating increase on the company from B3 to B2.
Although that was still several levels below investment grade, in my opinion it was then pretty important and even more important now leading into the Q3 earnings announcement as it factors in determining the long term viability of a stock, particularly one that is trading under $5. At the time, Moody's cited subscriber growth, good earnings performance and recent debt reductions.
One of the biggest arguments that analysts and investors (myself included) have had with Sirius when discussing fundamentals is that they have a large pile of debt, some of which is coming due in 2013. Sirius has been doing a masterful job recently in refinancing this debt as well as leveraging its convertibles which has saved the company millions on maturities.
These fundamental events allow the company to not only spread debt out but also receive a lower interest rate on the bonds at the same time. These do in fact impact the bottom line as well as grow optimism for its long term outlook. Not to mention the fact that a good rating can improve the company's ability to grow and on some instances justify a higher than normal P/E.
What I think is interesting is the last time Sirius received a credit rating upgrade from S&P was about a year ago, on October 3. Sirius' shares then traded at $1.24 when investors first learned of a credit upgrade by Standard & Poor's. By the end of December, Sirius closed at $1.63 for a 31% increase in two months.
Click to enlarge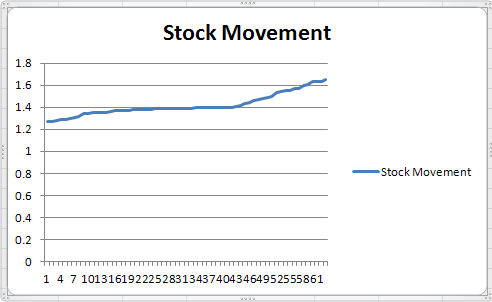 Of course we can also point to the impact of the Howard Stern signing as a significant catalyst, but the stock still appreciated by 13% before the signing. So it goes back to our original question: Is Sirius' stock still expensive? I don't see how anyone can continue to discount all of these improvements within the company in a (relatively) short period of time.
Summary
Though the stock price may suggest otherwise, Sirius continues to prove that it is becoming less of a "penny stock." It is clear that the market as well as credit rating agencies are taking notice. Regardless of what the stock has shown over the past couple of months, looking ahead to where it is going should be the only focus of investors, which in my estimation will result in higher prices. But for now investors should be excited that the company is finally receiving credit where credit is due.