Shares of Microsoft Corporation (NASDAQ:MSFT) are currently trading at around half the price it achieved during the 1999 tech bubble peak. The net earnings-per-share almost quadrupled during the last twelve years - $0.71 ('99) to $2.69 ('11). The trailing-twelve-months (ttm) price-to-earnings (NYSE:PE) ratio is around 10 and the PE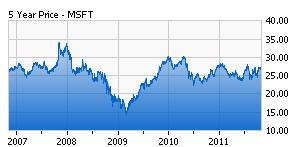 ratio based on forward earnings is still lower. Earnings grew at an 18.52% rate in the current year, 13.63% rate in the last five years, and an outstanding 18.81% rate in the last decade – PEG ratio comes well under one, independent of the growth rate considered. Given these factors, it is easy to establish Microsoft stock price is definitely undervalued in the marketplace.
For a value investor, margin-of-safety and catalysts capable of fueling a contraction in the margin-of-safety are equally important criteria to mull over before choosing to invest capital on a particular stock. The potential catalysts that could help sway the share price of MSFT include:
Low pay-out ratio: In September of 2011, Microsoft increased dividends by 25% (16c to 20c). The annual run-rate of dividends is $0.80 cents per share against a forward-earnings estimate of $3.13 bringing the pay-out ratio to be around 25%. Given Microsoft's large cash-hoard, the potential for continued dividend increases for the foreseeable future are evident. Microsoft initiated dividends in 2003, and the growth rate of dividends is close to 11%, excluding the $3 special dividend paid out in 2004. The 5-year dividend growth rate at around 15% is all the more impressive. The current dividend yield of 3% along with a healthy dividend growth rate should attract income investors and dividend-growth investors alike.
Software upgrade cycle: Microsoft has three pillars of strength:
Windows and Windows Live Segment,
Business Segment (Office, Dynamics), and
Servers and Tools Segment.
Each of these segments are a steady steam of income source and will continue to be the case for the predictable future, as the moat associated with these products makes it difficult for customers to migrate to other products. The three segments also ensure MSFT of a periodic revenue boost, as major upgrades to the products get adopted. Currently, anticipation abounds for the Windows 8 upgrade cycle (launch date – October 2012). The greeting bestowed by the market will determine the boost in that segment, which will impact the bottom line. Details on the launch are blurry, but speculation has it that this will be the first Windows version where it will show some convergence with the Windows Mobile OS.
Cash in the balance sheet: Microsoft has over $40B (close to $5 per share) cash in the balance sheet. A big piece of it (over $30B) is held outside the US and there is tax-implication, if it is brought in. Microsoft drew on some of that cash for the acquisition of Skype. The general perception is that MSFT overpaid for Skype by paying $8.5 billion. The deal takes on a lucrative appeal when you factor in the ~40% tax Microsoft avoided by doing a deal outside the US. Also, Microsoft only paid just over $10 per Skype user – Skype had over 800 million subscribers at the time of the acquisition. It is likely that Microsoft will use some of its cash detained outside to fund large acquisitions in euro land and that could pay-off handsomely in the long-term.
At the initial pass Microsoft can seem as a company that has stagnated in the last decade. However, objectively scrutinizing the current technology Microsoft has on offer paints a different picture:
Windows Azure & SQL Azure: The technology, which debuted on Feb 1, 2010, is MSFT's entry into the PaaS (Platform as a Service) market. Windows Azure is a specialized OS that sits on a cluster and SQL Azure is a scale-out version of SQL Server. This allows building, hosting, and scaling applications in Microsoft Datacenters. The PaaS market is expected to grow at a 25% clip in the next three years. No up-front expenses, no long-term commitment, and the policy of paying only for the resources used are among the chief reasons for its adoption. The other mighty powers roaming in this arena include Google (NASDAQ:GOOG) with its AppEngine product, Amazon (NASDAQ:AMZN) with Beanstalk, and Salesforce.com (NYSE:CRM) with Heroku and Force.com.
Windows Phone: This successor of the Windows Mobile platform was also introduced in February 2010. A major update (Windows Phone 7.5 codenamed Mango) was released in September 2011. The smart-phone market is dominated by Apple (NASDAQ:AAPL), although phones based on Google's (GOOG) Android are also very popular. Despite this, Microsoft's willingness to continue investing and partnering with Nokia (NYSE:NOK) should eventually pay-off. The rumored OS convergence of Windows Phone with Windows in the upcoming '8' releases along with the common metro-style UI should encourage its adoption.
Kinect, and Bing Voice Search for Windows Xbox 360: Kinect is a motion sensing input device consisting of a webcam-style add-on peripheral for the Xbox 360 console. Its natural user interface allows gestures and spoken commands instead of a game controller. The Bing Voice Search service allows Bing searches of Hulu Plus, Netflix (NASDAQ:NFLX), and other sites. Competition is ruthless with Nintendo's (OTCPK:NTDOY) Wii and Sony's (NYSE:SNE) PlayStation close on their heels. The steady stream of innovations should however help Microsoft increase its lead in the game here.
System Center and Intune: These represent Microsoft's innovation in the Server Technologies area. System Center helps manage the physical and virtual IT environments across data centers, client computers, and devices. Intune provides a web-based console for PC Management and Security in the cloud.
Silverlight: Microsoft Silverlight is an application framework for running rich internet applications in a web browser. Primary competition is offered by Adobe's (NASDAQ:ADBE) Flash. It supports streaming media, multimedia, graphics, and animation. The technology is one of the application deployment platforms of Windows Phone 7.
Dynamics CRM Online: Dynamics CRM online is a multi-lingual server-client Customer Relationship Management (CRM) software package introduced initially in 2003. It passed the 1 million user mark in July 2009. It has a range of deployment options, unlike the industry heavyweight Salesforce.com (CRM) which is SaaS (Software as a Service) only: on-premise, SaaS, on-premise hosted, or hybrid.
Microsoft is doing a commendable job in expanding its turf – by out-investing a lot of their competition, they are able to tap into large growth opportunities. As a result, they have several potential catalysts that could help fill a gap in valuation.
Below is a look at Fair Value Estimates based on the latest earnings report (click for an understanding of the formulas used in the spreadsheet):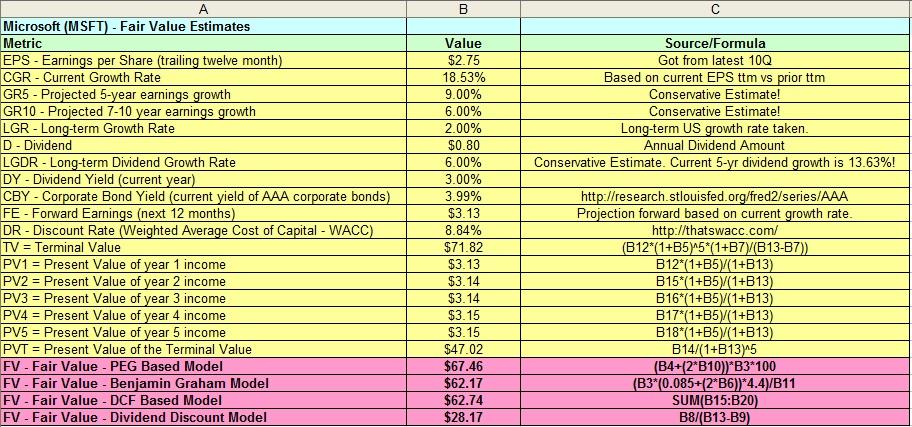 We based the numbers in the spreadsheet on conservative estimates.
Trailing 12-month EPS figure of $2.75 is from the GAAP earnings-per-share from the last four quarters.
The current growth rate of 18.53% was derived by comparing the GAAP earnings from the last four quarters to the prior four quarters ($2.32), and getting the actual growth achieved.
The 5-year and the 7-to-10 year earnings growth rate projections were conservatively estimated at 9% and 6% respectively – sizable discounts to the 13.63% and 18.81% earnings growth the company achieved looking back 5 and 10 years respectively.
The long-term growth rate is taken as 2% which is historically the average growth rate for USA as a whole.
The Fair Value Estimates using different models are described below:
The PEG Model shows a Fair Value Estimate of $67.46 which is slightly higher than the current stock price. For a large growing company like MSFT that pays a very good dividend, the ratio is a fairly decent measure.
The Benjamin Graham Model gives a Fair Value Estimate of $62.17. The major variable is the 7-to-10 year projected earnings growth rate which was assumed to be 6%. MSFT has an outstanding 10-year growth rate of 18.81% having grown net earnings from $0.42 in 2002 to $2.69 in 2011. The earnings growth has slowed down significantly in the last five years, although it is still very healthy at 13.63%, having grown net income from $1.42 in 2007 to $2.69 in 2011. Varying the 7-10 year growth rate number between 4% and 8% will give Fair Value Estimates between $50.04 and $74.30 using that model.
The DCF Based Model gives a Fair Value Estimate of $62.74. The major variable with this estimate is the 5-year projected earnings growth rate which was assumed to be 9%, a significant discount to the 13.63% growth the company achieved in the last five years. Varying that number between 6% and 12% will give Fair Value Estimates between $55.36 and $70.92.
The Dividend Discount Model gives a Fair Value Estimate of $28.17 which is close to the current market price. The major variable with this model is the long-term dividend growth rate. MSFT has grown its dividend at a fast rate (14.87%) in the last five years. We applied a very conservative estimate of 6% for this rate. Varying that number between 5% and 7% will give Fair Value Estimates between $20.83 and $43.48.
Overall, the Fair Value Estimates shows a significant undervaluation of Microsoft shares in the market.