After market close on Tuesday, Amazon (NASDAQ: AMZN) reported disappointing earnings.
Amazon reported earnings of $0.14 per share, when analysts had been anticipating $0.24. The stock then tumbled in after-hours trading, falling nearly 20%.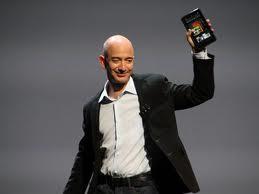 Amazon's earnings may have disappointed due to the company's recent initiative to increase its focus on research and development. The company is set to launch its Kindle Fire product next month.
Amazon will sell the Kindle Fire for a modest loss, pricing it at $199 per unit. According to Slash Gear, the Kindle Fire runs Amazon $210 in manufacturing costs.
Still, Amazon's decision to turn to long-term investments may be necessary. Although the company has grown tremendously in recent years (being dubbed one of the new four horsemen of technology by Jim Cramer) given the recent success of companies like Apple (NASDAQ: AAPL), Amazon may have to shift its focus in order to continue its success.
The Kindle Fire may represent two different strategies for Amazon.
On the one hand, the Kindle Fire is a device that may finally give Apple's iPad a run for its money. Thus far, the iPad has faced little competition from other tablet computers. Currently, the iPad has nearly 90% market share. Even Google's (NASDAQ: GOOG) Android OS has thus far failed to produce any devices that could challenge Apple.
The Kindle Fire is more than 50% cheaper than the standard iPad, which may be the device's key selling point.
On the other hand, the Kindle Fire represents a possible way for the company to push its store to consumers. Amazon hopes that a consumer with a Kindle Fire is much closer to its online store.
Additionally, the Kindle Fire gives Amazon the potential to branch out into more digital markets. Amazon has long been pushing digital downloads of its books, and back in February the company launched a streaming digital video service similar to Netflix's (NASDAQ: NFLX) streaming offering.
During Amazon's post-earnings conference call, the company's management stated that pre-orders for the Kindle Fire had exceeded expectations and that the company was now ramping up production of the device.
Given that the company is losing money on the Kindle Fire, perhaps strong fourth quarter sales would lead to additional disappointment in the company's earnings.
However, in the long run, sales of the Kindle Fire may boost Amazon's long-term viability. If consumers are purchasing Kindle Fires en masse, they may be more likely to purchase Amazon's digital products, which could prove more profitable to the company.
Regardless, the tech world is driven by innovation, and if Amazon cannot innovate, it could fail. Although the Kindle Fire may have put the company at risk, in the long run that risk may outweigh the possibility of becoming the next Yahoo! (NASDAQ: YHOO).
Important Note
Content, including research, tools and securities symbols, is for educational and informational purposes and should not be intended as a recommendation or solicitation to engage in any particular securities transaction or investment strategy. You alone are responsible for evaluating which securities and strategies better suit your financial situation and goals, risk profile, etc. The projections regarding the probability of investment outcomes are hypothetical and not guaranteed for accuracy or completeness. They do not reflect actual investment outcomes and are not guarantees of future results, and do not take into consideration commissions, margin interest and other costs that will impact investment outcomes. Content may be out of date or time-sensitive, and is subject to change or removal without notice. Supporting documentation for any claims made in this post will be supplied upon your email request to editor@zecco.com.
At the time of distribution of the material contained herein, neither Zecco Trading nor Zecco Forex was a market maker or acted as the contra-party for customer transactions through the firm's principal accounts for the securities discussed.
Zecco Holdings, Zecco Trading, Zecco Forex, and their officers/partners/employees may hold a nominal financial interest in any of the securities discussed herein, with the nature of the interest consisting of, but not limited to, any option, right, warrant, future, long, or short position.
Neither Zecco Trading nor Zecco Forex has participated as a manager or co-manager in public offerings of the securities mentioned herein within the last twelve months.