Peter Lynch, legendary mutual fund manager for Fidelity Investments, coined the phrase "invest in what you know" to describe the common sense approach he often used to seek out great investments that outperform the market. If you asked him, he'd probably agree that the same approach applies to finding companies that seem to be headed in the wrong direction. This approach, combined with missing chick peas from a salad bar, lead me to take a look at Ruby Tuesday (NYSE:RT).
Since the casual dining restaurant chain opened up in my neighborhood on Long Island about 6 years ago, I'd take my family to Ruby Tuesday's four or five times a year. It was a good place to take the kids and was reasonably priced. The key attraction of the restaurant, that kept us coming back, was the great salad bar. For just $3.99 you could add an unlimited salad bar to any dinner entrée. And it wasn't an ordinary salad bar either; it was a fantastic salad bar. Fresh, well presented and with a very large selection of salads, dressings and toppings including one of my favorites, chick peas.
Despite the wisdom of Peter Lynch, I had never considered Ruby Tuesday as an investment although we were regular patrons. The thought just never occurred to me. That was until a couple of months ago, when we went to the restaurant and both my wife and I noticed a startling change. The great Ruby Tuesday salad bar had been downsized! Devastating news, indeed. I can't tell you everything that was missing but I do know that the chick peas where gone. I asked the manager about the mystery of the missing chick peas and she informed me that the decision to downsize the salad bar came from corporate and although customers had complained, she couldn't do anything about it. Her answer got me thinking that I should take a look at RT from the short side. I figured that if other customers felt the same way I did, there could be some downside to the stock. Further research was in order.
When I got around to taking a look at the RT chart, it told me the probable reason that management had decided to eliminate the chick peas. RT shares had been on a steady decline since the beginning of the year. On January 6, a day after reporting EPS of $.07, the shares hit their 52-week high of $15.57 and had been declining ever since to their current level of about $8.25, still up 30% from an intraday low of $6.35 on October 6th. After doing a bit of research and listening to the October 5 conference call, it was clear that this company was having trouble maintaining market share. I concluded that the missing chick peas and downsized salad bar were cost cutting casualties in reaction to weak EPS levels and not the cause of the stocks decline, at least not yet.
On our most recent trip to the restaurant a few weeks ago, our daughter dragged us there. The chick peas were still missing and I also noticed the restaurant was pretty empty. We didn't enjoy our meal and told the kids we wouldn't be going back. Now, let's be clear, I have only visited one restaurant in one location so my research is limited. However, it seems to me that the company has lost its momentum and will face a quarter worse than analysts are expecting. On the conference call, management spoke about increasing and fine tuning marketing efforts in an effort to compete in the "brutally competitive" market for casual dining and also stated that they were "being cost conscience without degrading the brand." However, based on my observations, the changes made to their signature salad bar is a tactical error and will be detrimental to maintaining their existing client base.
More evidence of problems? On the October 5, conference call the chairman stated that one of the three main goals was to "attract more regular casual dining users instead of just coupon users of the past." Makes sense right? However, Just a few weeks later, in direct contradiction to this goal, I received one of the most generous coupon offers I have never seen from the company: 30% of the entire check, no strings attached: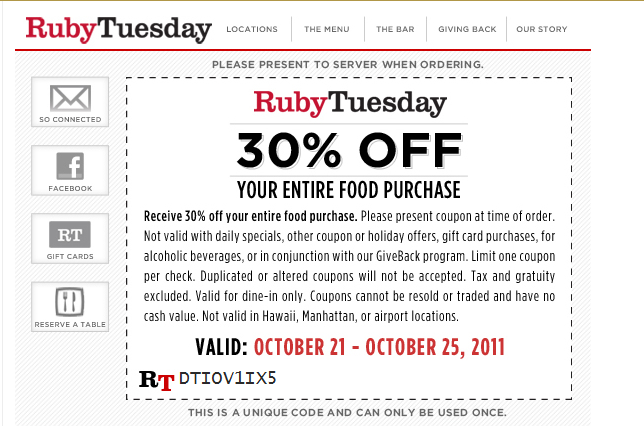 This seems like a desperate step and RT seems to be having serious problems trying to figure out how to compete in a very competitive casual dining market. Tough competitors like Darden Resturaunts (NYSE:DRI) (owners of Red Lobster, Olive Garden, LongHorn Steakhouse, The Capital Grille, Bahama Breeze, and Seasons 52 brand names) and even fast food casual chains like fast growing Chipolte Mexican Grill (NYSE:CMG) and Panera Bread (NASDAQ:PNRA) are making things difficult for RT and in my view, the downsized salad bar and of course, the missing chick peas, will make it tougher for RT to compete going forward.
Disclosure: RT January Puts
Disclaimer: These are the personal views of Wall Street Titan and should not be used for your investment decisions. All investors should do their own due diligence.