The recent deal made by Liz Claiborne (LIZ) has led me to write this article about brand management company Iconix (NASDAQ:ICON). Last week shares of Liz Claiborne were up over 30% for a week and actually had their best performing day since 1987. The company sold off its namesake brand and Monet brand to J.C. Penney (NYSE:JCP). The same day it also announced it was selling Dana Buchman brand to Kohls (NYSE:KSS). Liz Claiborne also sold three minor brands to Bluestar Alliance and terminated an existing license for DKNY. The new company will be left with three brands: Juicy Couture, kate spade, and Lucky Brands. The company will change its name to account for the change and will be left as a brand with fast growing brands.
Iconix Brand Group is a brand management corporation. The company owns no inventory and has not actual retail stores. Management is responsible for maximizing revenue by licensing out owned name brands to retail stores and other companies. It would appear that Cramer and others are skeptical to recommend a company that does this because licenses are based on contracts and some brands could become worthless if they are not licensed out. Iconix was formed in 1993 with the purchase of Candies, a brand the company still owns. The company owns brands that have been around for hundreds of years.
Iconix Brands (Wholly Owned)
Badgley Mischka-Eveningwear Brand
Licensed to: Department Stores, non exclusive including Saks Fifth Avenue (NYSE:SKS) and Neiman Marcus, Home Shopping Network (NASDAQ:HSNI)
Company Founded: 1988 Iconix Acquired: 2004
Sells: Women's apparel and accessories
Bongo-California Lifestyle Brand
Licensed to: Kmart (subsidiary of Sears Holdings (NASDAQ:SHLD))
Company Founded: 1982 Iconix Acquired: 1998
Sells: Women's and children's casual clothing and accessories
Candies-Junior Lifestyle Brand
Licensed to: Kohls since 2005
Company Founded: 1981 Iconix Acquired: 1993
Sells: shoes, apparel, jewelry, clothing, curtains, and perfumes aimed at junior girls
Cannon-Home Textiles
Licensed to: Kmart and Sears
Company Founded: 1887 Iconix Acquired: 2008
Sells: textile products
Charisma-Home Textiles
Licensed to: Costco (NASDAQ:COST) and Department Stores
Company Founded: 1970s Iconix Acquired: 2007
Danskin-Women's Activewear
Licensed to: Sporting Good Stores, Wal-Mart (NYSE:WMT)
Company Founded: 1885 Iconix Acquired: 2007
Sells: yoga apparel, fitness apparel, dancewear, and activewear all aimed at women
Fieldcrest-Bed and Bath Textiles
Licensed to: Target exclusively
Company Founded: 1883 Iconix Acquired: 2007
Sells: towels, pillows, and bedding
Joe Boxer-Underwear and Sleepwear Brand
Licensed to: Kmart since 2001, entering Sears (SHLD) stores as well
Company Founded: 1985 Iconix Acquired: 2005
Sells: underwear, sleepwear, loungewear, and fashion accessories for women, men, and children
London Fog-Outerwear Brand
Licensed to: Department Stores
Company Founded: 1923 Iconix Acquired: 2006
Sells: raincoats, umbrellas, and travel luggage
Mossimo-Youth Brand
Licensed to: Target (NYSE:TGT) exclusively since 2000
Company Founded: 1986 Iconix Acquired: 2006
Sells: sportswear, denim, and fashion accessories
Mudd-Junior Apparel Brand
Licensed to: Kohl's exclusively since 2008
Company Founded: 1995 Iconix Acquired: 2006
Sells: footwear and denim products
Ocean Pacific-Sportswear Brand
Licensed to: Wal-Mart exclusively
Company Founded: 1960s Iconix Acquired: 2006
Sells: footwear, sunglasses, and kids' apparel
Rampage-Sportswear Brand
Licensed to: Department Stores including Macys (NYSE:M)
Company Founded: 1982 Iconix Acquired: 2005
Sells: sportswear, footwear, and swimwear
Rocawear-Urban Lifestyle Brand
Licensed to: Department and Specialty Stores
Company Founded: 1999 Iconix Acquired: 2007
Sells: apparel, footwear, accessories, and fragrances
Royal Velvet-Luxury Home Textile Brand
Company Founded: 1954 Iconix Acquired: 2007
Sells: bedding, blankets, pillows, rugs, and towels
Starter-Team Sports Apparel
Licensed to: Wal-Mart
Company Founded: 1971 Iconix Acquired: 2007
Sells: athletic apparel and footwear
Waverly-Home Fashion
Licensed to: Jo Ann's, JCPenney, Lowe's (NYSE:LOW)
Company Founded: 1923 Iconix Acquired: 2008
Sells: tableware, home furnishings, fabric, and window treatments
Iconix Brands (Joint Ventures)
Scion
Artful Dodger Brand-Urban Apparel
Iconix owns 50%
Hardy Way
Ed Hardy Brands
Iconix owns 85%
IPH Unlimited
Ecko Brands and Zoo York
Iconix owns 51%
Material Girl Icon
Peanuts Holdings
Peanuts, Dilbert, Fancy Nancy
Iconix owns 80%
Has Over 1,000 licensing deals including:
MetLife Insurance (NYSE:MET) uses Snoopy and other characters to advertise its brand worldwide
Hallmark Cards has used the characters since the 1960s to sell a variety of items
Knotts Berry Farm Theme Park owned by Cedar Fair (NYSE:FUN) has a Camp Snoopy area which has licensed Peanuts characters since 1983
TV licensing for holiday specials
If you're still following this article after the list above you will notice that the company outright owns 17 brands and has joint ventures with several others. The company is diversified among licenses of clothes, bathroom accessories, bedroom accessories, home furnishings, fragrances, footwear, sport apparel, and travel accessories. Brands are aimed at men, women, and children throughout several retail outlets. Iconix brands has partnered with some of the best and biggest retailers in the nation while taking on no inventory, low overhead costs, and minimal employees.
In Fiscal 2010, four companies made up 39% of the company's revenue:
Wal-Mart 21%
Target 7%
Kohls 6%
Sears Holdings (Sears, Kmart) 5%
As you can see Iconix is dependent on having successful licensing contracts in place with leading retailers. Many of these licensing contracts have guaranteed minimum upfront payments whether a certain number of products are sold or not. The loss of any license could impact sales and cause shares to fall on this news and/or an earnings miss.
Items made by these licensees compete directly with other large clothing companies including Nike (NYSE:NKE), V.F. Corporation (NYSE:VFC), Guess (NYSE:GES), Hanesbrands (HNE), and Under Armor (NYSE:UA). Iconix has made numerous acquisitions throughout the company's history with the majority coming in the last four years. Iconix management has said that they are open to making more strategic acquisitions.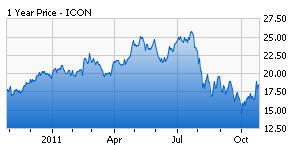 For the current fiscal year analysts are predicting earnings per share of $1.66, which would be a 15% increase from the previous year. Shares are currently trading at around eleven times price to earnings for this fiscal year. Shares actually trade for less than ten times the $1.84 per share analysts are calling for in fiscal 2012.
It is time to recommend this brand management company to everyone. The Liz Claiborne deal has shown how valuable a name that sells product can truly be. Iconix has brands that have been, currently are, and will be successful in the future. Shares have traded as high as $26.05 over the last fifty two weeks and actually are climbing up from their year low at the beginning of October of around $14. Shares of Iconix are due for a breakout and now is the time to get into this great company.
Disclosure: I have no positions in any stocks mentioned, and no plans to initiate any positions within the next 72 hours.