The stock market has been in a solid uptrend following the October 4th lows. During this rally, volume has not come in above average on the Nasdaq, until yesterday. On the NYSE, it is basically the same, with only last Friday's options expiration making it over the 50 day volume average line.
Savvy investors know that volume is important to stock market rallies because heavier volume is a clear sign of institutional money going to work in the stock market. Lower than average volume rallies indicate that the institutional investors are on the sidelines. Lower volume rallies are historically negative for the stock market. However, this time around, it very well could be different.
The biggest hint are oil & gas, bank, and homebuilder stocks which have recently seen large spikes in volume on up sessions followed by lower volume on the pullbacks. If we are going to continue to rally, 130 years of stock market history proves to us that the best stocks during this uptrend will be the stocks that have the best fundamentals in the top industries.
While it is not sexy, one group that has been under accumulation by institutional investors is the Retail-Restaurant group. In one of my most recent articles going over restaurant stocks I profiled Domino's Pizza (NYSE:DPZ) and Pizza Inn (PZZI). Today, we have two more restaurant stocks, with great fundamentals, attempting to hit new 52-week highs.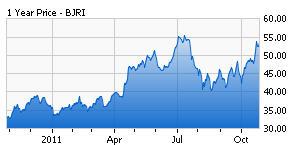 Let's, first, continue the pizza theme with BJ's Restaurants (NASDAQ:BJRI). BJ's Restaurants is a Huntington Beach, CA operator of 103 BJ's Restaurant, Brewery, and BJ's Pizza in 13 states with plans to open 12-13 more throughout this year.
Sequential EPS growth has been solid the past seven quarter with gains of 14%, 44%, 67%, 83%, 56%, 26%, and 20%. Driving that EPS growth has been sales growth which have gained 13%, 19%, 21%, 24%, 18%, 19%, 17%, and 18% the last eight quarters. 2011 and 2012 estimates are for gains of 38% and 21% respectively.
BJ's Restaurants has 0% debt to shareholder equity debt, a return on equity of 8%, and a cash flow of $1.88. The P/E ratio is near the top of its 5 year range of 14-57. Currently standing at 54. Strong growing stocks usually have a higher P/E than what is considered normal to the market place.
The strength in the fundamentals above is the main reason mutual fund ownership has increased from 262 funds eight quarters ago to the 336 that have investments in the stock today. Just as impressive, management still owns 15% of the shares outstanding, indicating they are vested and along for the ride as BJ's Restaurants continues to grow throughout the United States.
Next, let's take a bite out of some delicious buffalo wings with Buffalo Wild Wings (NASDAQ:BWLD). Buffalo Wild Wings is a Minneapolis, MN operator/franchiser of 732 quick casual restaurants in 44 states with plans to open 95 more (13%) throughout this year.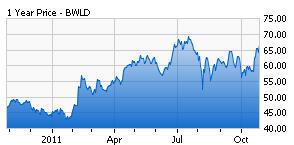 Buffalo Wild Wings sequential EPS growth has been very strong with gains of 7%, 23%, 28%, 24%, 20%, 40%, 16%, and 30% the past eight quarters. Driving that growth has been sales with gains of 20%, 16%, 12%, 14%, 13%, 20%, 26%, and 31% the past eight quarters. 2011 and 2012 EPS estimates are solid with gains of 27% and 22% expected respectively.
The company holds 0% debt to shareholder equity, sports a 16% return on equity, and a $4.26 cash flow. The P/E ratio is in the mid range of the 5 year range between 11-43, coming in currently at 26.
Just as the case is with BJ's Restaurants, Buffalo Wild Wings growth is a big reason mutual fund ownership has increased from 311 funds to 324 funds the past eight quarters. Management doesn't have a vested interest in making sure the stock rises anymore as they only own 2% of the shares outstanding. However, with growth the way it is, with such a strong cash flow, I don't see that as a problem.
As I always stress, fundamentals are the most important thing to consider when hunting for stocks that can produce huge gains during a market uptrend. However, fundamentals will never tell you the right time to get in or out. For that we definitely need technical analysis.
On that note, I am looking for Buffalo Wild Wings and BJ's Restaurants to do one of three things that will trigger a buy signal. A breakout to a new 52-week high on strong volume would trigger the first buy signal. Additional buy signals would be with a pocket-pivot point buy signal off the 10 day moving average or a heavy volume bounce off the 50 day moving average following a low volume orderly pullback.
Disclosure: I am long DPZ. I may initiate a long position in BWLD BJRI over the next 72 hours. I receive no compensation to write about any specific stock, sector or theme.