The quarter for the U.S banks was about as good as could be expected, under the circumstances, and better than some had feared.
On the negative side:
Trading income was down 35% from the prior quarter for the six large trading banks, excluding accounting gains, (DVA) gains discounted by markets, but there were no massive losses
Equity portfolios experienced unrealized markdowns
Investment banking fees were down substantially
Wealth management fees reduced by market related reductions in assets under management and lower transaction volumes
Net interest margins kept narrowing with further declines in interest rates
Mortgage banking activity was lower, although the large banks gained share. Litigation and loan repurchase costs subsided
On the plus side, Morgan Stanley (NYSE:MS) was able to allay market rumors that it had outsized exposure to French banks that were about to fail. Its spreads and stock price partly recovered, hopefully alleviating funding pressures. Other positive developments were:
Loan quality indicators extended their improving trend at a healthy pace despite continued economic weakness. Nonaccruals and net charge-offs fell steeply across all sectors.
Reserve reversals abated but provisioning costs continued down due to lower charge-offs
There were incipient signs of commercial loan growth
Outlook For The Fourth Quarter And Beyond
The fourth quarter promises to be weak, with potentially some large litigation charges.
Investment banks have commented that given the continued volatility in markets, clients remain on the sidelines, so trading revenues could continue weak. They are likely speaking based on what they are seeing so far in October from their trading desks. However all of that could change as time passes.
Net interest margins should continue to be squeezed
Retail banking revenues will be pressured as the Durbin amendment kicks in, reducing interchange fees on debit cards
Litigation charges and further reserves for mortgage loan putbacks could be massive, especially if the states' attorneys General suit is settled.
Cost cutting and layoffs are likely as banks rethink their strategies in the context of changes in regulation and prolonged economic weakness
Risks To watch
The financial industry is undergoing an unprecedented amount of change at the same time as it faces significant global economic risks due to continued imbalances. Some risks are cyclical but some are secular and will affect the competitive positions of many industry participants.
Spillover effects from Europe coming either in the form of an economic slowdown or market turbulence. These would be greater than direct exposures to peripheral countries or banks.
Funding difficulties if liquidity conditions in the marketplace remain tight
Potential serious disruptions from the Volker rule
The impact on housing markets as the overhang of foreclosures is resolved and the role of the housing agencies is redefined
Litigation costs and implications for banks' abilities to securitize loans in future without effectively retaining full recourse
Overview of the Quarter
Net income declines for the quarter were softened by accounting gains that recognized theoretical gains on the decline in the value of banks' liabilities (DVA). Stripping away these and other non-operating items (but including litigation costs), core earnings for the more regionally focused banks continued to rise, and losses narrowed for Bank America (NYSE:BAC). However, those with capital markets businesses saw substantial declines from the prior quarter and the year ago.
| | | | | | |
| --- | --- | --- | --- | --- | --- |
| | 3Q2011 | 2Q2011 | 1Q2011 | 4Q2010 | 3Q2010 |
| Bank America | - 1,188 | - 7,406 | 2,155 | 1 | 6,989 |
| Citigroup | 2,269 | 3,001 | 3,826 | 2,948 | 2,664 |
| Goldman Sachs | 170 | 1,487 | 3,086 | 2,755 | 2,161 |
| JPMorgan | 4,076 | 5,367 | 6,650 | 4,735 | 4,509 |
| Morgan Stanley | 127 | 1,013 | 667 | 1,059 | 729 |
| PNC | 830 | 913 | 837 | 767 | 775 |
| US Bancorp | 1,273 | 1,203 | 1,046 | 974 | 908 |
| Wells Fargo | 4,623 | 4,584 | 4,413 | 4,958 | 4,017 |
| Total | 48,718 | 40,644 | 90,716 | 72,786 | 91,010 |
Investment banking suffered from market uncertainties
Investment banking divisions were the hardest hit during the quarter
Underwriting and advisory fees were down 42% from the prior quarter and 26% from the prior year.
| | | | | | |
| --- | --- | --- | --- | --- | --- |
| | 3Q2011 | 2Q2011 | 1Q2011 | 4Q2010 | 2Q2010 |
| Bank America | 942 | 1,684 | 1,578 | 1,590 | 1,319 |
| Citigroup | 736 | 1,085 | 851 | 1,167 | 674 |
| Goldman Sachs | 781 | 1,448 | 1,269 | 1,507 | 941 |
| JPMorgan | 1,052 | 1,933 | 1,793 | 1,833 | 1,421 |
| Morgan Stanley | 1,031 | 1,695 | 1,214 | 1,757 | 1,080 |
| Total | 18,168 | 31,380 | 26,820 | 31,416 | 21,740 |
Political uncertainties resulted in equity market volatility and debt spread widening, causing clients to shelve IPO and financing plans. Lenders were unable to syndicate out all of their positions. Some banks fared better than others, however. Notably Morgan Stanley was down less than others as it steadily rebuilds its business, while Goldman Sachs (NYSE:GS) was down the most from the prior quarter.
Sales and trading income (ex DVA gains) was down sharply. Fixed income trading fell 45% from the prior period and 50% from a year ago, reflecting the impact of spread widening on its inventories; Equity trading was more stable, falling by only 16% and 9%, respectively.
| | | | | | |
| --- | --- | --- | --- | --- | --- |
| | 3Q2011 | 2Q2011 | 1Q2011 | 4Q2010 | 3Q2010 |
| Bank America | 324 | 2,697 | 3,646 | 1,757 | 3,477 |
| Citigroup | 2,302 | 2,886 | 4,230 | 2,487 | 3,410 |
| Goldman Sachs | 824 | 1,799 | 5,349 | 2,173 | 3,195 |
| JPMorgan | 3,061 | 4,169 | 5,048 | 3,252 | 3,272 |
| Morgan Stanley | 640 | 1,391 | 1,471 | 815 | 1,040 |
| Total | 28,604 | 51,768 | 78,976 | 41,936 | 57,576 |
| | | | | | |
| --- | --- | --- | --- | --- | --- |
| | 3Q2011 | 2Q2011 | 1Q2011 | 4Q2010 | 3Q2010 |
| Bank America | 756 | 1,081 | 1,249 | 781 | 967 |
| Citigroup | 289 | 812 | 1,103 | 808 | 1,040 |
| Goldman Sachs | 2,331 | 1,916 | 2,322 | 2,003 | 1,982 |
| JPMorgan | 1,023 | 1,223 | 1,046 | 1,128 | 1,231 |
| Morgan Stanley | 1,341 | 1,801 | 1,732 | 1,184 | 1,121 |
| Total | 22,960 | 27,332 | 29,808 | 23,616 | 25,364 |
Citigroup (NYSE:C) fared better than most in fixed income, attesting to the success of its efforts to rebuild its trading businesses on a derisked basis. Bank America was hardest hit. Goldman Sachs had stellar equity trading results to offset the fixed income weakness. Their bottom line loss was caused not by trading results but by markdowns on its long term equity investments, including ICBC. Banks have largely exited their pure-play proprietary businesses, so an interesting question is how much of the decline is due to the absence of such activities.
Revenues from commercial banking were weak
Net interest margins narrowed further
Click to enlarge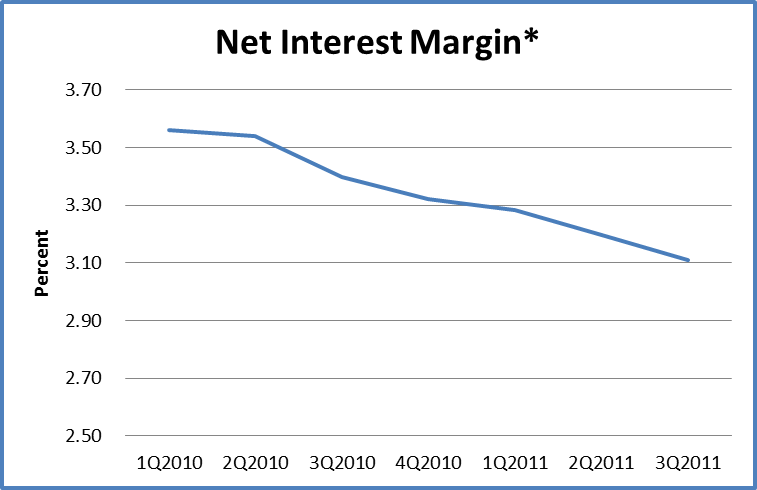 The low rate environment is the principal cause as asset yields are falling which deposit yields and the cost of equity cannot fall past zero. Part of the decline was also because some of the penalty fee income restricted by the credit card act used to be reported in net interest income. Bank America also recorded $900 million of one-time charges related to re-estimating prepayment rates on mortgages. Banks are resigned to further declines as securities portfolios reprice downwards and they reinvest in short-term securities to prepare for eventual rate rises. Funding costs could fall further as deposits still have some room to reprice and banks begin to repurchase high rate trust preferred securities that no longer qualify as capital under Basel III rules.
Retail banking revenues have been hit by restrictions imposed by the Credit Card Act and Regulation E on charging late and overlimit charges on credit cards and overdraft charges on deposit accounts. Beginning in the fourth quarter, the Durbin Amendment will restrict the ability to charge interchange fees on debit card transactions, eroding revenues by a further $5 billion for the large banks.
Banks will attempt to recoup some of those losses by moving to charge more for basic services and away from penalty fees. US Bancorp (NYSE:USB) provided some insight by reporting that it hoped to recoup 50% of the losses, and had already succeeded in recouping 30%.
Expense levels appear unsustainable
Poor revenue prospects and strategic repositioning in the face of regulatory changes are causing banks to contemplate cost cuts and layoffs. Efficiency ratios (expense to revenues) are at bloated levels even when DVA gains and mortgage litigation costs are stripped out:
Expense/Revenues*
3Q2011
2Q2011
1Q2011
4Q2010
3Q2010
Bank America
83.5%
64.6%
66.1%
53.0%
55.0%
Citigroup
64.9%
63.1%
58.1%
62.0%
53.7%
Goldman Sachs¹
93.2%
70.4%
60.6%
53.3%
64.0%
JPMorgan
58.3%
53.6%
47.1%
48.4%
44.4%
Morgan Stanley
94.5%
81.2%
86.4%
81.3%
79.6%
Wells Fargo
51.4%
51.2%
52.5%
44.9%
51.3%
Total
67.6%
60.9%
58.8%
54.0%
54.0%
* Excludes disclosed litigation expenses, amortization costs and unusual items
¹ Revenues exclude ICBC gain/loss
Banks are scaling back on their investment spending. For example, Bank America is reducing the number of branches it wants to build. All talk of re-engineering their processes to be more efficient. However, they face significant headwinds because the costs of regulatory compliance are building and managing high levels of delinquent mortgage loans represent a significant drag. The Volker rule will also cost a lot to implement, and litigation expenses will remain elevated.
One area that may provide some relief to the expenses for investment banks. Bonuses are likely to be down for the year. Nevertheless, compensation expense ratios always go up in bad years because some expenses are fixed.
Loan losses are down across all sectors
Credit card losses are down more than the unemployment picture would suggest. Card lending is an actuarial business that can predict and control loss rates by tweaking underwriting standards. Banks have now cleared out the subprime borrowers and other bad credits. They now see the business as returning to average loss rates of 4.5% as in the early 1990s as long as they restrict their business to prime customers.
Corporate credit is good but can fluctuate. Even commercial real estate appears to have escaped any meaningful deterioration
Mortgage losses, especially in home equity loans, are trending down and delinquencies are down slightly. However, given the uncertainties in the mortgage markets losses will remain very high and could even rise if home prices continue falling.
Reserve reversals are abating as credit quality stabilizes. In a quarter or two, provisioning will begin to cover losses. However, loss levels can go lower so that provisions will not necessarily rise next year.
Click to enlarge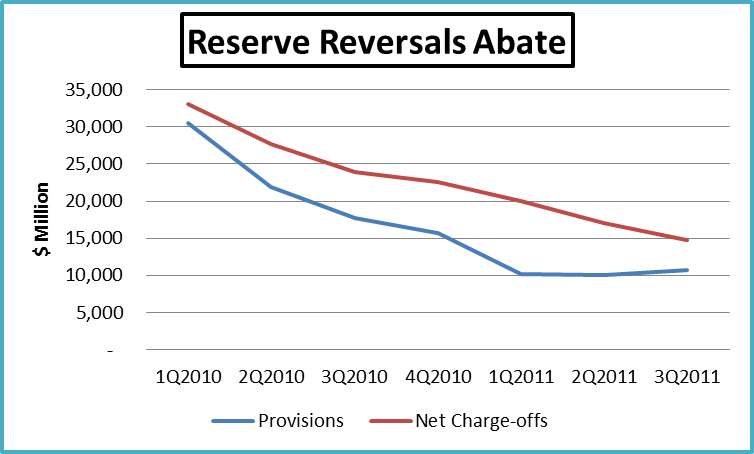 Capital needs further building
Despite the lack of asset growth, banks are building capital through retained earnings. While Tier 1 Common equity levels are well above current regulatory norms, banks are anticipating sharp increases in those norms as Basel III is implemented. All banks besides Bank America currently meet or exceed the 7% minimum Basel III common equity requirement (on fully phased in rules). However, a SIFI buffer of perhaps an additional 2.5% may be imposed on systemically important banks, and potentially large litigation losses are looming (see box below). Banks will have to temper their ambitions for increasing share buybacks or dividends if they are to meet the fully phased in guidelines by the end of next year, as markets seem to expect them to do even though the rules are not to be fully phased in until 2019. Some, like Bank America, will need to reduce risk assets considerably.
Basel III Tier 1 Common Capital (Est)
Bank America
5.44%
Citigroup
8.84%
JPMorgan
7.70%
Morgan Stanley
7.00%
PNC
7.20%
US Bancorp
8.20%
Wells Fargo
7.40%
Loan growth may be on the horizon
The consumer continues to deleverage as is evident in diminishing credit card portfolios. However, banks report rising transaction levels, meaning that consumers are spending more due to rising incomes.
Banks reported incipient demand for small business and middle market loans. More lines of credit were granted, with the anticipation that businesses will begin to draw on them in the near future. The more regionally focused and healthier banks were more optimistic on this front than the larger banks. PNC saw a 4% rise in commitments, although only a 3% rise in funded loans, for example. US Bancorp and JPMorgan (NYSE:JPM) also reported growing interest by clients.
Risks to Watch
European Sovereign Debt
The risks emanating from Europe if there is no orderly solution to the sovereign debt issues mostly have to do with the threat of a financial crisis due to a seizure in credit markets or a general economic slowdown. Direct exposure to peripheral countries is moderate for U.S. banks, dominated by Italian and Spanish corporate exposures rather than sovereign. Some of the corporate exposures are to banks but many are also to subsidiaries of multinationals, where the parent could be expected to provide support.
European Peripheral Country Exposure
($ Billion)
Gross
Net
Morgan Stanley
5.7
2.0
Citigroup
29.8
13.5
BankAmerica
16.6
14.6
Goldman Sachs
3.1
1.9
JPMorgan
20.3
15.1
Wells
3.2
3.2
These exposures are reported net of hedges and collateral. While markets have been concerned about whether the hedges can be relied upon if counterparties are compromised banks have asserted that they are at least not domiciled in the peripheral countries. Markdowns on these exposures were not apparent, likely due to the hedges in place.
Markets have been concerned about exposure to French and Belgian banks. Morgan Stanley in particular was beleaguered with rumors that it could fail as a result of its exposure to not yet failed French banks. They have disclosed more on the nature of their exposures which, on a net basis, are actually a negative $286 million. It remains to be seen whether its counterparties will be comforted. Its CDS spreads, which peaked at over 6%, have now reverted to under 4%.
Volker Rule will be critical for trading operations
The Volker rule is out for comment for the next several months. Banks have already largely shut down the type of proprietary trading that is easily identifiable as such. The real issue is the type of position-taking that has been ancillary to market-making activities. It is difficult to define and track, and would require significant outlays to build compliance software and staffing infrastructure. The concerns are that eliminating such activity would reduce liquidity in certain markets and render U.S. banks uncompetitive relative to foreign banks. While estimates of how much profits are at stake are impossible to make, they could be very material.
Cost estimates for the mortgage mess are rising
Bank results have been weighed down by:
Massive costs related to loan putbacks and litigation related to allegations of improper representations about the quality of loans sold into securitizations. Over the past three years, the five largest servicers have taken charges totaling $58 billion, of which Bank America took $30 billion and JPMorgan $18 billion.
Losses on balance sheet loans
Operating costs to service delinquent loans
Compliance costs to ensure that the operational deficiencies that brought on the lawsuits do not recur
Banks had earlier settled with federal agencies, Fannie Mae (OTCQB:FNMA) and Freddie Mac (OTCQB:FMCC), for part of their potential liabilities under the so-called "representations and warranties" provisions upon which their loan sales were contingent. JPMorgan and Bank America both indicated that Fannie Mae and Freddie Mac, accused of having been too lenient in their settlements with the banks, have recently become more aggressive about putting back more loans, especially those from vintages other than the 2005-2008 that had been the area of focus before. Given that the banks had significantly revamped their underwriting standards in 2007, it means that either the measures were insufficient or that the agencies have reinterpreted their obligations as guarantors of the loans. Estimates of future liabilities were made based on assumptions about the direction of house prices and the behavior patterns of the agencies. Both assumptions look to need revisions.
Litigation from private investors who bought loans or securities based on non-conforming loans is another area where estimates are difficult to make due to lack of precedents. The degree to which the attorneys general settlement (see below) grants release from further lawsuits could influence those estimates.
The Attorneys General of the 50 states appear to be closing in on a settlement with the major mortgage lenders with respect to improper procedures in originating and servicing loans. The settlement could be $20-25 billion, to be apportioned among the largest mortgage servicers according to the quality of the loans they originated. Using the amount of loans in bank's servicing portfolios that are in process of foreclosure as a proxy for the loan quality, the settlement could be divided among the banks as shown in the table below. Bank America would be hardest hit, thanks to its Countrywide unit, with a $9.5 billion charge. Assuming that the charges would not be tax deductible, they would reduce Tier 1 common capital ratios by about 50-70 bp for Bank America, JPMorgan and Wells Fargo (NYSE:WFC). Citigroup is very little affected, on the other hand, given the size and quality of its servicing portfolio. The amounts are manageable for all, although Bank America would be meaningfully behind the others in their Tier 1 common ratio.
A settlement could be positive news for the sector not only because it puts to rest one major element of the litigation overhang. It could come with a release from certain potential private investor litigation involving improper foreclosures and origination processes. Also, the moneys will be used to provide relief to struggling borrowers, lowering their rates and providing debt forgiveness. This could be a first step in reviving the mortgage market by reducing the overhang of potential foreclosures.
Potential penalties of $25 billion Attorneys General suit
Servicing Portfolio ($ Bil)
% in fore-closure†
Share of settlement ($ Bil)
Tier 1 Common*
Adjusted Tier 1 Common
Bank America
1,571
5.59%
9.5
8.7%
8.0%
JPMorgan
925
7.33%
7.3
9.9%
9.3%
Wells Fargo
1,858
2.04%
4.1
9.4%
8.9%
Citigroup
431
2.14%
1.0
11.7%
11.6%
† As of 6/30/2011; Source: FRY-9C
* As of 9/30/2011; Source: Company reports
Strategic repositioning is likely
With all the questions surrounding bank regulation and the future of the mortgage market and the structure of capital markets, banks are beginning to rethink strategies. As soon as regulatory intent becomes clearer, it would be natural to assume that banks will begin to exit certain business, either because they attract too much regulatory capital, as many aspects of trading or equity investing do, or because players outside of the SIFI designation would have clear advantages. Boutique investment banks and hedge funds that become market makers may take over from the traditional wirehouses. Similarly, non-SIFI retail banks may provide better returns to investors. The risk is that the financial marketplace will become more fragmented, more dominated by unregulated institutions, and more difficult to regulate.
Disclosure: I am long C, WFC, MS, PNC, USB, JPM.