Please allow me to offer a confession. I am a former biotech fanatic. A few key lessons I have learned are: dreams do not always come true, side with the big money investors, be responsible with your discretionary investment funds, and avoid 99% of all biotech stocks. I truly could not walk the humble town in which I live if my net losses were admitted in this article. The local citizenry would finger point and jest.
Those years have passed by and my maturity has taught me I was indeed a gullible sucker. You, the reader, may disagree. Nobody could tell me I was wrong when I held Human Genome (HGSI) above $100 per share, Northfield (stock no longer trades due to bankruptcy), Arena Pharmaceuticals (NASDAQ:ARNA), and a cast of losers that makes me shed a tear.
My investing portfolio is currently focused on quality biotechs.
Click to enlarge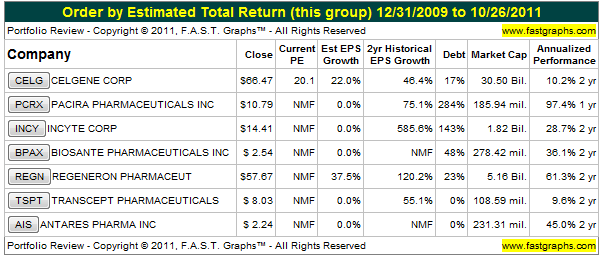 Celgene Corporation (NASDAQ:CELG)
Celgene Corporation is a proven name in the biotech sector. The company's core business model focuses on commercialization of treatments for cancer and immuneinflammatory medical issues. A breakdown of calendar 2010 sales include Revlimid (68%), Vidaza (15%), Thalomid (11%), and Abraxane (2%).
The company has a 20% growth rate for calendar year 2012. The company has a significant research and development pipeline. The European Committee for Medicinal Products for Human Use (CHMP) issued a positive note on Revlimid. The core feedback was the drug's benefits outweigh any negative issues. For full disclosure, CHMP issued stated Revlimid indicated a notable increase of secondary cancers. Celgene management is optimistic Revlimid will be approved in early 2012.
Celgene has 25 active Phase III trials in progress. Specific treatments are targeted at the following disease related conditions: immune , hematology, oncology, and inflammatory. The management team is optimistic the pipeline will continue to fuel ongoing earnings. The company's balance sheet has 16% debt based upon current market capitalization.
Celgene should earn about $3.50 for 2012. The company's price-to-earnings (P/E) ratio is 19x.
Transcept Pharmaceuticals, Inc. (TSPT)
Transcept is a company I lost money on two years ago. In this September 2009 article Transcept Pharma Offers an Interesting Biotech Value Play, I touch on a few key Transcept points.
Transcept Pharmaceuticals, Inc. is a specialty pharmaceutical company focused on the development and commercialization of proprietary products that address important therapeutic needs in the field of neuroscience.
Intermezzo (zolpidem tartrate sublingual tablet) is currently in late term FDA review. Intermezzo serves as an as needed product for insomnia during the night. Intermezzo allows the individual to return to sleep during a middle of the night awakening.
Per the company's 10-Q:
"The company may need substantial additional capital in the future to complete its development plan for regulatory approval and commercialization of Intermezzo and to fund the development and commercialization of any future product candidates. Until the company can generate a sufficient amount of product revenue, if ever, it expects to finance future cash needs through public or private equity offerings, debt financings or corporate collaboration and licensing arrangements."
Intermezzo was denied approval a couple of years ago. The FDA required further studies to be tested on patients. The stock took a dramatic fall in price. The FDA is supposed to make a November 27th decision on Intermezzo.
I followed Transcept very closely. The FDA is very reluctant to approve insomnia medications. In my opinion, Transcept was far to optimistic in its FDA predictions two years ago. The trading was highly suspect the day prior to FDA rejection. I do not know if someone received word about the FDA rejection the day prior to the announcement, but trading was questionable in my opinion.
I recommend holding Transcept only with protective puts. I provide this opinion based upon negative views of management and pessimistic views of FDA approval for insomnia medication.
Regeneron Pharmaceuticals, Inc. (NASDAQ:REGN)
Regeneron Pharmaceuticals is engaged in the research, development and commercialization of drugs for cancer, inflammatory conditions and degenerative eye diseases. The company has a FDA pending decision to be announced on November 18th for EYLEA.
EYLEA is tarteted to treat neovascular age-related macular degeneration. The drug has worked well with older patients to treat Wet AMD. November 18th will represent a three month FDA delay due to concern over the chemical manufacturing controls.
Option activity indicates a slight bias on call purchases verus put positions. The short position is likely to increase or decrease closer to the November 18th deadline. I recommend extending any option purchases out one month in case of a temporary FDA decision delay.
On a positive note, the company has zero debt on its balance sheet. The company also has a number of products in the pipeline. The $6 billion market cap company has excellent researchers and a promising pipeline. The company is continuing to lose money, so close attention to market trading may provide some solace or guidance.
I recommend staying on the sidelines until confirmation of FDA approval. The company is a large market cap and significant revenues will be required for further capital appreciation.
Pacira Pharmaceuticals Inc. (NASDAQ:PCRX)
Pacira Pharmaceuticals has a October 28th FDA pending decision. The FDA is deciding upon Exparel for post-surgical pain management. The market potential is $576 million on a global basis.
Exparel (bupivacaine extended-release liposome injection) is Pacira's proprietary drug candidate consisting of bupivacaine encapsulated in DepoFoam, both of which are currently used in FDA approved products. Bupivacaine has an established safety profile with more than 20 years of use in the United States.
The $200 million market cap needs FDA approval to avoid pursuing alternative share dilution offerings to raise capital.
I am showing Pacira Pharmaceuticals short interest has increased in recent days to 600,000 shares from 200,000 shares. This is dramatic. The company does not have options for a short seller to position a synthetic long position. I would avoid this stock. The short position is extremely strong and worth noting.
BioSante Pharmaceuticals, Inc. (BPAX)
BioSante is a specialty pharmaceutical company focused on developing products for female sexual health and oncology. BioSante's lead products include LibiGel (transdermal testosterone gel) for the treatment of female sexual dysfunction. This drug is in Phase III trials.
On November 14th, BioSante has a FDA decision on Bio-T-Gel for treatment of male hypogonadism. This is otherwise known as low testosterone levels. Hypogonadism impacts approximately 4 to 5 million U.S. males.
Bio-T-Gel was developed initially by BioSante. It was licensed to Teva (NASDAQ:TEVA) for late stage clinical development. Teva is responsible for all Bio-T-Gel regulatory and marketing activities. BioSante will receive certain milestone payments and royalties upon commercialization.
Teva is a strong partner and the cost savings for regulatory filings are vital for cash tight BioSante. The company has approximately 15% of its shares short. The market is waiting for LibiGel news, but any revenues only enhance the overall value of the company. I am waiting for news on LibiGel and will determine if free cash flow can offset the current operating losses.
Incyte Corporation (NASDAQ:INCY)
Incyte is a drug discovery and development company focused on developing small molecule drugs to treat serious areas of oncology and inflammation. The company has a pending December 3rd FDA decision on Ruxolitinib as a treatment for myelofibrosis.
The company has approximately 10 to 15% of its shares sold short. Ruxolitnib is the core drug in Incyte's pipeline. I reviewed the 10-Q and did not find any private placement stock offerings. This is usually a sign the stock may have problems. Private placements will allow favorable stock options to backers but the backers can then short the common stock as an arbitrage trade.
The stock does have strong ownership in the likes of Wellington, Fidelity, T. Rowe Price and Vanguard.
Unless an investor is highly insightful with the drug's potential, stay on the sidelines. Any FDA rejection will send the stock down. I recommend focusing upon quality biotech companies that have ample free cash flow coming into the corporation.
Antares Pharma Inc. (AIS)
Antares Pharma is a pharmaceutical company with three proprietary platforms, two of which now include FDA approved products. The products typically improve safety and efficacy profiles by minimizing dosing and reducing side effects while improving patient compliance. In May 2011, Antares did raise $23 million in capital by selling common shares at $1.60 per share.
The Antares products focus on self injection pharmaceutical products in addition to topical gel based products.
Antares has a pending December 8th FDA decision on Anturol Gel for overactive bladder.
Overactive Bladder (OAB) is a urological condition that causes a sudden and unstoppable need to urinate. This sensation can exist even if only a small amount of urine is within the bladder. The U.S. market opportunity is 30 million citizens with a $2 billion revenue opportunity. The worldwide opportunity is 200 million people with a 2017 estimated revenue potential of $200 billion.
The opportunities look sizable. I have to pass on this name with a market cap of $240 million. I would prefer to see a positive cash flow prior to allocating funds. The shares short level has increased from 1.5 million to 2.5 million shares in recent weeks.
Summary
The above opinions are only mine. I hope your favorite biotech goes up 10-fold in price tomorrow. My life has taught me a few learning experiences, and avoiding biotech is at the top of my investing rules. I wish every biotech would increase in price so every biotech investor could quit their day job and retire in the Bahamas.
Most biotech investors, not traders, will learn the hard way. If you find you must invest in speculative biotech companies, then buy a group of biotechs to avoid bad news in one stock impacting your portfolio.
Disclosure: I am long CELG.