Way back in March 2011, short sellers launched a concerted attack on non-operated Bakken Player Northern Oil and Gas (NYSEMKT:NOG). In a number of prior pieces we have attempted to address the short's concerns and claims (see here and here for detailed, point by point response to the short's "issues"). These concerns were eventually echoed on CNBC and on other investment sites and the shares fell sharply, trailing the peer group by a wide margin.
Click to enlarge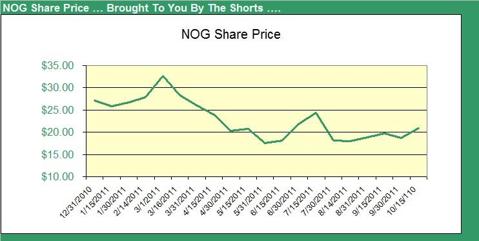 Meanwhile, NOG has stuck to its knitting and production has, as expected, grown rapidly. More growth is on the way as the rig count in the Williston Basin has passed 200 and is likely to move higher still in 2012.
Click to enlarge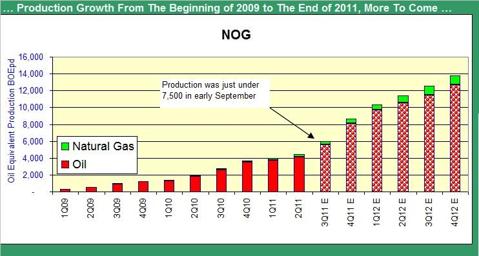 Production Per Share Chart Is Moving Up and To The Right As Well. They are accomplishing this growth without diluting shareholders and I think it is highly unlikely they return to the equity markets until at least 2013.
Click to enlarge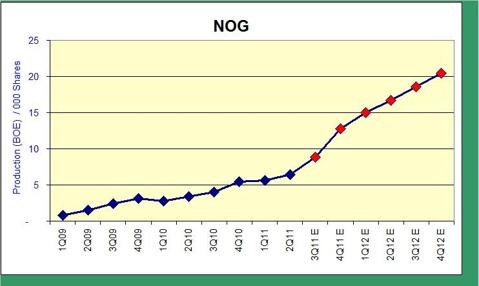 And This Growth Has Also Yielded "Best in Show" Cash Margins. NOG isn't posting growth for the sake of growth either as they have managed to eke out the best cash field margins (Revenue per BOE less LOE, G&A, and Production Taxes) among their Bakken Player peers. Or thought about another way, they're the low cost player of the pack, far lower than a Kodiak (NYSE:KOG) or an Oasis (NYSE:OAS), both operators in the play.
Click to enlarge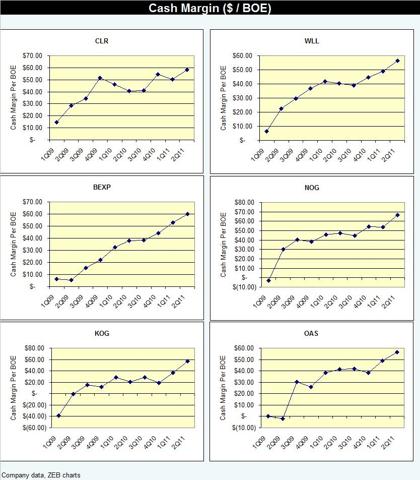 Last But Not Least, Reserves Are Also Growing Rapidly. NOG is also rapidly booking proved reserves but probably not as fast as it could. Funny that one of the things the shorts didn't attack was NOG's reserve reporting even though reserves have grown rapidly over the last couple of years as well. With Ryder Scott engineering the reserve report I'm not surprised. Ryder's reputation is top notch and they are seen as one of the most, if not the most, conservative firms in the business. Moreover, NOG doesn't yet employ a reserve engineer who could provide pushback to Ryder's conservatism. We took a pretty thorough look at the mid year report here but here is the simple chart of the growth through July 2011.
Click to enlarge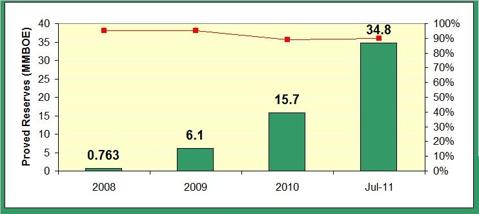 In a nutshell, the company continues to perform as expected and they continue to acquire acreage as the play progresses. It's a simple story but one you can mess up if you're not good at what your do or are prone to lease and pray that you get drilled. They are not of this order, instead grabbing leases in and around current activity, rapidly turning leases into production, writing checks as AFE's come in and depositing checks as production comes on. The shorts stalled the stock, got lucky with a bit of bad weather in the Basin, and then with the rapid decline in oil prices from Libyan troubled highs but now the sun is shining, the outlook for crude less dire, and the concerns of the shorts have melted away, like a snowbank in North Dakota.
Click to enlarge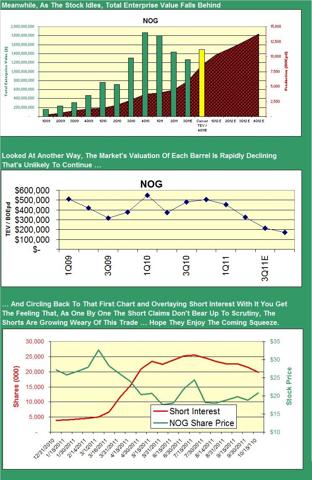 Disclosure: I am long KOG, NOG, OAS, WLL, BEXP.