How does one create differentiated content in an economically viable manner, when few want to pay for it?
Demand Media (DMD) has both a lower margin websites network and a higher margin "eHow" websites network. They have among the top 5 most watch verticals on the Internet when they acquired expertvillage.com, which is offering "how to" videos.
The company recently changed their business model. Until now they were focusing on "content farm" by preferred exposure on search engines like Google (NASDAQ:GOOG), but recently it was deeply affected by the decision of Google to penalize those low quality content sites with an algorithm update.
The Business Model of Demand Media
It resides on this formula:
Content + Social Media = user engagement revenue
Millions or articles and videos from high-quality websites, blogs, and premium branded content
+ Comments, profiles, recommendations, ratings, user discovery modules
= Content is viewed within the publisher's pages, increasing page views and time spent on site
+ Incremental pages are prepackaged with advertising, earning publishers extra revenue.
Now, the guidelines in Demand Media are no more content for the sake of creating it, but more focusing toward higher quality content delivery in a dozen of content categories/verticals.
Their 5 biggest verticals are: How to (eHow); Humor (Cracked.com), Health (LiveStrong), Outdoor (trails.com) and Golf (Golflink).
Cracked is a crowdsourced comedy site that takes the best ideas from 2,500 writers and then assembles them into funny things to read. The site gets 22 million page views a month. It is based on analyzing a bunch of data and funny material and then putting the best stuff out there in the places where it will get noticed. "You have to take the data and make it valuable," Bradford (VP at Demand Media) said.
Demand Media Value Chain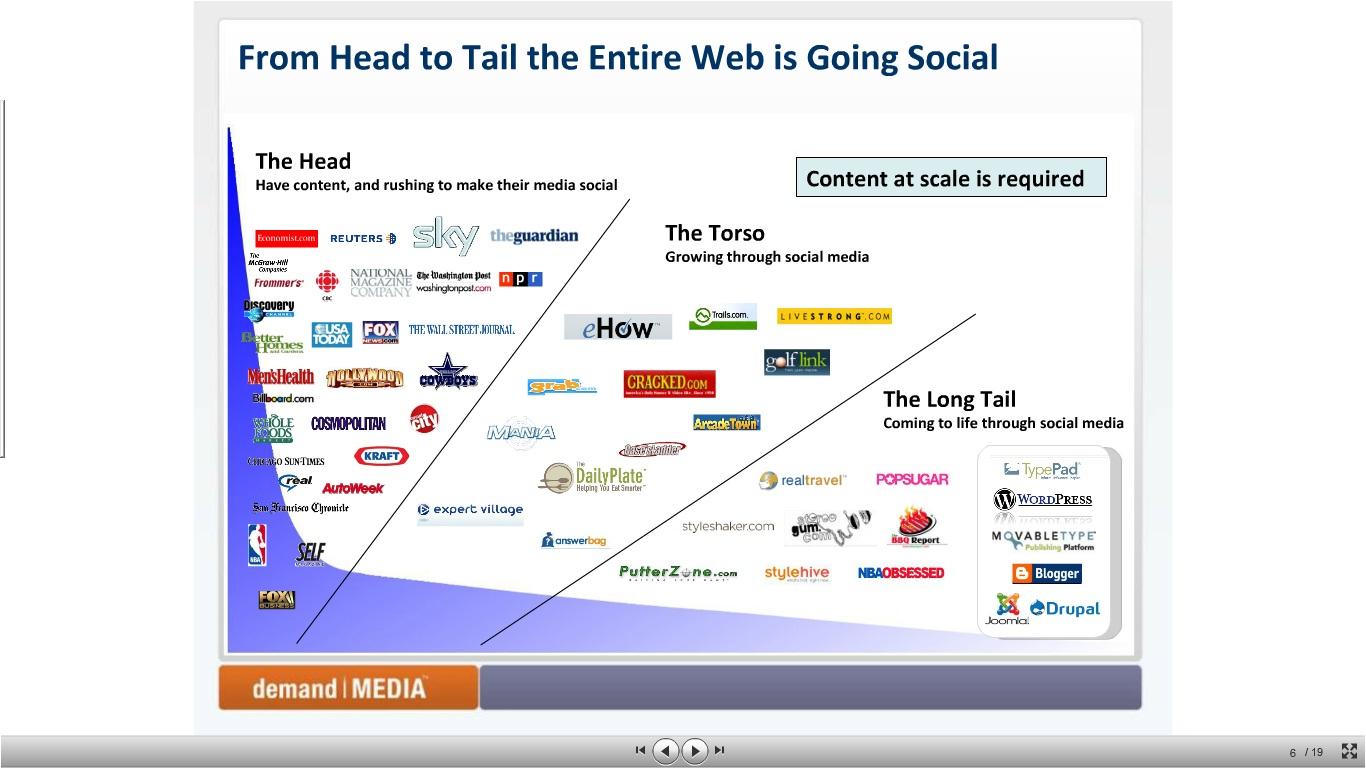 A competitive advantage is the use of partnerships for distribution: they are YouTube's (GOOG) #1 content supplier, and they have future distribution agreements in Sports & Entertainment, Home & Automotive, News and Opinion, Local, Business & Tech, Shopping & Fashion, Health & Fitness, Family & Parenting. They have over 250 partners.
The Threats
Competitors are AOL (AOL), Yahoo (YHOO), and WebMD (WBMD) verticals like automotive, flowers, and healthcare. According to Tim Chen: "There's no longer a proprietary black box zinging out new article ideas that will print new earnings. This means that anyone with a website, even in a low-cost country, can carbon copy eHow's article topics and business model for very little money."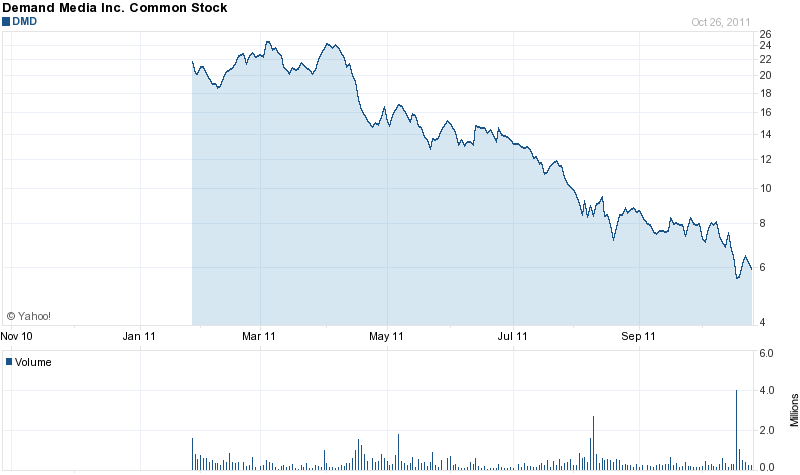 Source: Yahoo Finance
| | |
| --- | --- |
| Direct Competitor Comparison | |
| | | | | |
| --- | --- | --- | --- | --- |
| | DMD | AOL | YHOO | Industry |
| Market Cap: | 516.95M | 1.57B | 20.95B | 276.46M |
| Employees: | 600 | 5,860 | 13,600 | 416.00 |
| Qtrly Rev Growth (yoy): | 31.60% | -8.40% | -24.00% | 22.10% |
| Revenue (ttm): | 297.91M | 2.25B | 5.19B | 106.18M |
| Gross Margin (ttm): | 51.29% | 33.40% | 67.88% | 56.48% |
| EBITDA (ttm): | 61.24M | 463.00M | 1.41B | 8.10M |
| Operating Margin (ttm): | 1.35% | 8.69% | 15.89% | -0.86% |
| Net Income (ttm): | -26.75M | 230.00M | 1.07B | N/A |
| EPS (ttm): | -0.61 | 2.16 | 0.82 | N/A |
| P/E (ttm): | N/A | 6.78 | 20.23 | 39.89 |
| PEG (5 yr expected): | 1.06 | 24.95 | 1.57 | 1.29 |
| P/S (ttm): | 1.62 | 0.68 | 3.96 | 1.90 |
Conclusions
Newspapers, once the bastions of content creation / curation, are experiencing the fifth straight year of declining revenue.
The Media sector has faced several boom and bust over the last 4 decades. Just in 2008, 500 magazines disappeared.
Blogs and content aggregators such as Yahoo and Huffington Post are experiencing strong growth.
With undifferentiated products, price is competed down to marginal cost. And the marginal cost for digital content is $0.
The syndication approach was first used online by Yahoo.
Value Shift from Creators to Aggregators
Content creators with low value content, or undifferentiated content will experience difficult time in the future.
High quality content targeted to specific niches can be very lucrative combined with social media.
Until Demand Media and other content creators make most of their revenues from low quality content and few higher quality and differentiated content, they will face strong pressure on the stock price. Acquiring experts for higher quality content creation has its costs. The turnaround for Demand Media will require further investments and affects its bottom line in the short and middle term.
* However, in digital media new products and services and complementors (smartphones, tablets) are quickly spreading, which is stimulating the demand for news and analysis. George Soros just made a big Investment in competitor WebMD. George Soros's hedge fund reported a 5.6% stake in the online health resource. Carl Icahn's owns also about 7.94% of WebMD.
While it appears that few tablet consumers want to pay for news, it may be different for analysis and higher quality content. Since Demand Media is known mostly for low-quality content, the shift in the perceptions of consumers toward its branding may be very challenging.
The stock of Demand Media has been under turbulence since it went public in February. The momentum is toward more declines. Operating margins are very low compared to competitors. However, DMD has a low PEG ratio (1.06), which could be mean that the stock is undervalued. Until, the company proves that it can generate net income, and produce mostly high quality and differentiated content, I won't invest in it.
Disclosure: I am long YHOO.