In late July, I argued my thesis that QLIK Technologies (NASDAQ:QLIK) was part of a new "Cloud Bubble" and that the company was headed nowhere fast. I essentially slammed the company on not only stratospheric valuations, but on a failure to gain serious profitable traction in 18 years. Following the release of QLIK's Q3-11 results (.pdf), I felt compelled to write this article based on horrible diligence reporting by most financial news sources.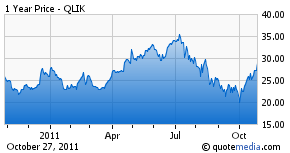 The only touted numbers seem to be y/y revenue growth, y/y EPS while the fact that the EPS growth is due almost 100% to foreign currency adjustments (negative without that), expenses are growing faster than revenue, and revenue is essentially flat in sequential quarters.
The Positive 'Spin': Emphasis on Revenue Growth
Although the 50% y/y revenue increase is true, the revenue has only grown 2% in sequential quarters. This can be due to a slightly cyclical nature in the sales of software; however, the numbers are somewhat disturbing for a company currently trading ($26) at a 2011 P/S of 7.5 and a 2011 projected GAAP P/E of 520 to 260 (based on Q4 projection of 10-15 cents EPS). QLIK only gives its earnings projections in non-GAAP, but it is projecting $.24-$.28.
Expenses Growing Faster Than Revenue
Although revenue has grown 50% y/y, expenses have grown 59% y/y. This has NOT been reported or emphasized in any news releases so far. More importantly, over the past trailing 12 months, revenue has grown by 42% ($294M from $207M) while expenses have grown by 65% ($252M from $153M).
Profit Excluding 'Special Items' is Negative y/y
One of the news reports that claims QLIK "turned to profit" and beat analyst expectations in Q3-11 also states that "analysts' estimates typically exclude special items." The difference between Q3-10 and Q3-11? QLIK lost $3.27M in foreign currency exchange in '10 and gained .76M in '11. Since these numbers are not necessarily related to QLIK's business, let's make a due diligence adjustment: QLIK now has an adjusted EPS of 4 cents for Q3-10 and an adjusted EPS of 1.7 cents in Q3-11. So, it not only missed the analyst projections of 2 cents per share, but it also saw profit tumble 58% y/y.
Dilution Is Its Solution?
Another un-reported facet of QLIK is the rapid stock dilution. Y/y QLIK has increased its diluted shares outstanding by 19.56M (28.7% increase). Taking the 9-month weighted average into account, QLIK has increased its shares by 39.95M (96% increase). The diluted shares outstanding are growing faster y/y than the revenue.
Trade Possibilities
The momentum on these stocks has been rather dangerous, so I would not recommend a straight short without OTM calls as insurance. The puts are trading at relatively cheap prices considering the past volatility/52-week trading range of QLIK. March '12 puts give a decent amount of time, at these price levels I would recommend the $22 puts.
Performance Since My Last Article
On July 29, 2011, QLIK was trading at $30.11. If you took action and traded at the market low point of October 3, 2011, you would have made over 50% profit on the trade. If you held for the long-term, you would still be up around 13.6%. To be fair, in my disclosure, I also recommended shorting Amazon (NASDAQ:AMZN) on August 23rd. For the record, I still recommend shorting AMZN.
Other Targets?
If you are searching for other overvalued stocks, there are ample articles on Netflix (NASDAQ:NFLX) and AMZN to read on Seeking Alpha. I personally recommend looking into GMCR, P, LNKD, CRM, and OPEN.
Disclosure: I am short AMZN, GMCR, QLIK.
Additional disclosure: I have a various number of QLIK put options expiring in Nov '11, Feb '12, and Mar '12. I have put options on AMZN.