We live is a world that is driven by technology and the little devices we all now carry. A company that seems to be at the center of this electronic evolution is Taiwan Semiconductor Manufacturing (NYSE:TSM) and I think this is the best of the breed. Not only are its present and future products technically superior to the competition's, but also the investors' vote of confidence shows it is on the right track.
In this market rally, TSM is holding its own and its price momentum is beginning to gain traction as this Barchart provided graph shows in the last 28 trading sessions:
click to enlarge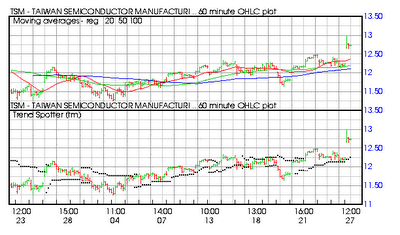 Taiwan Semiconductor Manufacturing Company Limited engages in the computer-aided designing, manufacturing, packaging, testing, and selling integrated circuits and other semiconductor devices; and manufacturing masks. It offers a range of wafer fabrication processes, including processes to manufacture complementary metal oxide silicon (CMOS) logic, mixed-signal, radio frequency, embedded memory, BiCMOS mixed-signal, and other semiconductors.

The company's semiconductor products include logic semiconductors that process digital data to control the operation of electronic systems, as well as standard logic devices that include microprocessors, microcontrollers, digital signal processors, graphic chips, and chip sets; and mixed-signal/RF semiconductors, which combine analog and digital devices on a single semiconductor to process analog and digital data for use in hard disk drives, wireless communications equipment, and network communications equipment.

It also offers memory semiconductors that are used in electronic systems to store data and program instructions; CMOS image sensor semiconductors, which are primarily used in camera phones; and high voltage semiconductors, including high voltage CMOS, bipolar-CMOS-DMOS, and ultra-high voltage technology products for use in various panel-size display driver and power IC applications. In addition, the company provides design and technology platforms, and multi-project wafer processing services. It serves fabless semiconductor companies/systems companies and integrated device manufacturers primarily in North America, Asia, and Europe. The company was founded in 1987 and is headquartered in Hsinchu, Taiwan.

(Yahoo Finance profile)
Factors to consider:
Barchart technical indicators:
72% Barchart technical buy signal based on indicators from 7 days to 6 months.
Trend Spotter buy signal.
Trading above its 20, 50 and 100 day moving average.
6 new highs and up 6.66% in the last month.
Relative Strength Index is 62.25% and rising.
Barchart computes a technical support level at 12.47.
Recently traded at 12.73 with a 50 day moving average of 11.89.
Fundamental factors:
Wall Street brokerage analysts predict that sales will be up 7.20% this year and 7.50% next year.
Earnings estimates are to be down 13.10% this year but rebound and be up 8.10% next year and continue to be up annually by 8.60% for the next 5 years.
These consensus numbers resulted in analysts issuing 2 strong buy, 3 buy, 1 hold and no negative recommendations for their customers.
The company has cutting edge products with a present array of 65nm and 40nm processors available and some 28nm processors coming on line early next year.
The US is the major destination of products incorporating their technology.
Foreign ADRs tend to pay a higher rate of earnings out in dividend and this stocks pay out ratio is in the 50%-60% range.
The 3.40% dividend is higher than the markets 2.30% dividend rate.
The P/E ratio of 11.95 is lower than the 14.00 P/E ratio of the market.
General investor interest:
Individual investors' sentiment as measured on Motley Fool is gaining and the 1,419 readers giving an opinion voted 97% that the stock will beat the market.
The more savvy All Stars voted 98% for the same result.
All 11 of the Wall Street columnists that wrote articles about the company were positive.
If you need names both Jim Cramer and Scott Bieier picked this stock and it has gained since they wrote about it.
Competitors and sector leaders:
When you compare the market strength of TSM and its major competitors over the past year you see Taiwan Semiconductor up 20%, Semiconductor Manufacturing International (NYSE:SMI) down 33% and United Microeclectronics (NYSE:UMC) down 19%: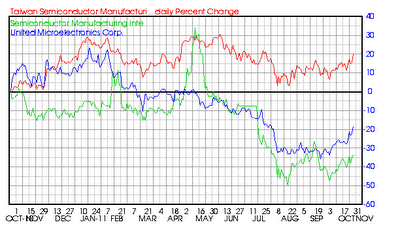 TSM is a member of the SIC 3674 Semiconductor and Related Devices sector and some smaller members have had a fantastic year like Silicon Motion Technologies (NASDAQ:SIMO) up 221% for the year, IPG Photonics (NASDAQ:IPGP) up 127%, Authentec (NASDAQ:AUTH) up 83% and Ceva (NASDAQ:CEVA) up 88%.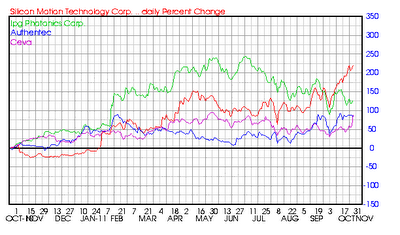 Summary: Taiwan Semiconductor has out stripped its major competition in the return to its stockholders. The P/E ratio is below the market's and its dividend rate is higher than the market's. Cutting edge technology products plus even more sophisticated products in the pipeline means the future is bright. If sales and earnings projections are met and the P/E ratio falls in line with the market, investors today could see an annual return in the 21% - 25% range over the next 5 years.
Disclosure: I have no positions in any stocks mentioned, and no plans to initiate any positions within the next 72 hours.