Coinstar (NASDAQ:CSTR) may be providing investors with another opportunity to profit off panic selling once again. My previous article, Redbox Will Keep Raking In Big Profits For Coinstar, made investors over 20%. I'm looking to take advantage of this next move down. Coinstar was down over 7 points in after hours trading, after news of a price hike and a possible delay on new movie releases.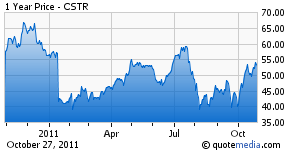 Coinstar had a strong earnings report, but sold off in after hours trading. The market is concerned about the company's plan to increase DVD rental rates to $1.20 from $1.00. Shareholders are also concerned about news that movie studios may delay new movie rentals by 60 days. Studios believe they may be able to increase movie sales by delaying rental releases. I don't expect these changes to have a dramatic impact on sales. Redbox has done an amazing job in growing its business and I expect that to continue. I believe that if the studios do decide to delay the rental window, they would require Redbox competitors to follow the same delayed release as well.
Here are some more points I like about the Coinstar story:
- Revenue for the third quarter increased 22% to $466 million compared to the same quarter in the previous year. This growth was mainly driven by a 27% increase in Redbox sales due to new kiosk installations as well as an increase in same store sales.
- Income from continuing operations increased 79% in the third quarter compared to the same quarter in the previous year.
- Redbox increased market share by over 10 percentage points. Mail and online rental providers lost 2.8 percent and national brick and mortar chains lost over 9%.
I'm looking to buy this sell off. The short sellers have it all wrong and I expect Coinstar to bounce once the fourth quarter numbers are released. I believe the numbers won't be as bad as the market thinks. Redbox has gained strong market share and is now the leader in the DVD rental market. I don't believe the 20 cent price increase will do as much damage as what is currently being priced in the stock. I would like to start a position in the $40 range if I could get it.
Disclosure: I have no positions in any stocks mentioned, but may initiate a long position in CSTR over the next 72 hours.