Brazilian integrated steel producer Companhia Siderurgica Nacional (NYSE:SID) reported blockbuster results for the September quarter, with revenue of $2.29 billion (versus $2.23 billion) and earnings of 40c (versus 30c). Year-to-date revenue and net income levels for the last three quarters combined are now at new company records, generating $7.4 billion in revenue and $1.15 in earnings over that period compared to $6.3 billion and 79c in the comparable prior year nine-month period.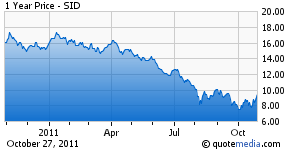 Its second largest segment, the mining unit, accounts for 36% of the revenue and almost of 60% of EBITDA generation, also posted the company's highest ever numbers in terms of both net revenue and EBITDA. The mining unit is engaged mostly in the mining of iron ore, but also mines limestone, dolomite and tin. The largest segment, steel, accounted for 53% of the revenue produces carbon steel and various steel products, including hot-rolled, cold-rolled or coated coils and sheet products, and galvanized products for the automotive, agricultural machinery and construction markets. The rest of the 11% of revenue is accounted for by its logistics, cement and energy segments.
The stock meanwhile, at the closing price of $9.38 on Thursday, is 60% below the peak hit in April 2010. Year-to-date, the stock is down 43.7%, much weaker than the 25.4% correction year-to-date for the average steel stock as represented by the Market Vectors® Steel ETF (NYSEARCA:SLX). Recently, SLX has mounted a steep rally from the trough in early October and is up 36.2% from those lows, comparable to the rise of 32.7% in SID during the same period.
We have recently written extensively about the steel market in our articles on the best steel stocks that would outperform if there was a rebound in steel prices and the best values in the sector in case the global economy went through a double-dip. Many of the opportunities and risks to the sector outlined in those articles apply to SID as well. Specifically, macroeconomic risks to growth in the case of SID include slowing growth in the U.S. and Europe, continuity of China's restrictive fiscal policy to contain inflation, and signs of cooling in Brazil related to worsening economic crisis overseas.
While there are signs pointing to increasing risks of a double-dip tied to slowing economies in the U.S. and Europe, most also believe in the long-term bullish outlook for steel based on strong long-term growth prospects in China, India and other emerging economies. In our two prior articles linked above, we indicated that SID would fare well under both scenarios; that is, it would gain huge (up to a triple) if the price of steel rebounded, and that it has good downside protection in terms of its low valuation even if the global economy went through a double-dip.
Yesterday's blockbuster quarter report changed the valuation argument even more in SID's favor. At its closing price of $9.38, it trades at the low end of its historic trading range, at a forward 6 P/E based on projected FY 2012 earnings of R$2.73 or $1.47. As we outline in our prior double-dip article, the average steel stock traded at a forward 7 P/E even at the depths of the 2008-09 recession, which makes SID a compelling buy at these levels. Furthermore, when (not if) the global economy and the steel sector does rebound, the company should outperform its peers and yield good long-term returns based on buys at current levels.
Since steel stocks often move as a group as the underlying economics are similar, the following are some other steel companies that are expected to outperform their peers under both the double-dip and rebound scenarios that we presented in our prior two articles:
Disclosure: I have no positions in any stocks mentioned, and no plans to initiate any positions within the next 72 hours.
Disclaimer: Material presented here is for informational purposes only. Nothing in this article should be taken as a solicitation to purchase or sell securities. Before buying or selling any stock you should do your own research and reach your own conclusion. Further, these are our 'opinions' and we may be wrong. We may have positions in securities mentioned in this article. You should take this into consideration before acting on any advice given in this article. If this makes you uncomfortable, then do not listen to our thoughts and opinions. The contents of this article do not take into consideration your individual investment objectives so consult with your own financial adviser before making an investment decision. Investing includes certain risks including loss of principal.