By Gaston F. Ceron
Two of the publicly traded financial exchanges on our coverage list are scheduled to unveil third-quarter earnings next week.Both CME Group (NASDAQ:CME) and CBOE Holdings (NASDAQ:CBOE) should benefit from the trading spurt seen in August, when market turmoil drove investors into a frenzy of activity that was unusual for what is often a quiet month. We expect both companies to report higher trading-related revenue.
Furthermore, barring a drastic turn during the fourth quarter, both exchange companies are on track to post volume gains for the year, in our view. CME, the Chicago-based derivatives exchange powerhouse, saw its average daily volume spike by 8.7% in the third quarter from the second, reaching its highest monthly tally ever in August, when the company's exchanges averaged nearly 17.1 million contracts per day. At CBOE, the CME neighbor that is the parent of two U.S. options exchanges, options trading volume shot up 25.2% during the quarter on a sequential basis.
For CBOE, one of the quarter's highlights did not figure in its trade counts. After months of waiting, the company finally obtained the green light from the Securities and Exchange Commission to begin trading a new index-options product that may help bring new trades to the company. Known as SPXpm, the product is a cousin of CBOE's popular SPX options on the Standard & Poor's 500 stock index. Unlike SPX, SPXpm offers afternoon settlement--that is, the option's exercise settlement value is based on the S&P 500 value derived from the closing prices of its component stocks. It also is traded on C2, CBOE's new electronic options exchange, as opposed to the company's traditional market, the Chicago Board Options Exchange, where the regular SPX options are listed.
In our estimation, a successful SPXpm could help broaden CBOE's competitive advantage. We currently believe much of the company's moat is derived from its ability to exclusively offer some prized option products for trading, including SPX, that are unavailable to its rivals. SPXpm began trading on Oct. 4, and volume thus far has tracked at several thousand contracts per day. That's a far cry from the action on SPX, the company's most popular product, which regularly trades hundreds of thousands of contracts each day. But it's still very early in the product's life, and we think volume can grow over time as word continues to get out.
We recently had an opportunity to attend CME's analyst day, the company's first such event since 2009. Among the subjects discussed at the gathering were the company's targets for expense and revenue growth--two drivers we are particularly interested in. The company's CFO set a long-term goal to grow revenue by at least 10% a year while keeping growth in operating expenses at no more than 5% per year on average. The expense target is in line with our views; the revenue goal, while certainly achievable, is a little more aggressive than our expectation for growth of around 8%. We are encouraged to see that the company is focusing on expenses; through the first half of this year, operating expenses rose 5.9%, a pace well off the 14.5% increase registered for all of 2010. Given that volume growth can be erratic and may not arrive in the same robust manner of earlier years, we view cost discipline as a key way to maintain and build profitability.
In contrast to CBOE shares, which have recently traded around our fair value estimate, CME shares have been trading at a discount to our fair value of $364. As proponents of long-term investing, we see the company as well-poised to reap the benefits of steady volume gains as interest in derivatives trading should continue to grow. CME's ability to operate a clearinghouse business along with its four futures exchanges remains a key distinguishing characteristic, in our view, giving the company a potent advantage over its peers.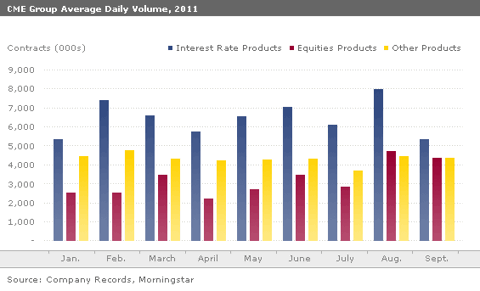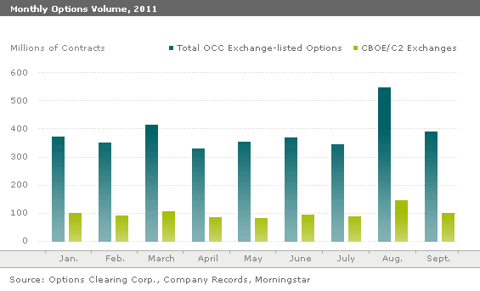 Disclosure: Morningstar licenses its indexes to certain ETF and ETN providers, including Barclays Global Investors (BGI), First Trust, and ELEMENTS, for use in exchange-traded funds and notes. These ETFs and ETNs are not sponsored, issued, or sold by Morningstar. Morningstar does not make any representation regarding the advisability of investing in ETFs or ETNs that are based on Morningstar indexes.