Ford (NYSE:F) keeps on beating estimates and this quarter it again beat estimates of earnings by about 2 cents a share. I like stocks that under promise and over deliver. Consumers seem to be attracted to the new product line of smaller but well equipped offerings and investors seem to like the new meaner, more agile Ford company. As usual there are no secrets on Wall Street and the stock moved upward well ahead of its earnings release on 10/26 as this hourly price graph provided by Barchart illustrates. The stock has been moving up daily since October 4th:
Click to enlarge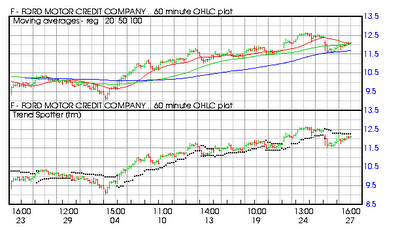 Ford Motor Company primarily develops, manufactures, distributes and services vehicles and parts worldwide. It operates in two sectors, automotive and financial services. The automotive sector offers vehicles primarily under the Ford and Lincoln brand names. This sector markets cars, trucks and parts through retail dealers in North America and through distributors and dealers outside of North America. It also sells cars and trucks to dealers for sale to fleet customers, including daily rental car companies, commercial fleet customers, leasing companies and governments. In addition, this sector provides retail customers with a range of after-sale vehicle services and products in the areas, such as maintenance and light repair, heavy repair, collision repair, vehicle accessories, and extended service contracts under the Ford Service, Lincoln Service, Ford Custom Accessories, Ford Extended Service Plan, and Motorcraft brand names.
The financial services sector offers various automotive financing products to and through automotive dealers. It offers retail financing, which includes retail installment contracts for new and used vehicles; direct financing leases; wholesale financing products that comprise loans to dealers to finance the purchase of vehicle inventory; loans to dealers to finance working capital, purchase real estate dealership, and/or make improvements to dealership facilities; and other financing products, as well as provides insurance services. Ford Motor Company was founded in 1903 and is based in Dearborn, Michigan.
Factors To Consider
Barchart technical indicators:
Barchart's technical indicators use various technical signals ranging from 7 day to 6 months to determine a stock's price trend.
60% Barchart short term technical buy signal - the sell signals still in place are beginning to weaken.
Trend Spotter technical buy signal.
Traded recently above its 20, 50 and 100 day moving average.
Although the stock made 10 advances and is trading up 19.57% in the last month it is still trading around 36.22% below its 1 year high.
The Relative Strength Index is 31.50% and rising.
Barchart computes a technical support level at 11.45.
Recently traded at 12.10 with a 50 day moving average of 10.71.
New car sales have been weak and Wall Street brokerage analysts think Ford's sales will stay in line with the industry. This year's sales are expected to be up 14.10% and another 6.70% next year.
Earnings projections show the squeeze of high fixed costs and union contracts. The earnings consensus is for an increase of 1.00% this year, a decrease of 9.30% next year but again increase for a five-year annual rate of 7.13% year over year increase for the next five years.
In spite of these lackluster forecasts analysts still have in place 5 strong buy, 10 buy and 5 hold recommendations. There are no under perform or sell reports out there.
Ford has reworked its line up and overall is offering fewer large size vehicles and more smaller more fuel efficient cars.
In the next two years Ford hopes to bring production of electric vehicles up to the 100,000 a year level.
They are about to release a new 1.0 liter engine called EcoBoost.
The P/E ratio is only 5.8%.
General investor interest:
Among the readers of Motley Fool this is the 6th highest stock followed by their readers.
11,259 readers expressed and opinion on the stock and 79% voted that it will beat the market.
The more experienced and savvy All Stars voted 80% for the same result.
The Wall Street columnists Fool follows wrote 19 articles about Ford and 15 were positive for a 79% vote from the journalists.
The only vote that really counts in my book is the vote of the market and recently Ford has won that vote. In the past 50 trading sessions Ford (F) was up 8%, General Motors (NYSE:GM) up only 2%, with Toyota (NYSE:TM) down 8% and Honda (NYSE:HMC) down 5%:
Click to enlarge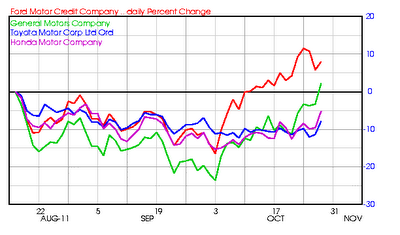 Summary: Don't expect Ford to turn around over night. It takes time for a battleship the size of Ford to reverse itself. Short term traders may make some quick money but long term investors who are willing to wait may see annual returns in the 20% - 24% annual total return range over the next five years. The two best factors in my book - at a 36.22% discount form its 1 year high and a 5.8 P/E ratio. Quite a bargain.

Disclosure: I have no positions in any stocks mentioned, and no plans to initiate any positions within the next 72 hours.