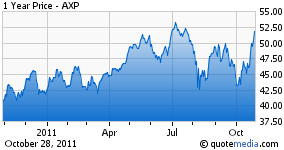 American Express (NYSE:AXP) provides charge and credit payment card products and travel-related services to consumers and businesses around the world. It is a good choice for investors who want to gain exposure to international markets and protect themselves from a decline in the U.S. dollar. Warren Buffett had $7.8 billion invested in AXP. Jean-Marie Eveillard, Ken Griffin, Bill Miller and many other well-known hedge fund managers also had millions of dollars invested in the stock. We are going to take a closer look at American Express and its comparable companies in the Credit Services industry, including Visa (NYSE:V), MasterCard Incorporated (NYSE:MA), Capital One (NYSE:COF) and Discover Financial Services (NYSE:DFS) to determine which stocks promise higher returns for investors.
The company reported revenues of $8.1 billion for the third quarter of 2011. Third quarter net income declined 7% to $1.2 billion. The company has $41 billion in net debt on its balance sheet. Its EPS is $4.01 during the past 12 months. American Express is expected to earn $4.04 in 2011 and $4.16 in 2012. The stock recently traded at $49.84. Its current PE ratio is 12.48.
Valuation:
American Express' earnings are expected to grow at 11.14% over the next five years. This implies that its PE ratio using its 2014 earnings is around 9.70. Visa is expected to grow by 15.43% over the next 5 years and its PE ratio using its 2014 earnings is around 12.07. MasterCard's expected growth rate is 16.29% and its PE ratio in 2014 is 11.83. Capital One's expected growth rate is 9.2% and its corresponding PE ratio is 6.20. Discover is expected to grow at 11.8% and its PE ratio using its 2014 earnings is around 5.85. Compared with American Express, Visa, and MasterCard, whose businesses are more focused on payments, Capital One and Discover have more diversified banking businesses. That's why they suffered more during the recent market turmoil and are trading at a significant discount. Although American Express has a relatively higher PE ratio than Capital One and Discover, it is still undervalued compared with Visa and MasterCard, whose market caps are also closer to that of American Express.
Volatility:
Volatility is generally used as a measure of risk. American Express' beta is 1.97, Visa's beta is 0.55, MasterCard's beta is 0.64, Capital One's beta is 2.05 and Discover's beta is 1.54. American Express looks a bit volatile compared to other stocks in the group. Visa and MasterCard have relatively low risk.
Hedge Fund Ownership:
Stocks that are favored by hedge funds tend to outperform the market by a few percentage points on the average. Visa was the most popular stock among hedge funds at the end of second quarter. It was held by 43 hedge funds. American Express and MasterCard were also quite popular. There are 40 hedge funds bullish about American Express and 42 bullish about MasterCard. Warren Buffett was bullish about both AXP and MA. 33 hedge funds had Discover in their portfolio and twenty five funds owned Capital One shares.
Insider Purchases:
Stocks purchased by insiders tend to outperform the market on the average. None of these stocks have insider purchases during the past six months.
Overall our analysis points out that American Express is a bit undervalued by the market. Strong hedge fund interests in American Express also indicate some form of perceived value in the stock. It lost about 3% since the end of the second quarter, beating the market by 1.37%. We like American Express and we urge investors to do an in-depth analysis of the stock for their portfolios.
Disclosure: I am long SPY.