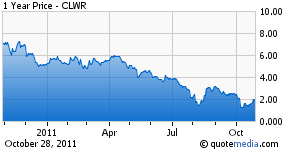 Clearwire Corp. (CLWR) may be the big winner today after reports emerged earlier in the morning that it was near signing an agreement with its majority owner Sprint (NYSE:S) to extend their existing network-sharing agreement for three to five years. This, the latest episode in this highly public family spat between Sprint and CLWR if true would be a shot in the arm for ailing CLWR, awarding it a clear long-term revenue stream,that would then allow it to get the financing it needs complete the shift of its network from WiMax to LTE.
Speculation about the relationship between these two companies has sent shares of smaller CLWR into a dizzying run of rallies and collapses over the last three months. First, in late July, Sprint announced a 15-year spectrum hosting and network services agreement with LightSquared that effectively bypassed CLWR that sent CLWR stock to a nadir of $1.32 from trading in the $5 range just three months ago. Then, rumors emerged in mid-August that Sprint would buy the remaining equity in CLWR that it doesn't already own, which sent CLWR stock to a high of $3.42. And recently, in early-October, Sprint announced that it would stop selling CLWR compatible devices that led CLWR stock to swoon to a low of $1.24. Speculation of Sprint's intention in gutting its majority-owned CLWR has been rampant, including maybe even that Sprint was sabotaging the prospects of its subsidiary to buy its assets at a bankruptcy auction. Some have even cast aspersion on Sprint management, questioning the quality of the water they drink at their Kansas location.
We believe that this latest potential move by Sprint management is a smart one. It extends the current pact that was set to expire at the end of 2012. This assures a revenue stream to CLWR so that they can now go ahead and fund their network expansion, transition to LTE, and over the long-term retains the possibility that they will realize the full-value of their spectrum assets in the open market. This is also a brilliant move from Sprint's perspective, as it would preserve their investment in CLWR while at the same time freeing them up from having to fund its expansion. Furthermore, Sprint retains access to CLWR's network that has a lot of excess capacity that Sprint will soon need as it rolls out Apple's (NASDAQ:AAPL) iPhone.
With the threat of bankruptcy possibly removed and maybe even funding being cleared up in the near future to complete its network and transition to LTE, CLWR stock is beginning to look attractive. There is already speculation that its spectrum assets are worth as much as $20 billion. At a current enterprise value of $3.7 billion, CLWR is clearly selling at a steep discount to that, making it an attractive buy at current levels for the speculative investor.
Disclaimer: Material presented here is for informational purposes only. Nothing in this article should be taken as a solicitation to purchase or sell securities. Before buying or selling any stock you should do your own research and reach your own conclusion. Further, these are our "opinions" and we may be wrong. We may have positions in securities mentioned in this article. You should take this into consideration before acting on any advice given in this article. If this makes you uncomfortable, then do not listen to our thoughts and opinions. The contents of this article do not take into consideration your individual investment objectives so consult with your own financial adviser before making an investment decision. Investing includes certain risks including loss of principal.
Disclosure: I have no positions in any stocks mentioned, and no plans to initiate any positions within the next 72 hours.