How come everyone was expecting a near zero GDP growth half way through Q3 and now we get a much better than expected 2.5%? Where did the boost come from? The answer lies in the Bureau of Economic Analysis report:
Personal saving -- disposable personal income less personal outlays -- was $472.7 billion in the third quarter, compared with $588.9 billion in the second. The personal saving rate -- saving as a percentage of disposable personal income -- was 4.1 percent in the third quarter, compared with 5.1 percent in the second.
From Q2 to Q3, the saving rate dipped a whole percent to a dangerously low 4.1%. The one percent translates into $116 billion in consumer spending. That's equivalent of more than $400 billion annually and the multiplier effect on consumer spending is much higher than the multiplier effect on government spending. We are much more efficient spenders than Uncle Sam. Looking at the saving rate chart below, 4.1% is definitely approaching lower end of the curve. Economic growth from a decreasing saving rate is not sustainable. Consumers will not keep dipping into their savings especially when they aren't saving much to being with. When the consumers start to save more in the next few months, it will act as an austerity measure on the economy. The $100 billion in spending was a big reason why Q3 earnings were good. As the savings rate increase, it will be a big hit on the economy.
(Click chart to expand)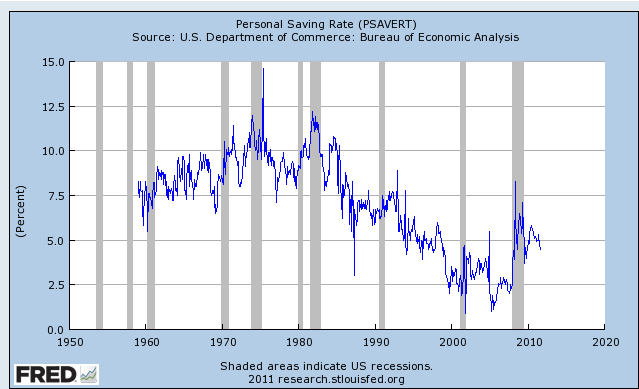 Click to enlarge
How Will Changes In The Saving Rate Affect Abercrombie
When people cut back, the first thing they cut is luxury goods. Within the luxury goods category, clothing has one of the highest elastic demands. Abercrombie (NYSE:ANF), a high-end clothing retailer that I covered in this article, seems particularly vulnerable in such an environment. With $3 billion in revenue, it is large enough to be negatively affected by the macro headwinds. With the stock trading at close to the April/July highs and at 30x PE multiple, it will be sold off in any economic slowdown. With an 8.5% short float as of mid-October and probably at around 5% after the run-up, the stock is not in danger of any short squeeze. Shorting Abercrombie is a good macro trend play.

Disclosure: I am short ANF.