By Brendan Gilmartin
Overview
MasterCard (NYSE:MA) is slated to report 3Q 2011 earnings before the opening bell on Wednesday, November 2, 2011. The actual results are typically released between 8:00 and 8:10 a.m. EST and will follow with a conference call at 9:00 a.m.
Outliers & Strategy
MasterCard shares recently hit all-time highs ($353.78 closing high on 9/30/2011), due in part to more amenable regulations over the amounts debit card issuers may charge merchants under the Dodd-Frank financial reform bill.
Key measures: Earnings Per Share (EPS) & Revenues.
MasterCard is expected to report earnings of $4.82 per share (range is $4.47 - $5.14) on revenue of $1.71 bln, a y/y increase of nearly 20%. (Source: Yahoo Finance). EPS have topped estimates by an average margin of 8.1% over the previous four quarters.
In the past couple weeks, American Express (NYSE:AXP), Capital One (NYSE:COF) & Visa (NYSE:V) delivered results that topped consensus forecasts:
American Express 3Q EPS from Cont Ops of $1.03 beat the estimate of $0.96, with revenues up 9%, citing growth in cardmember spending across all business segments and improved net interest income.
Visa 4Q EPS of $1.27 beat the consensus of $1.24, thanks to payment volume growth of 14% and a 9% y/y increase in total processed transactions.
Capital One's credit card division grew purchase volume 17% y/y in the 3Q, while the net charge-off rate improved by 82 basis points.
MasterCard shares rallied sharply after each of the four previous earnings releases.
The company boasts a strong balance sheet, with $3.6 billion in cash on its books as of June 30, with a FWD PEG ratio of just 1.17.
Last quarter, MasterCard posted EPS of $4.76, WELL ABOVE the estimate of $4.23, triggering a 13%-plus rally. This will be a tough act to follow and with the stock near an all-time high, MasterCard shares are vulnerable to any missteps.
Recent News
10/21: JP Morgan raised the price target on MasterCard from $380 to $420, according to Benzinga.com, based on EPS upside and positive issuer metrics.
09/15: MasterCard hosted an upbeat meeting with the investment community on September 15. Among the takeaways:
2011 – 2013 Guidance: Expects net revenue growth of 12% - 14% CAGR and EPS growth of 20%-plus CAGR.
MasterCard sees strong growth with 85% of global payments still being processed in cash and checks and up near 52%in the U.S.
MasterCard plans to use excess cash to "opportunistically" execute share repurchases.
Technical Review
MasterCard shares are near the all-time highs established in September. This will be the first resistance area ($353.78) in the event of a well-received earnings release. Should the earnings disappoint, support is at $340 – a previous resistance level going back to early August, followed by $330 – a crossover of the 20-Day & 50-Day SMA. The circle in the chart shows the price reaction to the previous earnings release (Chart courtesy of StockCharts.com)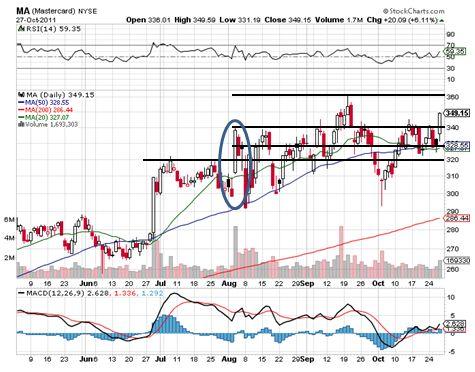 Summary
MasterCard shares are rallying in advance of its 3Q 2011 earnings release on November 2. Solid results from its peers, including Visa, decreased regulatory overhang stemming from the Durbin amendment, improved y/y spending trends, a solid balance sheet, and a relatively upbeat meeting with analysts back on September 15 are underpinning the recent advance in the share price. Against this positive backdrop, a strong report is priced in, leaving MasterCard vulnerable to any missteps on earnings.

Disclosure: I have no positions in any stocks mentioned, and no plans to initiate any positions within the next 72 hours.
Disclaimer: By using this report, you acknowledge that Selerity, Inc. is in no way liable for losses or gains arising out of commentary, analysis, and or data in this report. Your investment decisions and recommendations are made entirely at your discretion. Selerity does not own securities in companies that they write about, is not an investment adviser, and the content contained herein is not an endorsement to buy or sell any securities. No content published as part of this report constitutes a recommendation that any particular investment, security, portfolio of securities, transaction or investment strategy is suitable for any specific person.