Biotech investing is one of the most lucrative, and also one of the most dangerous, practices in the investment world. There are countless stories of great success, and just as many of great failure. We would like to highlight a company that we believe is poised for great success.
Vertex Pharmaceuticals (NASDAQ:VRTX) is a large biotech with 2 approved products, Incivek, for hepatitis C, and Lexiva, an HIV medicine co-developed with GlaxoSmithKline (NYSE:GSK). In addition, Vertex has a number of products in various stages of development. Over the past year, Vertex shares have advanced by about 17%, and we think that this rise does not adequately capture the potential of Vertex as a company.

Vertex posted its Q3 results today, and the company has achieved profitability, reporting GAAP EPS of $1.02 a huge beat. Revenue for the quarter of $659 million far surpassed Wall Street expectations of $352.6 million. Mark Schoenebaum of the ISI Group noted that "It [Incivek] looks like it's the best launch of all time in the history of biotech and pharma." Inciveck is on track to reach sales of $1 billion faster than any other drug in history, besting even the mighty Genentech in this regard. Over 17,000 patients are now on this novel treatment, and the numbers will keep rising. Incivek is now approved in Canada, the UK, Germany, France, Sweden, and most recently Japan, giving it a wide global reach. Incivek will be a blockbuster for Vertex.
But what about the competition? Isn't Merck (NYSE:MRK) going to destroy Vertex with Victrelis, its own hepatitis C drug? We do not think so. The need for a new generation of drugs to treat this disease is such that there will be room for more than one drug on the market. And Incivek has had better clinical data than Victrelis. But, while Incivek has driven Vertex to profitability, the pipeline is what will take Vertex shares to new highs, and we delve into it below.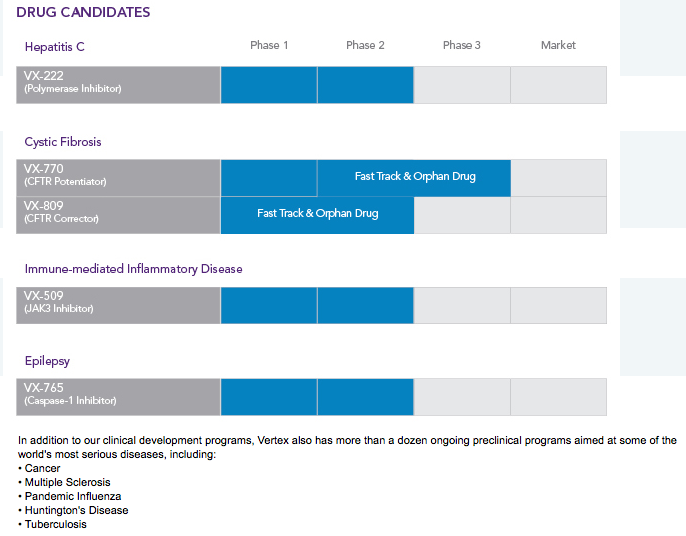 VX-770, or kalydeco, has the potential to be even more successful than Incivek. It is a drug that targets cystic fibrosis, a deadly lung disease. But, unlike every other drug combating cystic fibrosis, VX-770 targets the actual causes of the disease, rather than just its symptoms. The company has submitted an NDA on the drug to the FDA, and a Marketing Authorization Application to the EMA, or European Medicines Agency.
The prospects for kalydeco's approval appear bright, and thsi should provide an entirely new, and very lucrative revenue stream for Vertex. Vertex has multiple studies going on in every disease it targets, and it has additional studies in the cystic fibrosis space that include VX-809, its other cystic fibrosis compound in combination with kalydeco.
Vertex is also working on new, even more innovative hepatitis C therapies, therapies that would eliminate the need for interferon, which often causes flu-like symptoms in patients and must still be taken with new drugs. The company's leading hepatitis C pipeline compound VX-222 is being tested in combination with Incivek in an interferon free Phase II study. The company is also developing treatments for epilepsy influenza. VX-765 for epilepsy is in Phase II studies, and VX-787 will soon be in trials as well. VX-787 will treat both H1 and H5 strains of influenza, and will change the way influenza is treated, according to Vertex.
Vertex is poised for great success in the biotech industry, yet the shares do not reflect this. The company trades for 10 times forward earnings. How many biotech stocks have such a strong growth profile and such a valuation? The company has a good balance sheet with over $650 million in cash, and stable debt.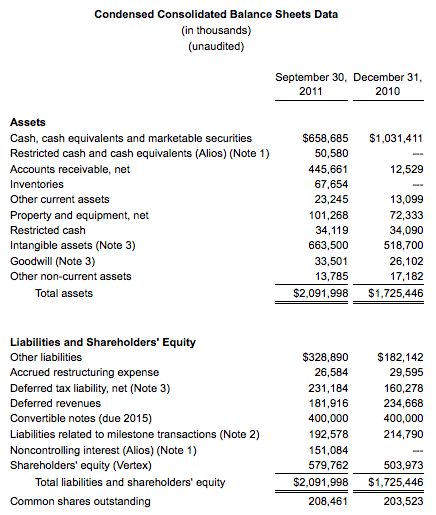 Vertex Pharmaceuticals has had great success, and will be greatly successful in the future. We think now is a great time to add to or initiate a position in a biotech company with a unique growth profile and valuation. Analysts agree with us. S&P sees the stock at $60, Cit, RBC, and Goldman see it at $59, and JMP sees it at $53. The Reuters average price target is $57.90, representing upside of 36%. And after this quarter, we think that the consensus price target will move higher. Vertex is changing the medical industry, and we think it is a great stock to change your portfolio for the better.
Disclosure: I am long VRTX via the FBT, a biotech ETF that tracks the NYSE Arca Biotech Index, and a mutual fund we own has VRTX a 1.06% weighting.