If you want a poster child for all that went wrong with equities since spring of this year, look no further than Cameco Corp (NYSE:CCJ).
First, the earthquake and tsunami in Japan triggered the worst nuclear power plant disaster since Chernobyl. The stock dropped 12.3% to $31.71 in one day on March 14, 2011.
After the Japanese disaster, the future of uranium as a fuel for power generation came under scrutiny. On May 30, 2011, Germany announced that it wanted all nuclear plants to be shut down by 2022. By this time Cameco had dropped to $27.36, down 24% from March 11, 2011 (the day before the Japanese quake).
On July 26, 2011 the Dow Jones industrial average began its precipitous decline on the eurozone debt fears, squabbling over the US debt ceiling, and worries of a double-dip recession. The Dow Jones index declined 13.5% in nine trading days, from 12,501 to 10,809 by August 8, 2011. By this date Cameco had dropped to $21.61, down 40% from March 11.
Then on September 9, 2011, the price of copper began to drop. It collapsed 23% by October 3, 2011, taking most other commodities down with it -- and uranium is, of course, a commodity. On October 3, 2011, Cameco was trading at $18.24 - down 49% from March 11. Talk about a falling knife!
But the question now is: Has this knife finally stopped falling? From a fundamental perspective, the company is still in good shape. Cameco currently has a total debt-to-equity of 21%. That's lower than mining giants like BHP Billiton (NYSE:BHP) (28%), Rio Tinto (NYSE:RIO) (26%), and Vale (NYSE:VALE) (32%).
And demand for nuclear power will continue to grow in China and India; neither of these countries has announced cut-backs to their nuclear programs. China still plans to build 36 reactors over the next decade. Add a 1.9% dividend yield to the company's healthy balance sheet, and $22.00 looks like a reasonable entry point for this stock.
From a technical perspective, we believe that a weekly close above $22.00 (TSX listing) would signal an end to the "falling knife" scenario and would be the trigger to go long Cameco. We would use a close below $21.00 as a stop-loss for our trade.
Below is the weekly chart for Cameco. A close above $22.00 would break the downtrend line, which has remained impregnable since March 2011.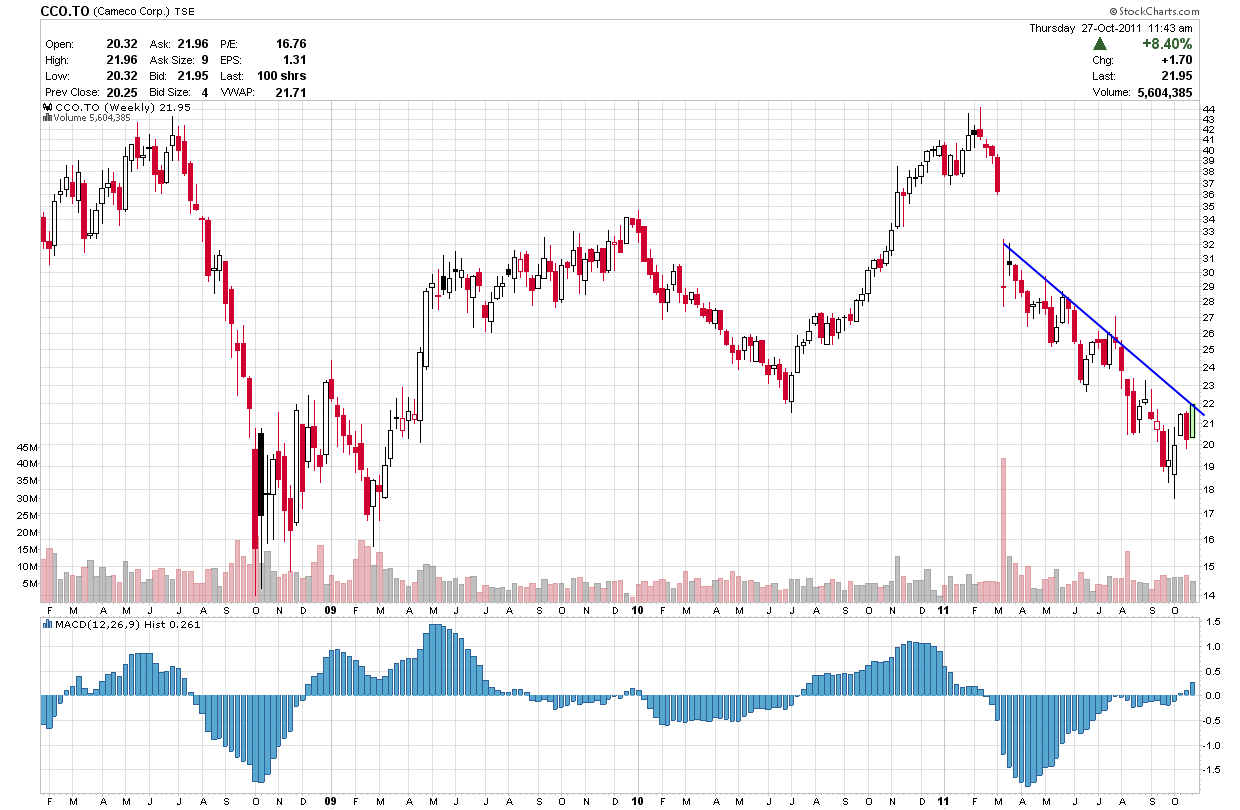 Disclosure: I have no positions in any stocks mentioned, but may initiate a long position in CCO over the next 72 hours.