It is said that in times of economic downturn, there are three industries that are 'recession proof'. They are tobacco, alcohol, and gambling. Perhaps this is because of the extra time on one's hands to think about one's problems, the desire to forget about one's problems, and the hope of winning enough cash to get away from one's problems. One company that operates in the gaming and gambling business is Wynn Resorts Ltd (NASDAQ:WYNN), which owns and operates resort/casinos in Las Vegas and China.
WYNN shares are currently trading around $139, and the mean 12 month price target from analysts researching the stock is $169.39 (20% upside potential). This stock is trading above its 50-day exponential moving average of $124 and its 200-day exponential moving average of $133.50. The stock has been rising over the first nine months of the last twelve months, trading above the 50 and 200-day EMA's. Since July, however, the stock has begun to trade weaker, and recently broke down through these EMA's. Looking at the chart, the stock is in the middle of a classic Elliot wave, and it is likely that the stock will move lower after the recent surge.
Earnings per share for the last 12 months are $3.02, and these are expected to reach to $6.35 in its next fiscal year (ending Dec 2012). These numbers place the shares on a trailing price to earnings ratio of 39.22, and a forward multiple of 18.63. Trailing price to earnings ratios at similar companies average 17.56. At Las Vegas Sands Corp (NYSE:LVS), this ratio is 34.09, and at MGM Resorts (NYSE:MGM) it is only 1.74. Penn Gaming (NASDAQ:PENN), has a trailing price to earnings ratio of 123.08, but with earnings expected to rise dramatically at the multi-state casino company, its forward price to earnings ratio is lower than WYNN's at 15.76.
For investors looking at dividend paying stocks, WYNN's payment of a dividend of $2.00 last year gives the stock a yield of 1.50%, and is covered 1.5 times by its earnings. Its payment of a dividend is unusual for the sector.
Current operating margin at Xcel is 18.13%, with a return on assets of 7.63% and a return on equity of 18.27%. The current revenue from its income statement is $4.87 billion, and last quarter's revenue showed year on year growth of 32.40%. WYNN has cash of $1.78 billion, and a total of $3.17 billion in debt. The company's debt/ equity ratio is 115.43, around the average for the sector but a concern, all the same.
Looking at the 12-month chart, shareholders in WYNN have made a good return over the period. The shares have out-performed both the S&P 500 index LVS. Part of the explanation for this performance is the company's exposure to China, which has been a driver for the shares this year. However, this impetus may be about to wane. Growth in the Chinese economy is slowing, and this could impact income at WYNN's Macau operations, which are responsible for a major part of WYNN's net revenues. This slowdown has already taken the share price down from its 12-month high of $172.55. set in July. A more marked slowdown in the Macau region would be the catalyst for a further correction toward the 12-month low of $99.21.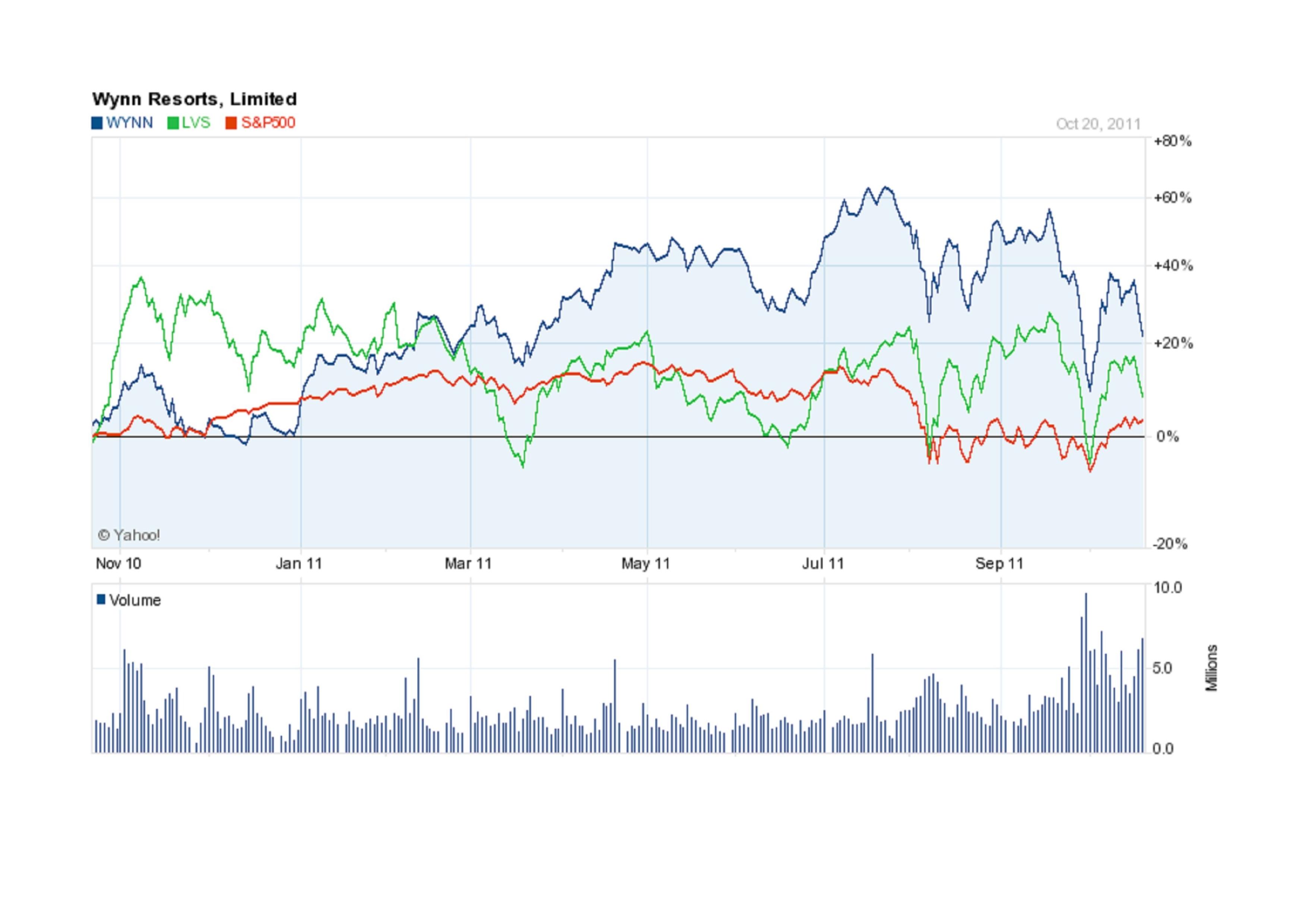 Click to enlarge
WYNN's latest results, released on October 19, showed that revenue in the Macau region in the third quarter climbed 41.7%, and it now accounts for 75% of WYNN's revenues. Adjusted earnings of $1.05 per share fell short of analysts' expectations of $1.18. The same report also highlighted that revenue in its Las Vegas gambling operations fell 8.3%.
WYNN has had a tremendous run over the past twelve months, but perhaps the third quarter figures are proof that, this time around, the economic downturn is different and will have a different impact upon the gambling sector than dictated by conventional wisdom. The technical trading pattern is pointing to a further fall in the share price. Compounded to this, news that its Las Vegas gambling revenues are falling and the likelihood that China's growth will continue to slowdown and impact WYNN's earnings in the region, tell me that it may be time for holders who have not yet taken profits to do so. SELL.
Disclosure: I have no positions in any stocks mentioned, and no plans to initiate any positions within the next 72 hours.