In their 1969 bestseller "The Peter Principle," Laurence Peter and Raymond Hull quoted a Latin-American student named Caesare Innocente who lamented, "Professor Peter, I'm afraid that what I want to know is not answered by all my studying. I don't know whether the world is run by smart men who are, how you Americans say, putting us on, or by imbeciles who really mean it." After watching the events of the last few weeks, I think most SA readers would agree that the imbeciles are clearly steering the ship.
Last March I went to the Geneva Motor Show on press day, which gave me a chance to see the cars up close and personal without fighting the crowds. While I'm generally skeptical when it comes to electric drive, I left Geneva convinced that the Fisker Karma was the most beautiful passenger car I'd ever seen. I even promised my inner geek that I'd secretly take one for a drive once production started. The last remaining hurdle was cleared in mid-October when the EPA issued its official fuel economy rating of 52 MPGe for an all-electric range of 32 miles and 20 MPG for gasoline fueled cruising with the 2.0 liter onboard generator. I was crestfallen. How could something so gorgeous and green get such a horrible fuel economy rating?
The answer, it seems, is that when you put the Karma on a scale, it weighs a few hundred pounds more than a Hummer H3 and a few hundred pounds less than a Cadillac Escalade. That's right folks: it's a 2.5-ton subcompact behemoth that was engineered in California with $169 million of DOE loan proceeds. While most of the long-term economic benefits from making these oh so green $100,000 machines will be outsourced to Finland, at least the batteries will be made in the US by A123 Systems (AONE), which invested $23 million in Fisker to establish a strategic relationship and win the battery supply contract.
When journalists and political pundits questioned the reasonableness of the Fisker loan, the DOE explained:
Fisker's loan has two parts. In the first part, Fisker used $169 million to support the engineers who developed the tools, equipment and manufacturing processes for Fisker's first vehicle, the Fisker Karma. That work was done Fisker's U.S. facilities, including its headquarters in Irvine, California, which has 700 employees and plans to continue hiring. While the vehicles themselves are being assembled in Fisker's existing overseas facility, the Department's funding was only used for the U.S. operations. The money could not be, and was not, spent on overseas operations. The Karma also relies on an extensive network of hundreds of suppliers in more than a dozen U.S. states.
The sophistry of using taxpayer money to finance special project jobs in California while creating long-term manufacturing jobs in Finland is self-evident. The more troublesome questions in my mind are:
How many $100,000 Karmas will Fisker need to sell to earn enough profit to repay $169 million in DOE loans?
How many battery packs will A123 need to sell to Fisker if it wants to recover its $23 million investment?
Is either outcome even remotely possible given the lackluster sales and profit history that Tesla Motors (NASDAQ:TSLA) has realized from its almost as sexy and equally expensive Roadster?
There's no question that this was a series of deals negotiated by imbeciles who really mean it. The most outrageous part of the DOE's defense was the penultimate paragraph which says:
Remember that plasma TVs, cell phones, personal computers and many other common products were once fabulously expensive luxury items, but quickly became a staple for middle class Americans. These price declines wouldn't have been possible without the first, commercial scale marketing as premium products.
WHAT BALDERDASH! I expect that kind of techno-tripe from quasi-religious eco-zealots but not from government officials.
There is no possibility that electric vehicles will ever deliver the kinds of cost reductions we witnessed during the information and communications technology revolution because the fundamental science is totally different. There is no Moore's law for the physics of moving a 2.5-ton vehicle down the road. There is no Moore's law for electrochemistry. Now, instead of rationally discussing science and economics, we have the DOE taking cover behind the time-honored proposition that "the essence of political debate is the plausible boldly asserted."
A little over three years ago I started cautioning readers that Ener1 [HEVV.PK] was a disaster in the making. My cautions got more strident when Ener1 made a substantial investment in Th!nk Motors to strengthen their strategic relationship and keep a battery supply contract that was jeopardized by Th!nk's earlier failures. While some readers believed my words of caution, many did not. This week they learned that analyzing battery and electric vehicle companies through rose colored glasses is a great way to end up on the Pink Sheets. While I generally like to be right, I hate being this right. I wonder how the DOE feels about that $118.5 million ARRA Battery Manufacturing Grant they gave Ener1 in August of 2009.
My graph for this week is courtesy of Lux Research and appeared in their recent report "Using Partnerships to Stay Afloat in the Electric Vehicle Storm." The graph is particularly instructive because it overlays forecasts for the lithium-ion battery and the electric vehicle market in a single graph.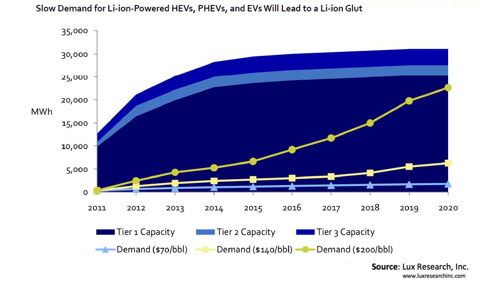 The yellow lines represent total demand for lithium-ion batteries in automotive applications through 2020 using three different oil price scenarios. The blue shaded area represents the total planned production capacity of the global lithium-ion battery industry for the same period. The inescapable conclusions are that (1) growth in the electric vehicle manufacturing sector will be tepid at best and certainly not robust enough to justify nosebleed market capitalizations for companies like Tesla, and (2) the glut of lithium-ion battery manufacturing capacity will be a crushing burden for all but the most efficient and financially sound battery manufacturers.
While Pike Research recently reported that demonstration projects have deployed 538 MW of lithium-ion based storage on the grid, all of the facilities I've read about report power based on a 15 minute discharge. That means the demonstration projects have used about 135 MWh of batteries to date, or less than 1% of the expected annual capacity glut. While grid-based storage may have significant long-term potential, it's not a big enough short-term opportunity to make a difference.
The takeaway for investors who are willing to remove their rose colored glasses is that the industry leaders in both sectors are dominated by imbeciles who really mean it and those manufacturers are doomed to underperform the market for years. Molly Ringwald was Pretty in Pink, but it's an ugly color for stock listings.

Disclosure: None.