Monetary policy rules the upcoming week for investment markets.
While last week's headlines clearly belonged to Europe, it was the Fed that once again stole the show behind the scenes. Although investors worried whether European policy makers would be able to deliver a pragmatic solution to their ongoing debt crisis, in the end it really didn't matter. For once the Fed had dispatched a brigade of FOMC members to combat the crisis with the explicit and repeated message that QE3 was loaded and ready for deployment, intoxicating feelings of euphoria seeped back into the market and it mattered not what European policy makers said (and they didn't say much of anything at all). As long as they came out and said something, anything, it would be music to the market's ears.
So now that the Fed has spoken openly about their array of policy elixirs to soothe the market, the onus is now on them to deliver the QE3 goods. And this plan is likely to come together on Tuesday and Wednesday of this week, as the Federal Open Market Committee is set to meet for a two-day policy jam session in Foggy Bottom to figure it all out. And since the beginning of the financial crisis, the one thing we've come to know from the Fed is that whenever they even begin to imply that a policy remedy might someday be concocted, they almost always end up delivering the goods. It may not necessarily come at its November meeting. But as evidenced by the lead up to QE2, as long as the market knows the goods will soon arrive, that's often enough to get the next fantasy phase fully on the move.
With the idea that QE3 may be coming soon, and that "fantasy" may once again supplant "reality" at least until the next set of policy libations wears off, it is worthwhile to consider the implications for investment markets in the months ahead. Specifically, what asset classes and categories are set to perform best, and which are likely to struggle.
The focus of this discussion centers on the U.S. stock market. As a result, it is worthwhile to first consider the response of stocks to recent Fed policy measures and to compare the performance of asset class categories relative to this U.S. stock benchmark. The following is the performance of the U.S. stock market as measured by the S&P 500 Index over the first 60 trading days in response to QE1, QE2 and thus far to Operation Twist. Clearly, the stock market responds very well to any kind of stimulus tune from the Federal Reserve. Click to enlarge: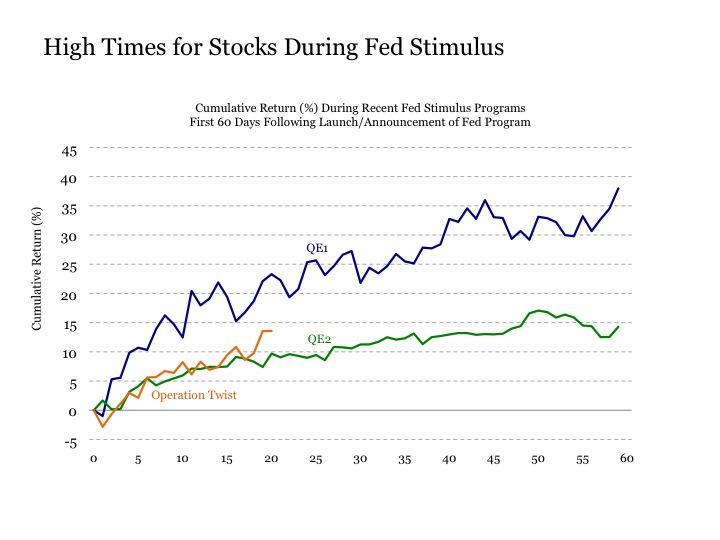 Click to enlarge
Since the implementation of QE1 came during a period of extreme stress and Operation Twist does not involve the expansion of the Fed's balance sheet, I will focus on the respective asset class response to QE2 for the purpose of this discussion. Not only would QE3 likely involve balance sheet expansion of a similar scale to QE2, but the fundamental economic backdrop would also be fairly similar in that conditions were unstable but not necessarily at crisis stage (at least at the moment).
To begin this analysis, the following is an examination by various market segments of the response to QE.
Taking a global view, virtually all equity market segments indulge once QE is put into place. Of course, some have experienced more euphoria than others. Click to enlarge: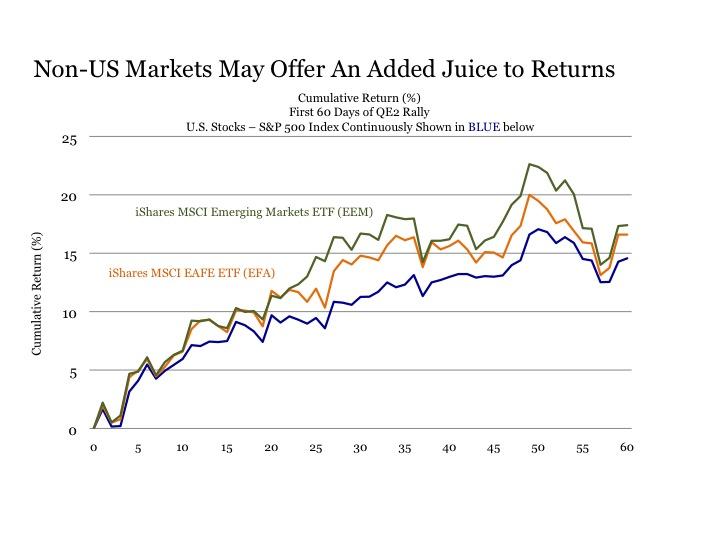 Click to enlarge
During the early stages of a QE driven rally, non-U.S. markets have outperformed U.S. markets. These include the developed market MSCI EAFE Index (NYSEARCA:EFA) and the MSCI Emerging Market Index (NYSEARCA:EEM). Leading to the upside has been Emerging Markets, which have a higher beta and are also more severely sold off in the non stimulus periods leading up to a new QE phase. Click to enlarge: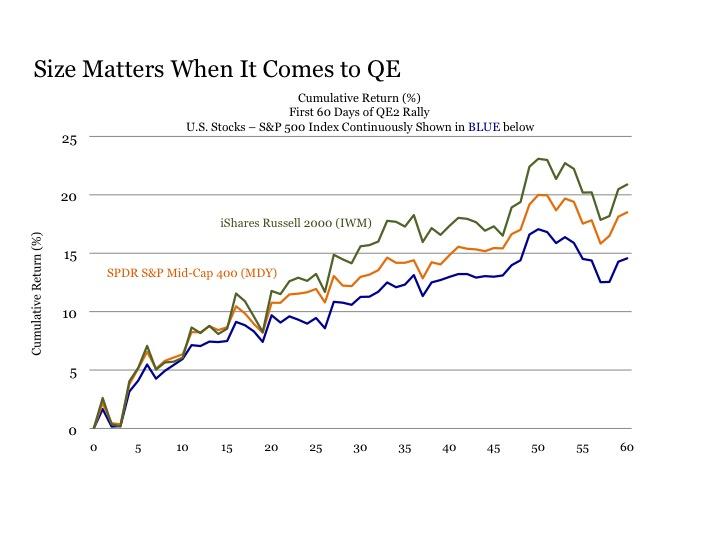 Click to enlarge
Size has also mattered when it comes to stock performance, as the mid-cap (NYSEARCA:MDY) and small-cap (NYSEARCA:IWM) segments of the U.S. stock market have outperformed their more defensive large cap counterparts during the early stages of a new QE cycle.
Digging into the stock market from a sector perspective is also worthwhile to identify where the policy party is at its most interesting. Click to enlarge: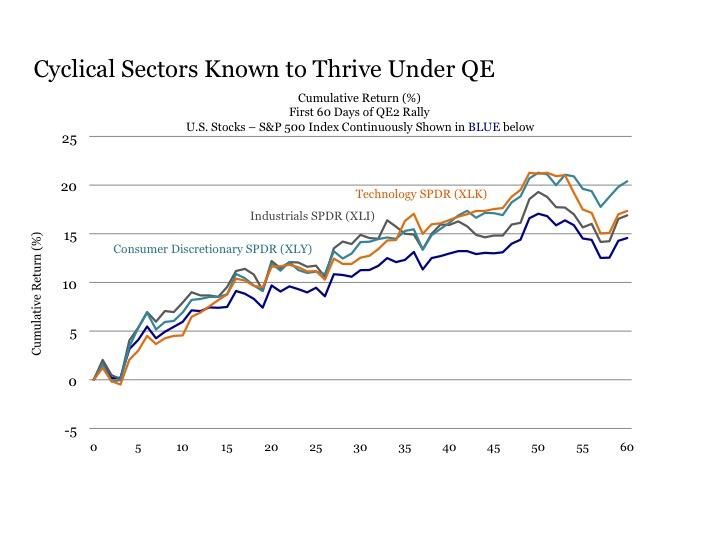 Click to enlarge
First, the more cyclical sectors of Industrials (NYSEARCA:XLE), Consumer Discretionary (NYSEARCA:XLY) and Technology (NYSEARCA:XLK) have all led the broader market by healthy margins during the initial stages of a QE rally. Click to enlarge: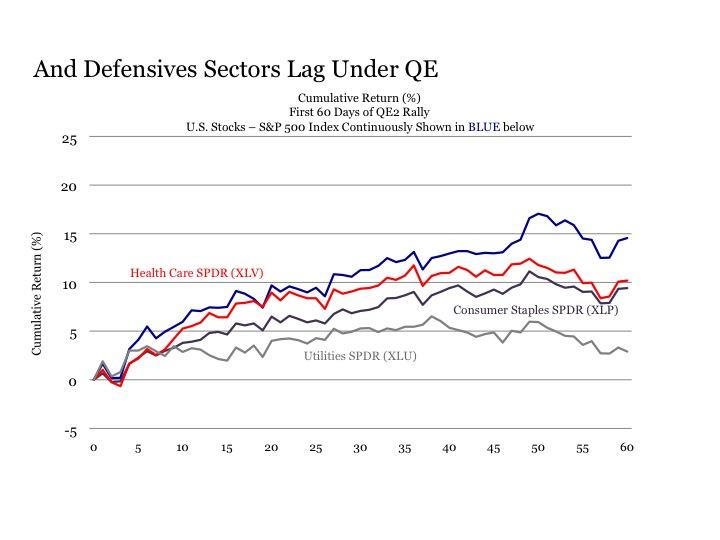 Click to enlarge
Conversely, the more defensive sectors of Health Care (NYSEARCA:XLV), Consumer Staples (NYSEARCA:XLP) and Utilities (NYSEARCA:XLU) have all trailed the broader market once a QE rollout has occurred. Of course, each of these sectors have vastly outperformed the broader market during phases without QE, and they have gone on to generate positive returns during periods with QE. Thus, these sectors may continue to have appeal from a risk control perspective. Click to enlarge: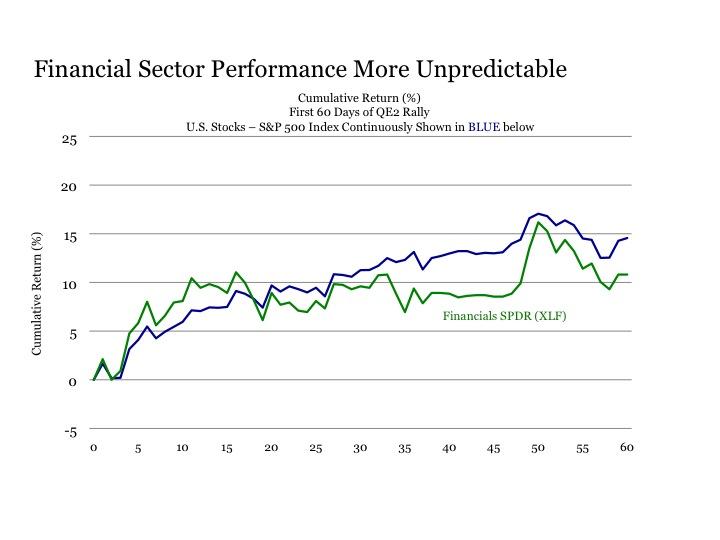 Click to enlarge
A sector that may lack such appeal is the Financials (NYSEARCA:XLF). They rallied enormously from deeply sold off levels in the early stages of QE1, and they also enjoyed a solid relief rally once QE2 was introduced to the market before going flat. But the persistent volatility and ongoing uncertainty associated with these names may deter all but the most intrepid investors from delving into this sector. Click to enlarge: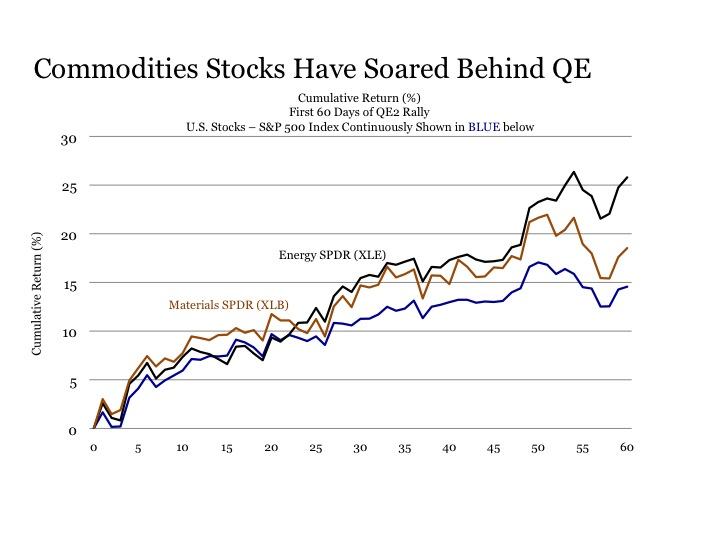 Click to enlarge
While a certain degree of courage is also required for most commodities stocks including Energy (XLE) and Materials (NYSEARCA:XLB), the response to QE has been particularly robust and thus worth a look. While they have shown the propensity to perhaps be a bit sluggish in the very beginning stages of a QE rally and are prone to the occasional sharp setback along the way, these sectors have been known to soar once they take flight under QE. Click to enlarge: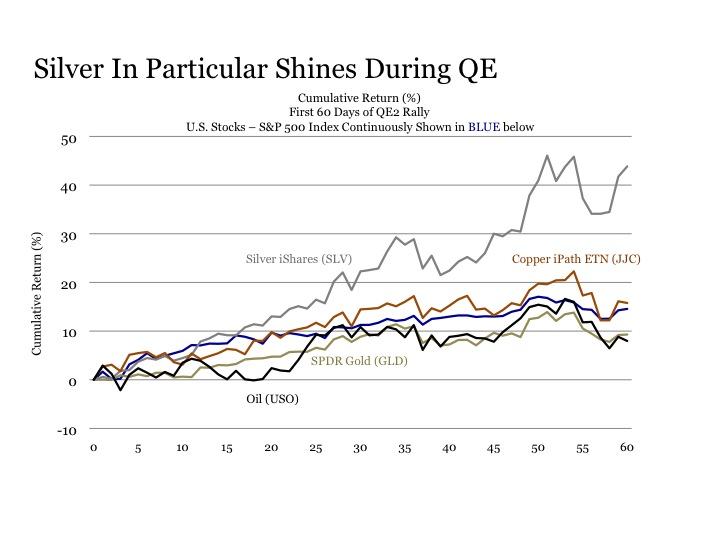 Click to enlarge
Much of the same can be said for the commodities themselves. Industrial metals such as Copper (NYSEARCA:JJC) generate strong returns, and Silver (NYSEARCA:SLV) has performed particularly well during QE phases, outperforming stocks under QE1 and exploding sharply higher under QE2. Gold (NYSEARCA:GLD) remains the most consistent performer of the group and typically continues to add on to gains generated during QE "off" phases. And while Oil (NYSEARCA:USO) has also historically benefited from QE phases, the initial response to QE during both QE1 and QE2 has also been a bit sluggish relative to the market before picking up steam. Click to enlarge: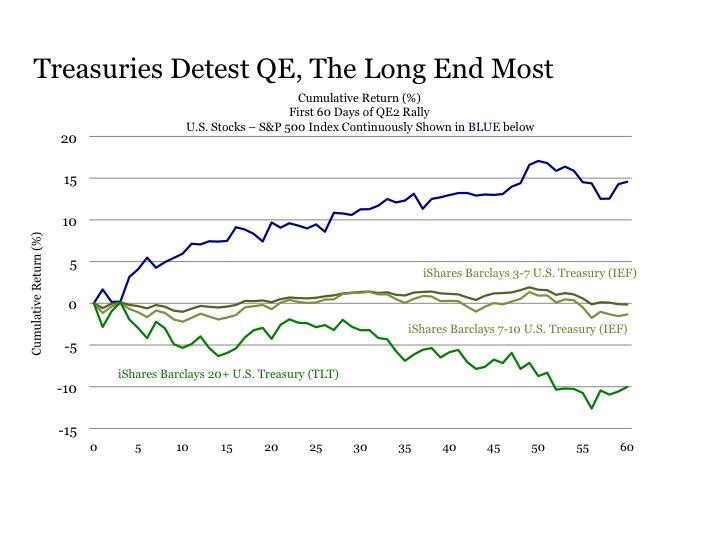 Click to enlarge
Of course, for all of the winners associated with QE, a select group of asset classes rank among the losers. Leading on the downside is the U.S. Treasury sector, as investors who had sought safety in U.S. government debt feel emboldened to venture back out into risk asset markets. Leading to the downside is the long-term Treasury market (NYSEARCA:TLT), which has been known to give back much of its QE "off" gains once QE is turned back "on". Click to enlarge: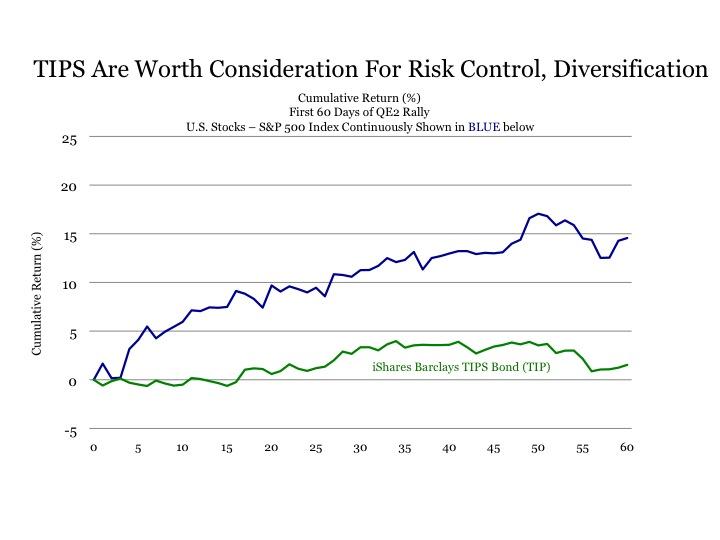 Click to enlarge
Not all U.S. Treasury sectors should be spurned once QE is delivered to the market, however. TIPS rank among the rare categories that have shown the ability to thrive when QE is both "on" or "off". When QE is "off" investors flock to TIPS for safe haven purposes. But when QE is "on" investors migrate toward TIPS for inflation protection and risk diversification.
Bottom Line
Stock and commodities markets have historically thrived once a new round of QE is delivered to the market. While some categories perform better than others, virtually all move to the upside in a euphoric market rise. Thus, if the Fed either confirms or announces more policy stimulus including further balance sheet expansion through a QE3 program this week, expect the market reaction to be intoxicating.
Of course, this does not necessarily mean that all is well for the economy or the markets. While a good party may deliver a memorable time for all, the hangover the next morning can be equally as punishing. Thus, any positions undertaken during a new QE phase should be viewed with a short-term perspective, particularly given the fact that recession risks in the U.S. economy remain high and the crisis in Europe continues to deteriorate. In a normal world, we would likely see stocks declining sharply from current levels. But in a Fed policy influenced world, they can rise stunningly even in the face of the underlying realities. Click to enlarge: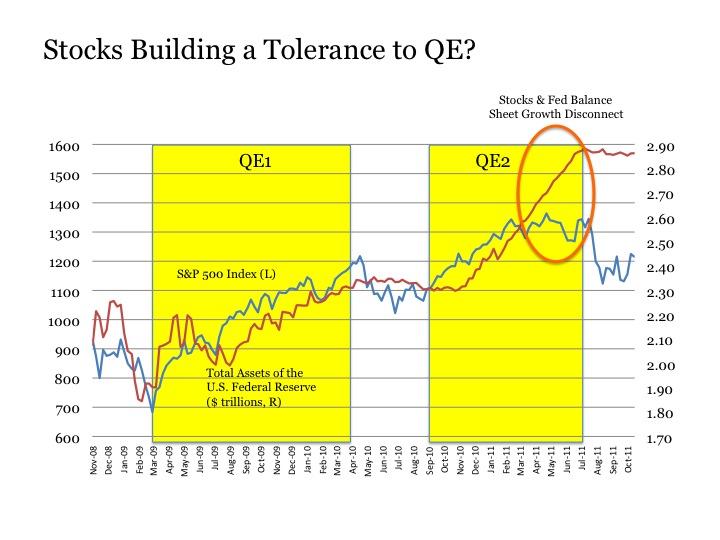 Click to enlarge
This raises an important final point. If the Fed rolls out QE3, this will be the third such monetary policy rave for investment markets. And just like many things in life, with each successive time one indulges in an experience, the greater the tolerance becomes and the sooner the effects wear off. A party that was once fresh and exciting can eventually become stale and mundane if done too often. Such is the risk the Fed faces with a third round of QE. Over the last several months of QE2, risk assets stopped responding to the policy juice. And if markets reach the juncture this time around where the Fed's drugs no longer work, a most critical psychological theme of support could potentially be removed from the market. The Fed would then really have their work cut out in trying to stabilize financial markets.
But in the meantime, the initial response by investment markets to another round of QE policy stimulus is likely to be resoundingly positive with a risk asset rally that could extend through the end of the year. We'll know more by Wednesday about what goodies the Fed will be bringing to the investment market party and when we can expect them to arrive. Stay tuned.

Disclosure: I am long GLD, SLV, TIP, XLU. I also recently sold all positions in IEI, IEF and TLT.
Disclaimer: This post is for information purposes only. There are risks involved with investing including loss of principal. Gerring Wealth Management (GWM) makes no explicit or implicit guarantee with respect to performance or the outcome of any investment or projections made by GWM. There is no guarantee that the goals of the strategies discussed by GWM will be met.