AstraZeneca Plc. (NYSE:AZN) is one of the world's largest pharmaceutical companies. Headquartered in England, it is the result of a merger between Zeneca Group and Astra, which was domiciled in Sweden. Key products of the company include Crestor, Flumist, Nexium, Arimidex, Seroquel, and Symbicort. The primary purpose in this article to show estimated growth, current valuation, and a technical update for the shares.
Growth Outlook: The major risk to current earnings are decreasing sales of Nexium, largely due to generic competition. However, Crestor and other newer drugs are seeing higher sales volume.
Estimates for earnings for the remainder of 2011 are in the $7.05 to $7.15 range, a significant increase over EPS of $5.57 in 2010. Due to continued competition from generic it is expected that earnings for 2012 might drop to the $5.60 area. However, the company just announced that net profit in the third quarter was $3.48 billion, up from $1.55 billion a year earlier and above analysts' expectations of $3.23 billion. The larger than expected increase was due to favorable currency movements and better performance in emerging markets. A contrary play might be in the making.
Shareholders of AZN enjoy an attractive dividend yield of 5.5%. The company pays the dividend twice a year at two different amounts, one at $0.85 and one at $1.85. Historical payments can be found here.
Major competitors include Pfizer (NYSE:PFE), Merck (NYSE:MRK), Novartis (NYSE:NVS), Bristol Myers (NYSE:BMY), and Lilly (NYSE:LLY). All also offer attractive yields.
A key for consideration in the purchase of any company should be a review of the historical earnings per share. The graph below is a 30 year history of the company's share price and EPS. As shown, the earnings of the company have been strong since 1990. Click to enlarge: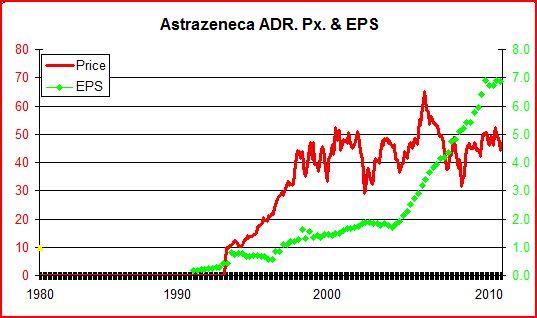 Click to enlarge
The chart below graphs the historical PE and Yield of the shares since the early 1990's. The PE is trading at historical lows while the shares enjoy a high level, which is also at the 20 year highs. Whenever the PE and yield line separate like an open mouth it is signaling an rare valuation is at hand. Levels of valuation such as this usually take years and years to develop. Click to enlarge: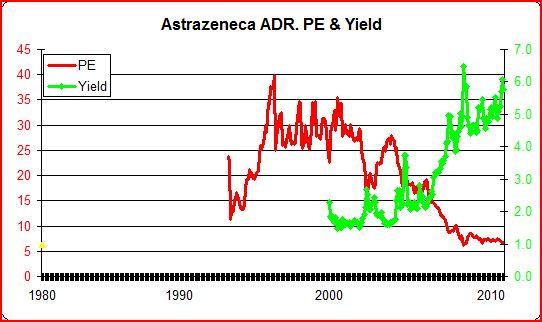 Click to enlarge
The chart below graphs the dividend and cash flow per share. Cash flow is roughly three times the dividend payment which equates to more than adequate coverage for continued dividend payments, while allowing room for continued growth. Click to enlarge: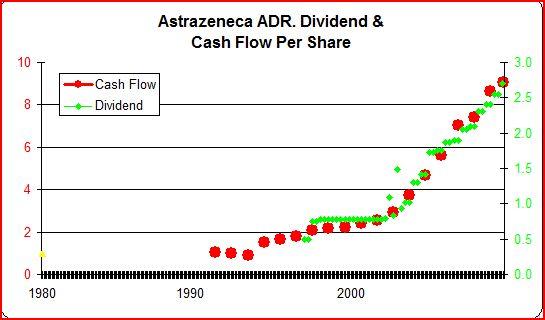 Click to enlarge
Technical Update: The short term chart shown below is approaching one year highs and is overbought on the relative strength index (RSI). Resistance is at 52. The second longer term chart shows the shares locked in a wide trading range since 1998. Shares are almost overbought on the longer term chart, which puts continued strength is question. Resistance on the long term chart is also evident at 52 and then at old highs in the low 60s.
AZN One Year Chart
click on all charts to enlarge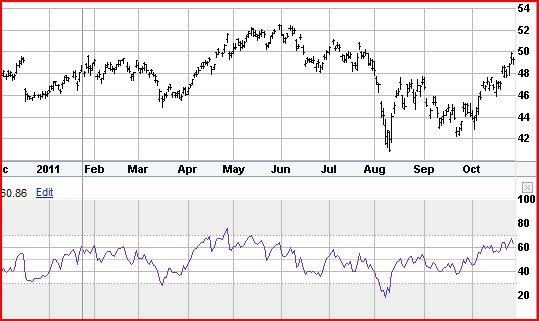 Click to enlarge
AZN Long Term Chart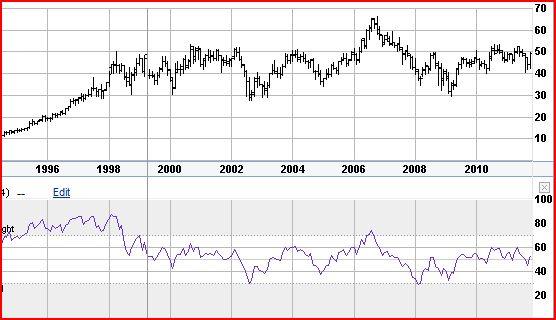 Click to enlarge
Conclusion: The shares of AZN are deeply valued measured by historical PE and dividend yield, which reflect the strongest case for purchase. The company has near term problems with generic competition, but has new drugs with expanding sales, in addition to expansion into lucrative growing emerging markets.
A very attractive yield gives the investor a good reliable source of income that is very well covered by cash flow. The recent run-up in the shares have moved them into an overbought condition, not to be confused with overvalued. That should give investors near term pause. I would wait for a pullback to the 40-42 area to initiate purchase. Superbears should wait for the lower 30s.