Actionable Items:
CEF Weekly Review: On average, the 13 closed-end fund (CEF) types registered a share price increase of 2.5% for the week ending 10/28/11. The high-low spread (percentage price change difference between the highest and lowest fund types) registered this week was a wide +5.6% versus +2.5% the previous week. On an aggregate unweighted basis, the weekly average price change for the 600 plus CEFs in the GrowthIncome database was up 2.0%.
The PowerShares CEF Income Composite (NYSEARCA:PCEF), an ETF that invests in taxable income CEFs, increased 2.4% for the week. S&P 500 surged 3.8% this week allowing it to generate a positive gain of 2.2% YTD.
Trading Volume: The average daily volume for the S&P 500 (Pending:GSPC) increased 3.0% this week at 4.9 billion shares. Volume surged to 6.4 billion shares on Thursday as the S&P 500 advanced 3.4% adding conviction to the rally. (See, "Uptick, Downtick" below.)
(Click here for YTD CEF Performance. See, "Research" Menu; "CEF Weekly Information" tab.)
The Eqcome CEF Fear Index was flat for the week. The average CEF unweighted price increased 2.0% while the average related NAV also increased 2.0%. The VIX dropped 21.7% to 24.52. This is almost a 50% plunge from its recent high earlier in the month of 46.88 that it registered on October 4. October stock market advance has taken some of the volatility out of the market. However, if euro technocrats can't match rhetoric with solutions, volatility will likely return
click to enlarge image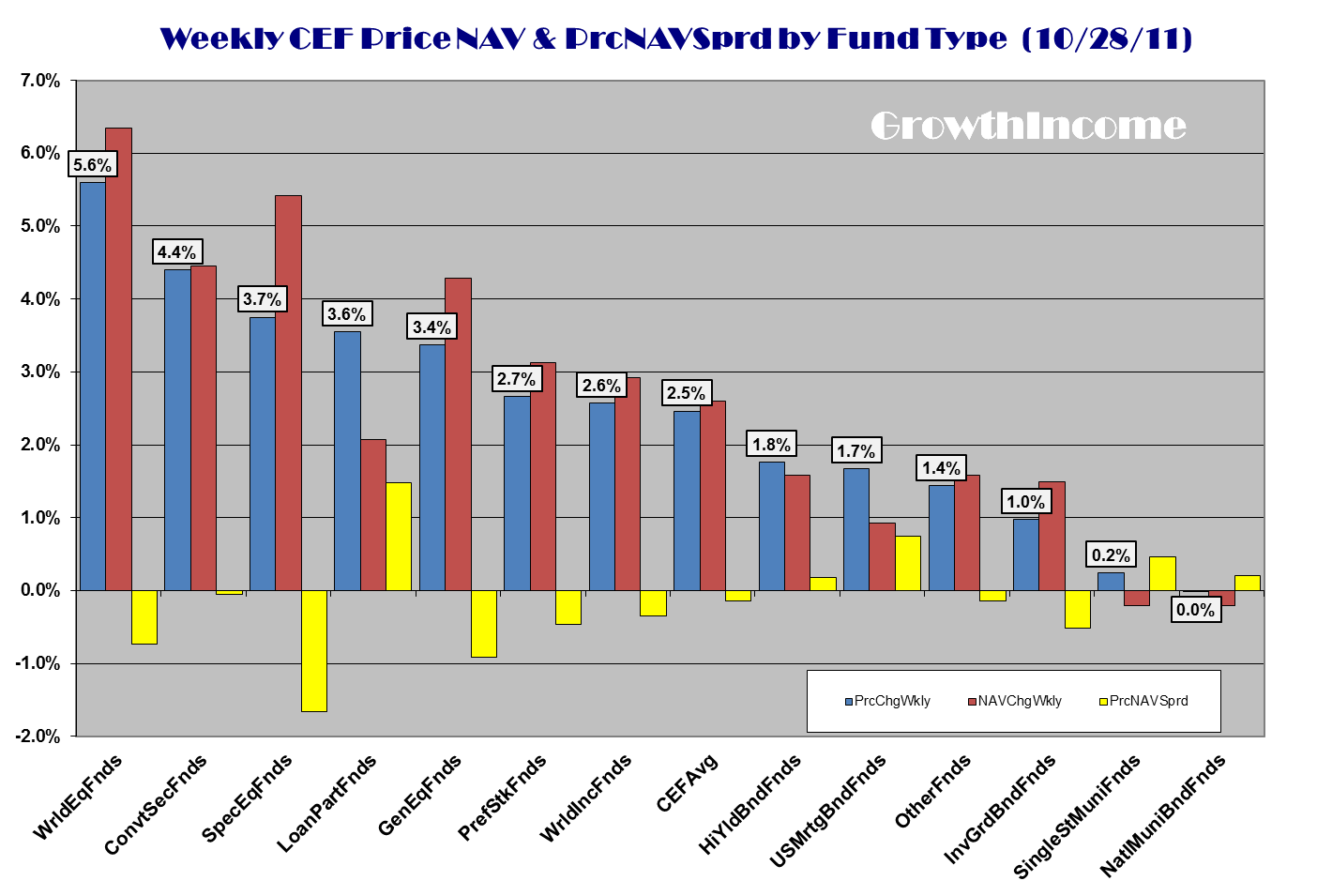 Click to enlarge
CEF Weekly Fund Type Performance: With the exception of NatlMuniBndFnds, all CEF fund types all posted advances in average share price performance. WrldEqFnds surged ahead 5.6% with related average NAV's advancing at a slightly stronger pace on hope for a Euro crisis solution and speculation regarding China's easing of credit. While WrldIncFnds on average was up 2.6%, it was less than half that of its equity counterpart.
With the "risk trade" on this week, munis, which have performed well as a defensive investment, trailed other CEFs. While SpecEqFnds advanced 3.7%, the related NAV's surged 5.4%. Many of the MLPs in this category advanced modestly while experiencing much larger increases in their NAVs (see "Weekly CEF Winners and Losers" below). GenEqFnds average price also advanced less than NAV by the largest margin of the group of 0.9%.
Weekly CEF Winners and Losers: One of the CEFs with the greatest positive PrcNAVSprd for the week was Nuveen Tax-Advantage Floating Rate Fund (JFP). JFP's price increased 11.9% while its NAV increased a more modest 3.4% generating a positive PrcNAVSprd* of 8.5%.
JFP is a small CEF with only $33 million in total invested assets. It primarily invests in non-callable preferred stocks. Approximately 50% of its portfolio is invested in financial related companies (banks, insurance and thrifts). JFP is trading at a 15% discount and at an annualized monthly distribution yield of 5.8%. It has reduced its dividend already twice this year—once in April and the second time in October.
The stock trades at around $2.00 a share. In times of rapidly expanding equity markets, low priced stocks have a tendency to benefit due to their accessibility. Trading in the stock was elevated last week.
In comparison to its peer group, its JFP's positive spread was unusually wide.
A CEF with the greatest negative PrcNAVSprd for the week was Cushing MLP Total Return Fund (SRV). SRV's price advanced 1.8% while its NAV increased 10.7%, generating a negative PrcNAVSprd of 8.9%.
In general, MLPs' price performance materially lagged its related NAV's. This was also true of Kayne Anderson Mid-Stream Energy (NYSE:KMF). SRV's price increase was slightly less that the ALPS Alerian MLP ETF (NYSEARCA:AMLP) which advanced 2.0% for the same period of time.
SRV trades at a 25% premium, slightly above its 52 week average to NAV. It generates an annualized quarterly distribution of 9.5%. The distribution is considered a return of capital which is less of a concern as the non-cash depreciation expense of the MLPs doesn't impact cash flow and the capacity to upstream the cash dividend.
If one can make a case for this investment, the MLP ETF, AMLP, may be an alternative worthy of consideration given its low expense ratio, a slight premium to NAV and a still meaningful annualized distribution of 6.2%
Economic & Earnings Outlook: (Click here for next week's economic calendar; click here for earnings' announcements and estimates.)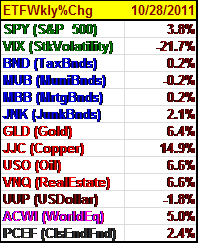 ETFs: For a more detailed EFT performance by sectors, click here—see, "Research" Menu; "ETF Weekly Information" tab.)
Insider Trading: The most meaningful transaction this week was in Van Kampen Advantage Municipal Income Fund (NYSEMKT:VKI). Rodney F. Dammeyer was a seller of 160,179 shares both directly and indirectly in his wife's account and in some family trusts. Dividend reinvestment programs were some of the source of this selling and Mr. Dammeyer still owns 541,326 shares after the stock sales.
(Click here for a hyperlink to the Joe Eqcome's CEF Weekly Insider Report—see, "Research" Menu; "CEF Weekly Information" tab.)
CEF Distribution Announcements This Week: The following is a link to a table of CEF distribution announcements this week as well as the previous week's with yet expired ex-dividend dates. The list is not intended to be inclusive. (Click here for Joe Eqcome's Weekly CEF Distribution Announcements—see, "Research" Menu; "CEF Weekly Information" tab.)
Significant CEF Corporate Events: Gladstone Capital Corporation (NYSEARCA:GLD) announces a Preferred Stock Offering with a 30 day over-allotment option of its newly designated Series 2016 Term Preferred Stock in an underwritten public offering. The net proceeds from the offering will go to pay off its existing debt, including some of its current balance of its line of credit.
Delaware Enhanced Global Dividend and Income Fund (NYSE:DEX) announced the completion of a reorganization plan that consisted of the acquisition of almost all of the assets and certain liabilities of Delaware Investments Global Dividend Income Fund (NYSE:DGF). DGF will no longer trade or be listed on the NYSE and DGF will be dissolved.
CEF Focus Stock(s) for the Week: If investors have "turned the corner" on their assessment of risk and the monies that have been waiting on the sidelines don't want to miss this rally, then we as investors should consider looking at the lagging sectors as this is where the "catch up" is going to take place.
There is no more a lagging a CEF group than WrldEqFnds. This group has been laboring under the uncertainty of sovereign debt risks and global recession. While the India CEFs have suffer the most with year-to-date declines of over 30%, a middle road to diversify some of a country specific risk would be Templeton Emerging Markets (EMF).
EMF is currently off YTD approximately 20% and it is trading at a 7.4% discount close to its 52-week low. Like most CEFs' whose objective is capital appreciation, EMF pays a nominal annual distribution of less than 1%.
EMF would benefit from any confirmation of a global cyclical economic recovery on two attributes: 1) over 50% of its holdings are in cyclical stocks such as financials (26%), energy (23%), and consumer discretionary (19%); 2) the portfolio is heavily invested in the "BRIC" minus the "R" with China, (25%), Brazil (19%) and India (11%). EMF would benefit if China begins to ease up on increasing interest rates as many China watchers suspect.
Total asset are modest at $362 million with no leverage. The shares are somewhat thinly traded with 68,000 shares average trading volume. The expense ratio is reasonable at 1.6% for a WrldEqFnds.
Off the Reservation: For those investors willing to go off the reservation, the India Fund (NYSE:IFN) is a CEF whose stock price has been trashed and is off over 30%. With over a $1.0 in total assets and no leverage, the stock trades at a 6.4% discount and semi-annual distribution that represented 3.6%. IFN's largest position is in Reliance Industries, Ltd.
Reliance is engaged in exploration, development and production of oil and gas both in India and internationally. Reliance is down 20% over the past year compared to a flat performance of the Oil ETF (NYSEARCA:USO).
Last Week's Focus Stock(s): Our focus stock last week was The Adams Express Company (ADX). We continue to believe this stock is an attractive near-term investment based on the combination of: 1) an attractive year-end distribution we estimate at $0.44 per share along with its regularly scheduled distribution of $0.05 per share which will go ex-dividend in mid-November; 2) the current upward bias in the equity markets. (See, "Why ADX Should Opt for a Managed Distribution Program" (9/13/11) in the "Free Research" tab under the "Research" Menu.)
While it's never been our policy to chase periodic distributions, with ADX selling around $10 per share, an aggregate distribution of $0.49 per share would generate a 4.9% return in less than a month's holding period (ex-dividend in mid-November).
If there is a potential upward bias in the equity markets there may be less of a sell-off on the stock going ex-dividend and investors will be getting a "two-for" as ADX has a close correlation to the S&P 500.
Disclosure: I am long ADX, PCEF, EMF. I own a diversified portfolio of CEFs and ETFs and am long stocks in the CEFBig10™ and CEFMuni10™. The first is a balanced equity-income portfolio (CEFBig10™) and the second a tax-exempt income portfolio (CEFMuni10™).
---
[*] All things being equal, price and NAV should move in tandem. A price movement greater than the NAV generates a positive PrcNAVSprd and may be interpreted as negative on a near-term basis and indicate that the stock is overvalued relative to its NAV which in theory is the stock's intrinsic value. The opposite would be true for a negative PrcNAVSprd.