The oilfield services company Halliburton (NYSE:HAL) has received quite a bit of investor attention recently given its supposed macro risk. I find that Halliburton, despite its beta of 1.56, is far less risky than what the market views. This means high-risk adjusted returns for shareholders if a double dip does not occur and my perspective proves true. The stock is already up by more than 21% and I expect it to continue to be one of the best investments for a buy-and-hold strategy. Here is why: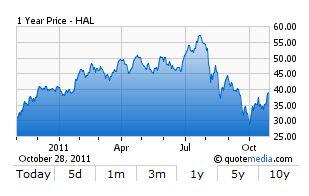 While it is true that NAM is experiencing margin compression, this issue has been much too exaggerated, as its effect on market share is not as deleterious as some have made out. Management has put out a conservative outlook, setting the bar low with high single-digit growth in material costs. And yet the firm has the largest margins in its industry at 33.4%. Comparable numbers for competitors: Weatherford (NYSE:WFT), 25.9%; Baker Hughes (NYSE:BHI), 22.2%; Schlumberger (NYSE:SLB), 20.3%. The company is also doing well in keeping SG&A lean, for example, by reducing average crew size by 10% recently.
Thus, the company's true catalyst is in growing scale (not containing costs) as a means to take away market share from competitors. And, in my view, the company is the best positioned to gain internationally. In the emerging regions of Middle East and Asia, Halliburton has seen 4.9% 3Q11 sequential growth and 13.8% y-o-y growth. Respective figures for competitors are 2% and 18% for Baker Hughes, 3% and 5.4% for Weatherford, and -5% and 8.3% for Schlumberger. This increasing relative exposure to emerging markets will help hedge against Halliburton's domestic risk while presenting a long-term value driver for the oil and gas services company.
At the third quarter earnings call, CEO David Lesar noted:
I'm very pleased with the overall performance of our business in the third quarter. Total revenues of $6.5 billion and operating income of $1.3 billion are both company records, representing sequential growth of 10% and 15%, respectively. We achieved record revenue levels in our North America, Latin America and Middle East/Asia regions. In North America, revenue and operating income grew sequentially by 13% and 14%, respectively, compared to a U.S. rig count growth of only 6%, and we exceeded $1 billion in operating income for the first time ever. Our international revenue and operating income grew 7% and 23%, respectively, compared to a rig count growth of 2%, driven by a 17% revenue growth in Latin America and more modest growth in the Eastern Hemisphere.
My hope is that, as the company expands, its moves more away from Europe, which offers the lowest margins of any geographical region at 9.5%. At the same time, issues in conflict regions are improving, particularly in the North Sea, Algeria, and Africa.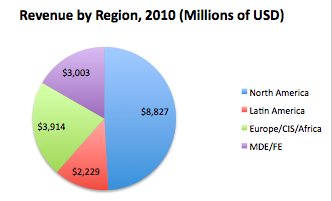 The fundamentals of Halliburton are also strong and capable of weathering the storm better than some competitors. Strong activity at Eagle Ford, Permian Basin, and Bakken, in particular, will drive free cash flow for expansion elsewhere. And while recent volatility in the commodity markets is rightfully unsettling for investors, this should not be overblown. The customers that Halliburton works with are large and are diversified across commodities. As a result, they are capable of shifting activity in response to relative prices - de-risking Halliburton in the process. Halliburton has done well adapting to challenges, for example, by moving rigs in Haynesville to more profitable ventures. Furthermore, the fact that coal is also being substituted out for natural gas is not something to be feared, but rather, as I argued earlier, to be excited about. Coal will not be so much replaced, in my view, as it will be overtaken by natural gas as the leading energy source within a decade. At the same time, international unconventional resources could need more equipment to improve profitability, thus increasing Halliburton's clients.
And on a comparable basis, Halliburton is far undervalued. It trades at 13.2x and 9.5x past and forward earnings, respectively, while offering a modest dividend yield of 1%. Schlumberger, Baker Hughes, and Weatherford trade at 14.4x, 10.6x, and 10.4x forward earnings, respectively, while offering dividend yields roughly in line with Halliburton. Expectations for Halliburton are bullish with analysts giving the stock a "strong buy" - although EPS estimates are down versus up 17 to 13. Consensus estimates for EPS are that it will grow by 62.6% to $3.35 in 2011 and then by 21.8% and 17.4% in the next two years. I anticipate revenue growing by 38% to $24.8B in 2011 and then by 7.1% and 12.1% in the following years.
Given that management is clearing up net debt while expanding scale, I find that the fears over margins are exaggerated. They can, and should, take a hit if it means eliminating competition. Accordingly, I recommend the stock as an attractive buy-and-hold.
To read my bullish analysis on the natural gas and oil industry, click here for one on ConocoPhillips (NYSE:COP) and here for one on El Paso (EP).
Disclosure: I have no positions in any stocks mentioned, and no plans to initiate any positions within the next 72 hours.