And they're coming around the home stretch. It's TBS out in front by two lengths; but Dryships is closing the gap...
Introduction:
Over the past five years, two companies have stood out to me as two of the worst run in existence. Both Dryships (DRYS) and TBS International (TBSI) have spent themselves into permanent illiquidity. With a bit of time added, that spells bankruptcy.
Even if we just pretended that the CEOs of the companies were always acting in good faith and that all deals were enacted solely to benefit shareholders, the question still remains why then haven't these companies had a positive return?
[Editor's Note: The author has rewritten the following sections in order to correct the erroneous information that was originally published.]
The Numbers:
Debt to equity for these companies is not as poor as it could be with DRYS at 1X while TBSI is at 1.3X, but levered free cash flow is negative for both DRYS and TBSI.
Profits are absolutely all over the place. The books tend to report positive numbers for Dryships, but then GAAP results and basic financial trickery such as the recent spinoff and dilution destroys most every cent one way or another. TBSI profits are just nonexistent from the start, so little trickery is needed. Analysts expect TBSI to lose almost $3 next year, while the stock price is already well below $1.
Qualitative Assessment:
The companies survive by doing nothing but working hard as beggars for creditors to make an exception for debt payments and broken debt covenants. On Thursday, George Economou inked a new credit facility of $141 million to help pay for reckless expansion, so the leverage will likely rise in days. And Economou markets his ability to beg as a strength in his company.
The charts below show that these two companies have truly behaved in an amazingly similar manner. The companies have experienced financial turmoil in nearly identical ways. For charts to be so perfectly down, so smoothly correlated, while the executives continue to plunder the companies, I think the government should step in and force the auditing firms to relinquish control over the audits. Obviously the auditors are the problem.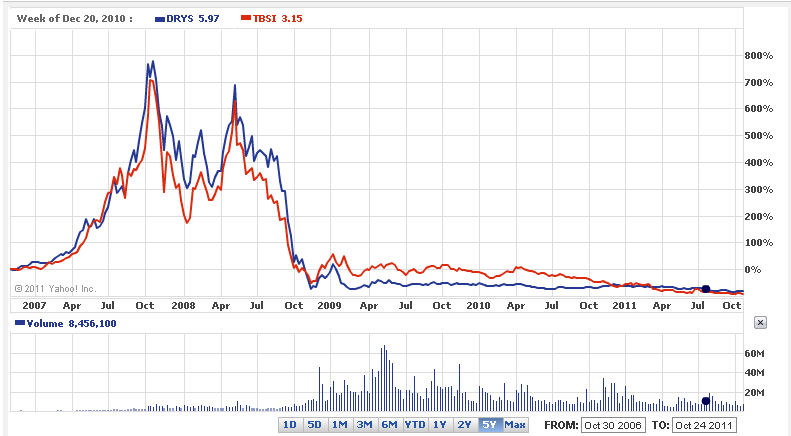 Conclusion:
Investors who see these two companies pop up on their stock screeners ought to be aware that the listed book values which are well above current market prices are not accurate. They should also be aware that both companies are on the brink of breaking Nasdaq listing requirements. In particular, Nasdaq requires a $1.00 share price for continued listing. TBSI is clearly having trouble with that requirement. It could mean that TBSI and DRYS are headed to the pink sheets sooner than later, which will mean shareholder liquidity will worsen substantially.
And it's TBSI by a nose!
Disclosure: I have no positions in any stocks mentioned, and no plans to initiate any positions within the next 72 hours.