With around 1.1 million electricity customers and a similar number of gas customers in Wisconsin, Wisconsin Energy Corporation (NYSE:WEC) is the archetypal regional utility company. It also invests in real estate in the state, and counts amongst its customer base retail, industry, and other businesses.
The company recently reported great growth in earnings at $0.55 for the current quarter versus last year's $0.47. Earnings per share for the last 12 months are $2.20, and these are expected to reach $2.26 in Wisconsin Energy's next fiscal year (ending December 2012). These numbers place the shares on a trailing price to earnings ratio of 14.96, and a forward multiple of 14.56. Trailing price to earnings ratios at similar companies average 14.95. Alliant Energy (NYSE:LNT)'s trailing price to earnings ratio is 14.24, at Integrys Energy Group Inc. (NYSE:TEG) the ratio is 16.62, and at Xcel Energy Inc (NYSE:XEL), the ratio is 15.17.
Utility companies are considered staid, but investors expect good dividends from them. Wisconsin does not disappoint, though higher utility yields are available elsewhere. Wisconsin Energy's payment of a dividend of $1.04 last year gives the stock a yield of 3.20%, and is covered more than twice by its earnings. This is the lowest of the yields amongst the competitors cited above: Alliant shares yield 4.20 (cover 1.71 times); Integrys yields 5.4% (cover 1.14 times); Xcel yeilds 4.1% (cover 1.6 times).
Current operating margin at Wisconsin Energy is 20.27%, with a return on assets of 4.31% and a return on equity of 13.19%. The current revenue from its income statement is $4.38 billion, and last quarter's revenue showed year on year growth of 11.30%. Wisconsin Energy has cash of $10.6 million as of its last earnings report, and a total of $4.91 billion in debt. The company's debt/ equity ratio is 123.37.
Wisconsin Energy has sought to redress its cash situation, and recently sold $300 million of senior unsecured notes, paying a coupon of 2.95%.
Looking at the 12-month chart, Wisconsin Energy shares have traded in line with those of rival Alliant over the last 12 months, and fared better than the S&P 500 Index. This index out performance has been marked since the fall in equity markets in August as investors have looked to safer, more defensive stocks. This index outperformance may continue in the short term, particularly through the winter period - traditionally a good time for utility companies. The stock has moved up strongly ahead of its earnings report next week, and with the winter quarter approaching.
Click to enlarge: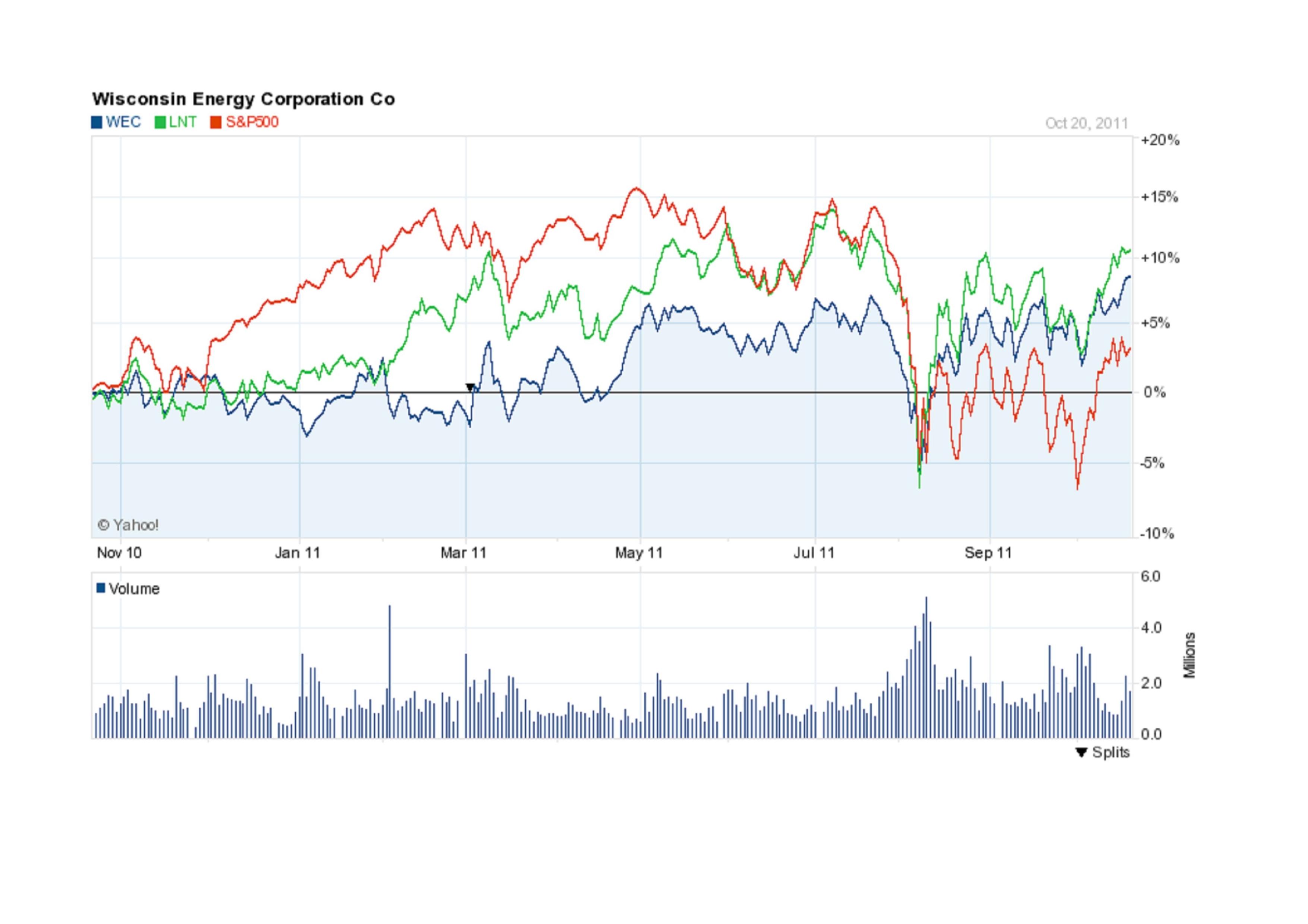 Wisconsin Energy shares are currently trading around $33, and the mean 12 month price target from analysts researching the stock is $30 (10% downside potential). This stock is trading above its 50-day exponential moving average of $31.30 and its 200-day exponential moving average of $30.50. It has recovered well since falling with the market in August. And it is trading at a 12-month high following 15.7% earnings growth in its third quarter results reported October 27. The chart looks very positive, and the stock looks ready for a concerted break above its EMA's.
The share price has been further bolstered by rumors of consolidation within the sector. Wisconsin Energy is thought to be in a position as a takeover target itself, or as a bidding company. While I do not hold with making recommendations based upon the possibility of takeover or merger, I think it is worth mentioning the ramifications under both scenarios.
Should the company become the subject of a takeover bid, the stock may move forward further than it has over the last few days since the rumors surfaced. I suspect that any such share price movement would be limited. However, should it be the bidder for another company, and maybe use some of the cash raised through its loan note issue, then the stock could react negatively in the short term. Risks here are greater on the downside.
Based on fundamentals, comparison to other companies within the sector, and the recent share price movement, I believe the stock is fairly valued. Though I would not recommend chasing the shares, I would not want to be short, either. Hold.
Disclosure: I have no positions in any stocks mentioned, and no plans to initiate any positions within the next 72 hours.