MF Global (MF) has been punished by the market over the last few months due to concerns regarding the company's investments in European sovereign debt. MF global has been trying transform itself from a brokerage to an investment bank that makes bets with its own capital. MF Global increased risk in an effort to increase profits but lost on those bets. MF now has over $6 billion invested in European countries such as Italy, Portugal, Spain and Ireland.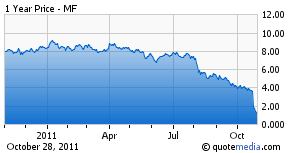 MF Global recently exhausted all credit lines over the last few days in an effort to stay afloat. This was also right after the company stated that it had over $1 billion in cash. The recent downgrade by the credit agencies will not help the company's cash issues as well. The downgrade to junk status virtually eliminates the ability for the company to raise cash through the capital markets.
I don't see a happy ending for MF Global shareholders. The company is currently hemorrhaging customers which is a vital asset for any brokerage to stay in business. Even if the company were to sell its futures business, I don't see how MF Global would still be able to stay afloat after the transaction. A purchase of the entire company is most likely out of the question with many banks cutting back on risk. Banks also don't have the excess capital to back such an investment. Banks have been sitting on capital to meet new requirements that were created at the peak of the financial crisis.
I expect the company to eventually file for bankruptcy after all efforts to sell the company fail. MF Global is at risk of a cash crunch which will force the company to file bankruptcy. I see MF Global taking huge losses on its portfolio once they are forced to wind down its speculative positions. This is similar to the situation that Amaranth Advisors had to go through when it filed bankruptcy.
When factoring the 30 to 1 leverage which happens to be the same amount of leverage that Lehman Brothers used. I expect common shares to be worthless once a bankruptcy is filed.
There are a few ways you could trade this event. You could short the common stock, buy put options or buy the company's debt. In this situation I prefer to buy the company's bonds with the expectation of a recovery once a plan is laid out in bankruptcy court. I'm keeping an eye on the bonds maturing in 2016 with a 6.25% coupon. Ideally I would like to start a position in the 20 cent range if I could get it.
Bonds usually take a sharp dive once a company files for bankruptcy which create great opportunities for vulture investors. The recent downgrade to junk status is currently forcing many investment grade bond funds to liquidate positions.
Disclosure: I have no positions in any stocks mentioned, but may initiate a short position in MF over the next 72 hours.
Additional disclosure: I may also open a long position in MF Global bonds maturing in 2016 with a 6.25% coupon.