Google (NASDAQ:GOOG) reported revenues for the third quarter of $9.72 billion dollars, an increase of 33% from a year ago while earnings per share leaped to $21.53 on a fully diluted basis.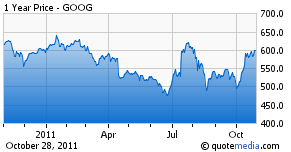 Google Plus looks to be a success with more than 40 millon users and 3.4 billion photos uploaded while still in Beta. YouTube will be expanding in coming months with online channels lining up many major names to fill the site with additional content.
Mobile has shown incredible growth with Android in solid competition with Apple (NASDAQ:AAPL) for mobile OS dominance.
The acquisition of Motorola Mobility (NYSE:MMI) will add a much needed vertical design element complementing Android in the future. The release of the Droid RAZR gives hope for this acquisition as the RAZR is the slimmest smartphone on the market coming in at a thin 7.11 mm. While this acquisition will drive margins lower in the short-term, the long-term benefits are obvious. As the world moves away from laptops and desktops and towards smartphones and mobile, it plays into the hands of Google.
Motorola and Android will become intertwined in the next few years, delivering significant benefits to consumers. Not to forget the many users of Android, Google recently released the latest update, dubbed Ice Cream Sandwich, in Hong Kong, running Samsung's (OTC:SSNLF) new Nexus Galaxy smartphone.
The move serves two purposes. The first is a small jab to Apple who is locked in a vicious legal battle with Samsung. Second, it helps keep Windows Mango out of the hands of smartphone manufacturers worried over the acquisition of Motorola Mobility. Samsung, whose chips were dropped in the new iPhone 4S in favor of chips by Hynix Semiconductor (OTC:HXSCF), was in need of a boost despite being the leading seller of smartphones worldwide.
This places Android in a strong position to defend its smartphone market share. It would not be out of the question to see Samsung and Google work together in the future to fight off Nokia (NYSE:NOK)/Windows and Apple.
Going forward, Google looks to be maturing into four main divisions, Search, Android, Handsets, and Social - each working with and feeding off each other. The key takeaway is that Google is becoming a more focused business with the release of Google +. Products are being streamlined as mentioned by the shuttering of over 20 services including Buzz, Aardvark, Notebook, Fast Flip, and others.
Looking forward into the future, we will see smartphones and tablets, some made by Motorola Mobility, already loaded with Android and optimized with Google Plus and content from other Google properties. As we move further into the Social Technology bull market, Google remains primed to succeed. As I mentioned in a previous article, "Content and Delivery Are Leaders in Current Tech Cycle", the leaders are those companies which have content and the tools to deliver the content to enterprises and the general public.
Google represents tremendous value for investors as they have morphed from being just known for search to the center of the social media revolution.
Disclosure: I am long AAPL.
Additional disclosure: May initiate a position in Google over the next 72 hours.