Company Overview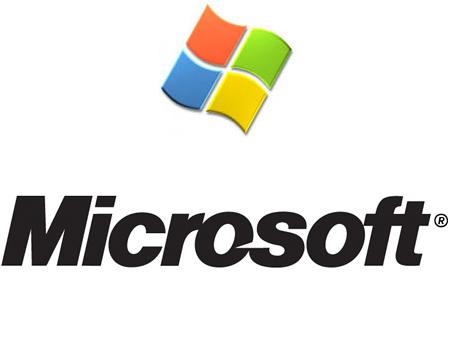 Microsoft Corporation (NASDAQ:MSFT) is engaged in developing, licensing and supporting a range of software products and services. It also designs and sells hardware, and delivers online advertising to its customers. It has five segments: Windows & Windows Live Division, Server and Tools, Online Services Division, Microsoft Business Division, and Entertainment and Devices Division.
Sales, Earnings, Free Cash Flow
| Years | Revenue (in millions) |
| --- | --- |
| 2007 | $51,122 |
| 2008 | $60,420 |
| 2009 | $58,437 |
| 2010 | $62,484 |
| 2011 | $69,943 |
Over the past 5 years, revenue growth has averaged 8.2%, and over the past decade revenues have grown by a cagr of 10.4%. From 2010 to 2011, sales grew by 11.9%, from $62 billion to $69.9 billion.
The Microsoft Business division (which includes the Office suite of applications as well as Sharepoint) brings in the largest share of revenue, at 32%, followed by Windows & Windows Live division, which accounts for 27%. The remaining 41% is split by the 3 other segments.
As of Q1 of 2011, sales are up 7% from the same period last year, to $17.4 billion. Microsoft stated strong demand across their all their businesses accounted for the growth, and are looking forward to a strong holiday season. Keep in mind however that Skype's results will not be included in the financials until Q2 of 2012, so it will be interesting to see how that business effects MSFT.
click on all charts to enlarge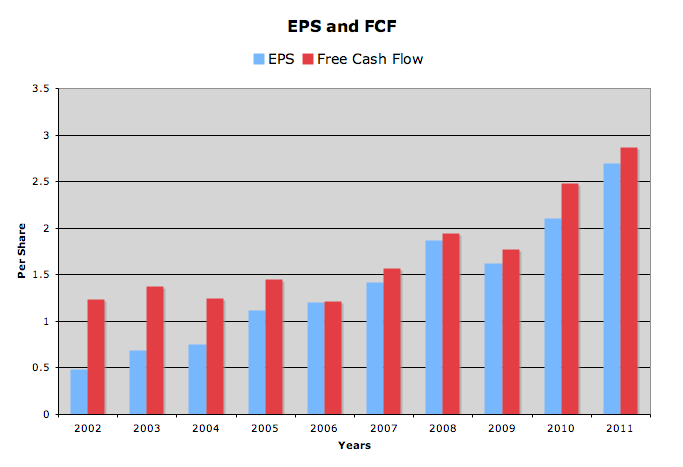 Earnings per diluted share have grown by an average of 20.9% since 2002. For the past fiscal year, 2011, eps grew by 28%, faster than the 10 year average.
As of Q1 2012, earnings have grown 9.7%, from $0.62 to $0.68, and the most recent analyst projections for the next two years are $2.79 in 2012, followed by $3.08 in 2013. These numbers represent growth of 4% and 10.4%, respectively.
Free cash flow per diluted share has also shown regular growth over the past 10 years, averaging lower than eps at 9.7%. From 2010 to 2011 fcf per share grew $0.39 cents, or 15.8%, to $2.87.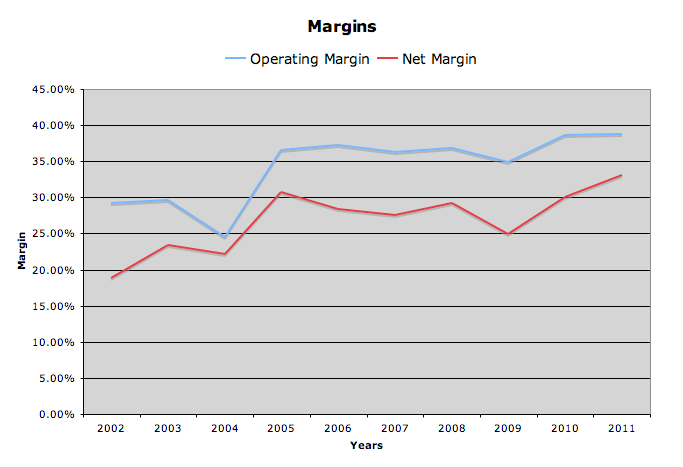 Both operating and net margins have been trending upwards, from 29% to 38.8% (operating) and 18.8% to 33% (net).
Net income benefited in 2011 from a greater percentage of income being derived from outside the US. Foreign earned income accounted for 68% of income before taxes, up from 62% in 2010. This also helped decrease the tax rate from 25% to 18%.
Dividends and Stock Buy Backs
Microsoft began paying a dividend in 2004, and has raised that dividend almost every year since. Please note, I do not include the $3 dividend paid in 2005 since that was a special dividend, and does not recur. Also note that because MSFT's fiscal year ends in June, their reported annual dividend differs from the calculated dividend of the same calendar year.
The $0.20 dividend paid in Q1 2012 is a 25% increase from the previously paid $0.16, and represents an annual payment of $0.80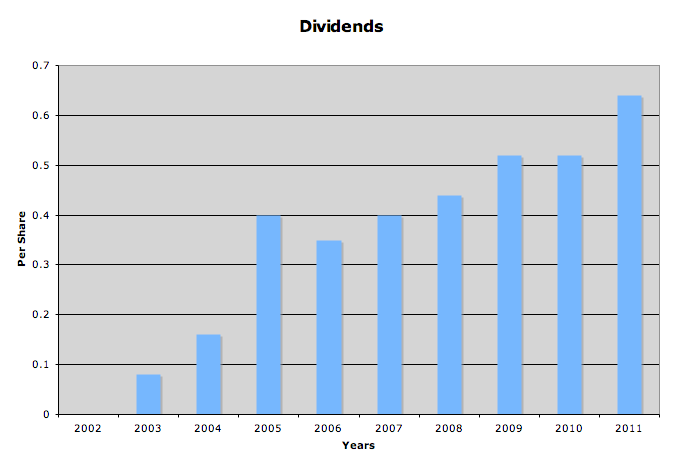 The 5 year dividend CAGR is 12.5%, though the last two years had growth of 23% and 25%, much higher than the average.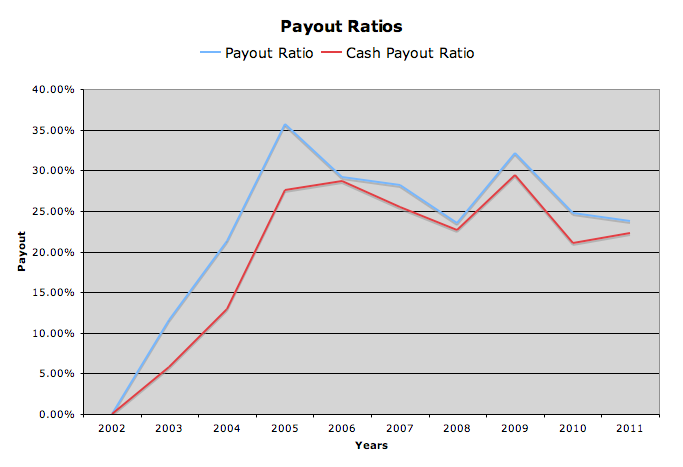 Payout ratios are low, and leave plenty of room for dividend growth. The earnings based ratio was only 24% in 2010, and the cash based ratio even lower, at 22%. Even if the company has stagnant or slow-growing earnings for the next few years, they should still have plenty of money left for dividend growth.
Balance Sheet
MSFT has a great balance sheet, with debt only comprising 17% of capital employed. The current ratio is a healthy 2.6, and interest expense of $295 million is well covered with operating income of $27 billion.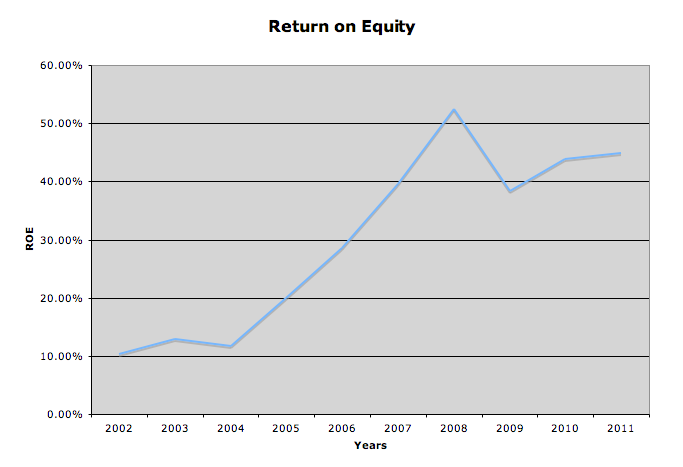 Return on Equity has grown over the years, peaking this past year at over 40%.
Stock Price Valuations:
Current price - $26.98
5 year average low p/e - 13.2
p/e (ttm) - 10
p/e (forward) - 9.7
peg - 0.9
5 year average high dividend yield - 2.6%
Dividend yield - 3%
Conclusion
I find Microsoft to be an attractive stock at a good price. There is still some anxiousness to see how they incorporate Skype, which could keep some investors on the sidelines, but fundamentally the company is sound.
Some see MSFT as falling behind the curve, since they have not done a great job in the new and hot mobile market, losing ground to Apple (NASDAQ:AAPL) and Google (NASDAQ:GOOG) and their mobile platforms, but Microsoft still has a number of successful products in its portfolio. Microsoft Office, a top choice for most productivity suite users and businesses, and Windows has maintained its position as the world's most popular operating system. In addition, MSFT's Xbox remains a popular gaming console, with Xbox LIVE boasting 35 million users worldwide.
Overall, I think MSFT warrants a closer look for anyone interested in adding a tech giant to their dividend portfolio.
Disclosure: I have no positions in any stocks mentioned, and no plans to initiate any positions within the next 72 hours.