Shares of Celsion Corporation (Nasdaq:CLSN) appear to have finally broken out of their volatile down-trending pattern and biotech investors are buzzing with anticipation that the company may be announcing news from any of several 4Q11 milestones listed for the company in the BioMedReports FDA Calendar and Worldwide Regulatory Catalyst Tracker.
Celsion is developing targeted chemotherapeutic oncology drugs based on its proprietary heat-activated liposomal technology - an elegant approach that delivers high concentrations of anti-cancer agents directly to the tumor site. The promise of this drug technology is to maximize efficacy while minimizing side-effects common to cancer treatment.
The firm's lead product, ThermoDox®, is currently being tested in a Phase III clinical trial for primary liver cancer; and in phase II clinical trial for treatment of recurrent chest wall breast cancer and while most speculators are expecting news or data about that Phase III trial, the company also has several clinical trial initiation milestones listed for trials in the U.S. Canada and Europe.
Friday's regular session trading action sent shares higher, up 0.25 (8.65%) to close at $3.14, but after hours the action continued and saw shares rise to $3.20 up another 0.06 (1.91%). The move helped shares push above both the 50- and 200-day moving averages.
Earlier in the week, on Wednesday, Rodman & Renshaw initiated coverage on the company with a "Market Outperform" rating and a $6 price target.
Two years ago, an analyst at Needham issued a buy recommendation on the stock when it was trading at about the same price levels it is seeing today, but shares did manage to rise to approximately the $5.50 level about six months later.
David Sterman, a contributor at Seeking Alpha, believes the company could be on to something big, perhaps even a blockbuster, if data is as robust as we've seen in the past. The fact that liver cancer is expected to be the leading form of cancer by 2020, as the ranks of Hepatitis-infected patients continues to swell, bodes well for Celsion and Sterman points out that the summer's market rout has taken this stock down from $4 in early July to a recent $2.40.
Earlier in October, SmallCap Network's Matthew Briar was convinced that Celsion Corporation was destined for $2.00 before a bottom bounce recovery could be called. He also pointed out that "for the record, this isn't the first time we've seen this bearish channel being made by Celsion. In 2008 and 2010, crosses under the 200-day averages were just the beginning of a long string of lower lows and lower highs."
The FDA has designated Celsion's pivotal Phase III HEAT study for ThermoDox®, in combination with radiofrequency ablation, as a Fast Track Development Program, which may provide the firm with an expedited pathway to approval. There can be no assurance, however, that the results of the ongoing studies will be adequate to obtain approval of ThermoDox®. Speculators and long-term investors are eager to hear and update and see some data. The trial is expected to report interim results in the current quarter, with final progression free survival results expected as early as the fourth quarter of 2012.
The recent stock price drop may have been helped by shares from recent financings coming back into the market, as Celsion had been quite busy raising money. In 2009, the company had filed a $50 million shelf registration statement, but as of July 25, 2011, that shelf registration statement has been fully utilized.
"With approximately $25 million in cash pro forma, and an enterprise value of $47 million, we believe Celsion represents an undiscovered, and undervalued company with multiple near-term drivers poised to create shareholder value in 2012," writes Rodman analyst Reni Benjamin.
Celsion's partners include: Boston Scientific Corporation (NYSE: BSX), Duke University, Fast Track Systems, Inc, Koninklijke Philips Electronics (NYSE: PHG), Medidata Solutions, Inc.(Nasdaq: MDSO), National Institutes of Health, and others.
Here is a look at the latest chart with some mark-ups: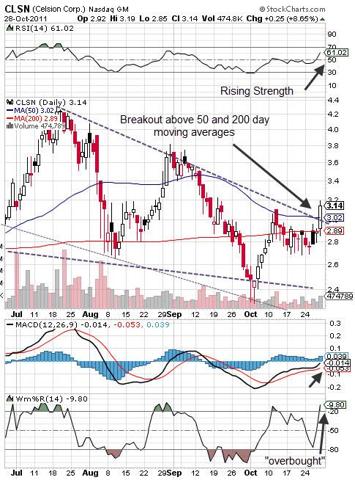 Click to enlarge
Disclosure: I have no positions in any stocks mentioned, and no plans to initiate any positions within the next 72 hours.